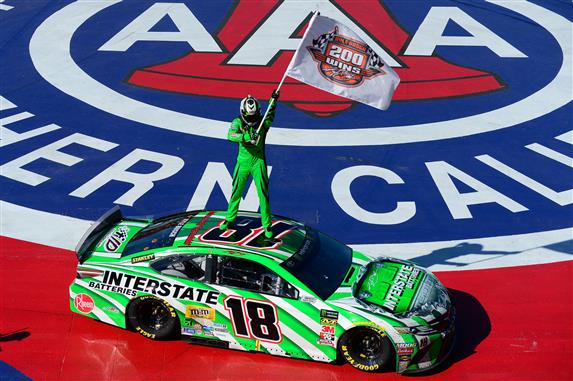 Kyle Busch Scores 200th NASCAR National Series Win at Auto Club Speedway
It was the luck of the Irish for the green 18 car on St. Patrick's Day. After leading 134 laps and suffering a pit road speeding penalty, Kyle Busch won the Auto Club 400 for his second-straight Cup Series win. In addtion, this victory maks his 200th overall win across all 3 NASCAR national series.
Coming into the race, all eyes were on Kyle and his quest for a 200th NASCAR win. In Saturday's Xfinity race at Auto Club, Kyle was dominant but finished 2nd after a late pit road speeding penalty. Kyle's runner up result was to Cole Custer, a California native taking the win on his home track. After this devastating loss Saturday, Kyle was as motivated as ever to perform on Sunday.
Near Substitution For Polesitter
All of Sunday morning, polesitter Austin Dillon was suffering from flu-like symptoms. While he did not need a relief driver for the race, protocol mandates a relief driver. The only remaining Xfinity Series driver still in California was Saturday's race winner, Cole Custer. The 21 year old received the call while at a fast food restaurant. He was then promptly fitted to sit in the 3 car if Dillon needed relief. While Dillon did go on to finish 10th, Custer was on standby for the duration of the Auto Club 400.
Crazy Opening Laps for Auto Club
While Dillon and Kevin Harvick made up the front row, neither would lead the opening laps. Denny Hamlin, who started 6th, made a 3-wide move to lead lap 1 and the first few circuits. The first several laps saw many comers and goers, as Harvick fell back while Martin Truex Jr rallied forward. Right on Hamlin's rear bumper up front was his teammate, Kyle Busch.
Busch would take the top spot from Hamlin on lap 13, and he had a strong car in this first run. Busch only gave up the lead to make his first pit stop on lap 30. He would soon cycle back out front. At times during this first Stage, Kyle's lead was over 4 seconds.
Cautions End Stage 1
Busch would take the Stage 1 win, but the opening stint would finish under 2 back-to-back cautions. The initial yellow flag came out when Austin Dillon had a flat tire, and laid down debris. The track was clean and ready to race for a 1 lap shootout to close the stage, but the field would not last through turn 2.
On the restart, Ricky Stenhouse Jr would get lose in turn 1 and spin, bringing out the stage-ending yellow. The 17 of Stenhouse made slight contact with Erik Jones' 20 while coming up the track. Martin Truex Jr. was also ran into by Kyle Larson as they both avoided the melee. All 4 drivers would continue onward, but the 19 of Truex had some right rear damage to repair.
Slow Start to Stage 2, No Problem for Busch
The 18 car was primarily a long-run car for the duration of this race. He would not take off well on restarts, but after a few laps he was the fastest man in town. This was the case for the start of Stage 2, as Joey Logano took the lead for 2 laps. However, the 18 would cross him over and retake the lead on lap 72. From that point on, Busch would not lose the lead again in Stage 2. This marks Kyle's 3rd time sweeping both stages. Behind Kyle were all 3 Penske cars, as Brad Keselowski, Ryan Blaney, and Joey Logano were all strong in Stage 2.
Pitfalls on Pit Road for Joe Gibbs Racing
On the pit stops following Stage 2, Joe Gibbs Racing had issues for 3 of their 4 cars. Both Kyle Busch and Denny Hamlin were caught speeding, sending them from up front to back in the pack. In addition, Martin Truex Jr.'s 19 crew had to many men over the wall. With over 70 laps remaining, there would be time for Busch to recover, but it was not a guarantee. This issue is similar to what kept Busch out of Xfinity victory lane on Saturday.
The 18 Interstate Batteries Toyota would be sent back to 18th, with 73 laps to go. With as dominant as Kyle had been up until this point, he was sure to put on a show as he charged through the field.
Keselowski Shows Strength Up Front as Busch Pulls off Amazing Moves
With Kyle sent to the rear, the race lead for the final stage was handed over to Brad Keselowski. The 2 Ford would charge to a lead of around 4 seconds, as Kyle Busch was fighting hard to regain lost ground. He was making 3 and 4-wide divebomb moves that looked more like a video game than any Cup Series race. Busch would get up to 10th by lap 136, and his march would not stop there.
While Kyle was making up positions, he was not making up time nearly as quickly as he needed. Although he rallied from 18th to 6th, he was still 8 seconds behind Keselowski. If this race ended under a long green flag run like the Xfinity race, then Kyle would come up short.
Caution During Pit Stops Saves 18's Day
As the leaders were making their final pit stops of the day, a caution came out for debris from Bubba Wallace. Even though Kyle was leading when this yellow came out, he was going to need to pit again. His only hope at a victory would be a late yellow, which he got on lap 165.
During this caution, Busch was 1 of just 7 cars on the lead lap. This was because the caution flew during a green flag pit stop cycle. 14 others would take the wave around under this yellow, but Busch would remain the leader.
What would turn out to be the final restart of the day came with just 31 laps remaining. Because of the 18's lack of short run pace, Kyle would fall to 4th. Penske teammates Keselowski and Logano would trade the lead amongst themselves for a few laps. However, them racing each other so hard allowed the 18 to reel them in and blow by them. Busch retook the lead on lap 175, and remained on point for the final 26 circuits.
Behind Busch in his historic 200th win, the top 10 was a unique mix of drivers. Logano, Keselowski, Harvick, and Blaney made 4 Fords finish in he top 5. The remainder of the frontrunners were Kurt Busch in 6th, then Denny Hamlin, Martin Truex Jr., Aric Almirola, and Austin Dillon.
Significance and Controversy Around Busch's 200th Win
Kyle Busch would hold on to win his second-straight Cup Series race, after taking the checkers last week in Phoenix. But more importantly, this win at Auto Club marked the 200th of Busch's NASCAR career. Currently, Busch has 53 Cup Series wins, 94 Xfinity Series victories, and also 53 Truck Series wins.
Busch winning his 200th NASCAR race has been compared to Richard Petty's 200 Cup Series wins. Fans and media alike are debating which (if either) are more impressive feats, and who is the better driver. Busch is without doubt one of NASCAR's all time greatest drivers. But any comparison between him and Petty is a mute point, as they both raced in totally different eras and never against each other.
How to Watch the Next Race
Race 6 for the Monster Energy NASCAR Cup Series is the first short track of the year, Martinsville Speedway. TSJNASCAR will be on hand all weekend long for both the Truck and Cup Series races. Coverage of Sunday's STP 500 wil be on Fox Sports 1, MRN, and SiriusXM NASCAR Radio Channel 90 at 2:00 PM EST. Clint Bowyer broke his long losing streak in this race last year, who can take home the grandfather clock in 2019?
Be sure to follow along for updates from Martinsville: @T101_NASCAR, @PeterStratta.