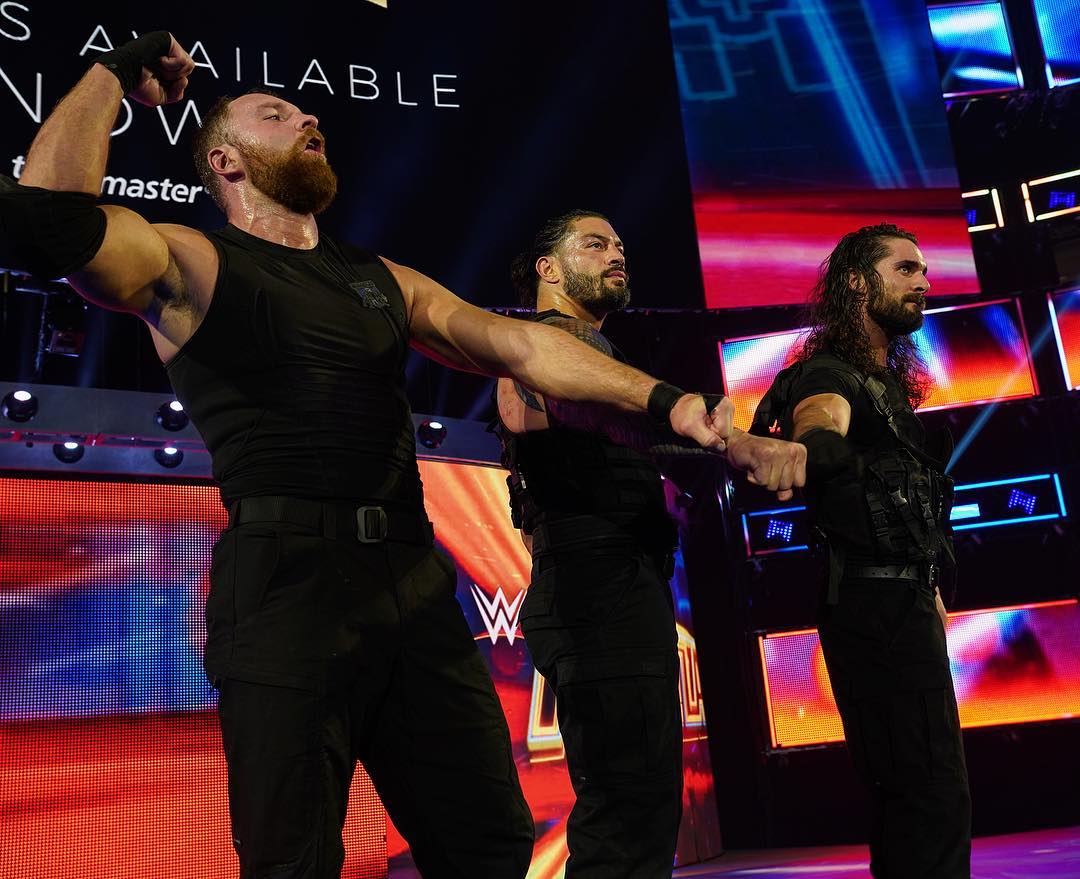 Fastlane 2019 Final Results and Grades
We are officially on the Fastlane to WrestleMania! Is it a good show? There appear to be a mix of opinions on social media about the event as a whole, but that's why everyone's take is unique. Fastlane has a lot of big moments, low moments, and wrestling (obviously). Without further adieu, here's Fastlane 2019 Graded.
Disclaimer:
What about the pre-show? I didn't watch it, but people are saying it's not worth it. I saw a few highlights online, so… C-? It looks ok, but nothing awe inspiring.
SmackDown Tag Team Championships: The Usos def. Mac & Miz to retain the championships
Final Grade: B+
Why, Shane, why?
Apart from the heart wrenching destruction of the Greatest Tag Team on Planet Earth, this match is a really good way to start off the show.
Shane throws up the Hitman taunt and he and Miz hit the Hart Attack. Miz hits high flying moves to impress his dad. Shane attempts a Coast to Coast but one of the Usos jumps in front of him to block it.
In the end, The Usos retain and Shane breaks all of our hearts.
SmackDown Women's Championship: Asuka def. Mandy Rose to retain
Final Grade: D+
This would've been a good match on an episode of SmackDown Live… Or not on the main show… Or if the finish consisted of anything other than Mandy slipping on nothing and getting a boot to the face.
Good for Asuka to head into 'Mania as champ. I have no idea what they have for Mandy now. Maybe Sonya is Asuka's next opponent and Mandy gets jealous or something.
The Bar def. Kofi Kingston
Final Grade: D-
You want us to get mad? Well… I'm greatly inconvenienced by the treatment of Kofi Kingston, so there you go.
RAW Tag Team Championships Triple Threat Tag: The Revival def. Ricochet & Aleister Black and Roode & Gable to retain
Final Grade: C+
The rules are still a mess, but there's no point in changing them now.
Ricochet hits a Senton Bomb over the turnbuckle and ring steps to the outside onto Bobby Roode. Black kicks people's heads into different sections of the arena. Roode and Gable continue to be Glorious and it's one of the best things going on right now.
But in the end, via Flapjack assisted Code Breaker, The Revival continue to be top guys.
WWE United States Championship Fatal Four-Way: Samoa Joe def. Rey Mysterio, Andrade, and R-Truth to retain
Match of the Night
Final Grade: A-
How can a match that wasn't even announced before hand be the best match of the night? PRETTY FREAKING EASILY, ACTUALLY.
Rey and Andrade try to outshine each other with crazy athletic maneuvers. Truth holds down the comedy side of the match with a double Five Knuckle Shuffle, but he still gets a few serious licks in. Joe brings the heavy hitting, no nonsense card to the table and hits big moves and hard strikes. Carmella and Zelina Vega almost decide the match in favor of Joe after they begin to brawl and distract Andrade and Truth.
All in all, a really good match that had almost no business being so good.
WWE Women's Tag Team Championships: The Boss N' Hug Connection def. Nia Jax & Tamina to retain
Final Grade: D
It was simply meh. Nothing bad, but certainly nothing good.
Beth Phoenix teases a possible return to the ring when she fights with Tamina and Nia.
WWE Championship Triple Threat: Daniel Bryan def. Mustafa Ali and Kevin Owens to retain
Moment of the Night: Ali attempts a Springboard Crossbody, but Bryan hits him with his Running Knee in mid-air
Final Grade: B+
This match starts off really, really, really, really slow, but it builds to an end that was predictable, yes, but exciting to see after its climb.
Once the pace picked up, the crowd stopped cheering for Kofi and started cheering for Ali. Owens slams Ali on the apron, but Rowan takes out Owens. KO almost decapitates himself on the announce table. Ali takes a nasty fall from the top rope to the outside and against the barricade.
Becky Lynch def. Charlotte Flair via disqualification
Final Grade: C+
Why, Ronda, why? No, seriously, why would you do something so stupid?
Good match with an anti-climatic end. These two can usual put on a great match, but then there's moments like this.
The SHIELD def. Drew McIntyre, Bobby Lashley, and Baron Corbin
Final Grade: A
One last round…
Reigns, Ambrose, and Rollins take it to the house together, one last time. It looks like a house show spot fest, which is great because that's exactly what it is.
Reigns pummels just about everyone in sight. Rollins jumps from the crowd into Lashley and McIntyre. A few SHIELD Triple Powerbombs and the boys stand tall one more time.
Overall Fastlane 2019 Final Grade: C+
Fastlane 2019 is hit and miss all night long. We either get great matches or a slog that goes on longer than it probably does in reality. Good card when it's good, bad when it's bad. Not horrible, but not great.
Social Media
It's a work…
Follow TSJ101Sports on Twitter: @T101Sports and @T101SportsWWE
Follow me, the writer, on Twitter: @JordanPiekarski
Photo credit to WWE via Instagram