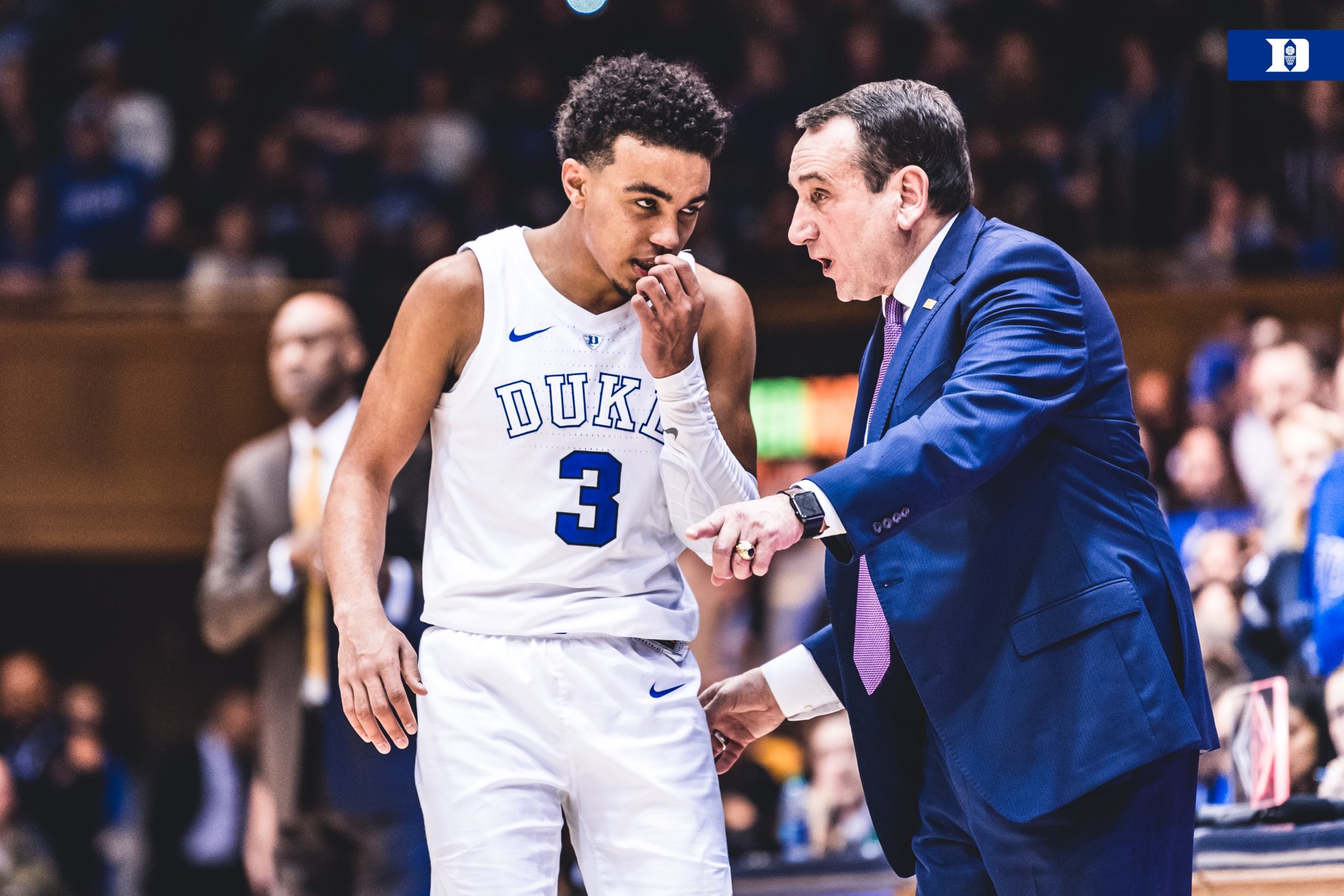 College Hoops Preview: #4 Duke at #3 North Carolina
Matchup: #4 Duke Blue Devils (26-4, 14-3 ACC) vs North Carolina Tarheels (25-5, 15-2 ACC)
Date: Mar. 9th, 2019
Time: 6:00 p.m. (est)
Network: ESPN
Location: Chapel Hill, North Carolina
Venue: Dean E. Smith Center
Seating Capacity: 21,750
Round Two
Duke travels to Chapel Hill for a rematch with arch-rival North Carolina. Back in February, the Tarheels knocked the Blue Devils around on their way to a massive 88-72 road win. Despite dominating throughout, analysts and experts all put an asterisk next to this win for North Carolina, all because Duke lost freshman sensation Zion Williamson less than a minute into the game. Rightfully so, might I add, as Duke would have won the game if Williamson had played.
Zion Williamson Update
Williamson will not play on the road against North Carolina, per the team. The star forward will miss his sixth consecutive game.
Can Duke Win Without Zion?
Almost the entire country will be counting Duke out from the beginning minus Zion Williamson, and they have every reason to. Duke should have lost to Wake Forest, an 11 win team on the year, but was bailed out by a poor shot at the horn. In Williamson's absence, Duke is just 2-3 and have looked confused at times on both ends of the floor. Take a look at Zion's stat line and see what Duke is missing without him in the lineup: 21.6 PPG, 8.8 RPG, 2.2 APG, 2.2 SPG, and 1.8 BPG. Williamson controls the paint, and without him, Duke is without their only consistent post scorer and their best post defender.
With all that being said, you still can't count out Duke. They still have Hall of Fame head coach Mike Krzyzewski at the helm and superstar RJ Barrett leading on the court. Yes, Duke can pull off the victory without their best and most important player. How? Well, they need a lot to go right.
The Blue Devils will need Barrett to have a similar performance to the show he put on against Virginia on the road, where he nailed 6/10 threes and scored 26 points. Cam Reddish has to show up from beyond the arc, which will open up his ability to drive the ball into the paint. Tre Jones will have to do his thing again on defense against Carolina star Coby White. In their first matchup, White scored just nine points on 3/14 shooting. Everyone to step on the floor for Duke tonight will have to do their part for Duke to pull this one off without Zion.
North Carolina Starters
Guard – 2 Coby White (16.2 PPG, 3.3 RPG, 4.1 APG, and 1.0 SPG)
Guard – 24 Kenny Williams (8.6 PPG, 3.6 RPG, and 3.6 APG)
Forward – 13 Cameron Johnson (16.9 PPG, 5.8 RPG, 2.3 APG, and 1.3 SPG)
Forward – 32 Luke Maye (14.9 PPG, 10.3 RPG, and 2.3 APG)
Center – 15 Garrison Brooks (8.0 PPG and 5.8 RPG)
Luke Maye and Cameron Johnson combined for 56 points in Carolina's win over Duke in Cameron Indoor. With no Zion Williamson, Maye had a field day down low, getting easy layups and short-range jumpers. Johnson made his living getting inside as well, with Duke showing no resistance to his jump shots.
The Key For Duke
The key for Duke will be defending the paint on the defensive end. In their first matchup, Carolina scored 62 points in the paint. Normally, Carolina is heavily reliant on their three-point shooting, but with Williamson out, the Heels took full advantage.
Prediction
Over the years, if there is anything I have learned from this rivalry, it is to expect the unexpected. Duke is the underdog in this one and rightfully so, but I feel overly confident about the game.
Barrett is going to have his moment. This will be the game everyone remembers when they think about his one year at Duke. Put him down for close to a triple-double including 30+ points. Jones will, once again, lock up Coby White. Reddish will have a big day from beyond the arc, hitting at least four three-pointers. White will redeem himself on defense against Maye, who will score less than 20 points, and hit a pair of threes. Alex O'Oconnell will score in double figures once again this season, and Marques Bolden will have a double-double. Duke will play angry and will be looking to avenge their home loss to North Carolina.
Duke: 85
North Carolina: 81
Follow us on YouTube and Twitter
Photo Credit
@DukeMBB via Twitter