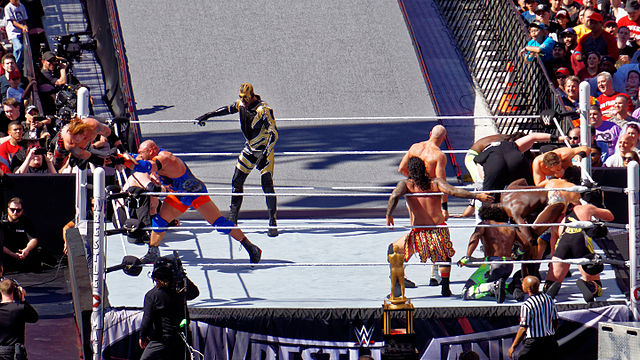 The Concept
After reflecting on the incredibly horrible booking that hardcore wrestling fans have had to endure for so long, the need for better storylines has never been higher. Millions of fans have remained loyal to the WWE brand while smaller companies such as Impact Wrestling and Ring of Honor have attempted to provide more compelling feuds only to have their efforts thwarted courtesy of talent departures or creative differences between talents.
In this first issue of "Book It", we look at the current product that WWE has presented us with ahead of WrestleMania and we shift the gears to create a vastly improved card that would breathe a new sense of excitement into the brand.
The Card
The first thing every WrestleMania needs is a special attraction match. In recent years that has been the Andre the Giant Battle Royal and now Women's Battle Royal. I am fine with both of those being included but who exactly should win them? In the past, these two matches have been somewhat of a kiss of death for a wrestler's push. Whether it is the Big Show, Cesaro, Naomi, or Mojo Rawley, there never seems to be the same level of excitement after winning the WrestleMania Battle Royal. For that reason, I think we need 2 big enough stars that we can get something of more substance out of them going forward.
On the women's side of things, it seems like such a travesty that NXT call-ups have flopped once arriving on the main stage. Wouldn't it put a different spin on things if Shayna Baszler won the Women's Battle Royal allowing her to face either the Raw or Smackdown Women's champion at a later date? I feel this would be a very useful piece of booking for a later story line. In addition, it would offer an opportunity to give every female talent not booked elsewhere on the show to have a WrestleMania moment.
As for the men's side there are so many guys who could use a legitimate push but one should stand above the rest. Big E has waited long enough. Kofi Kingston has finally been given a piece of the spotlight and used it to garner some of the best attention since his distant past when he feuded with Randy Orton. Big E needs a singles run and one that the fans can both support and get behind. He is the perfect one to use to push a new singles superstar. Like the Women's Battle Royal, the men's side could feature virtually everyone who is not booked for a match later on the card.
The Show Stopper
The opening match at every WrestleMania should be one that grabs your attention. It should stimulate the crowd and make them feel satisfied right away with spending the money to be a part of the biggest show of the year. This year, an eight man ladder match for the NXT Championship should be included at WrestleMania.
I know NXT Takeover is the same weekend but NXT has proven to be a hot commodity and it is time it was featured at WrestleMania. In this year's match, I would have Pete Dunn, Johnny Gargano, Velveteen Dream, Matt Riddle, Adam Cole, Keith Lee, Ricochet, and Khassius Ohno should do the honors. Let's face it, Ohno should have a WrestleMania moment after his illustrious career and this is an easy way to do that without a major push. The eventual winner should be Keith Lee who could be the face of NXT for the foreseeable future as champion.
Tag Team Schemes
The Raw and Smackdown Tag Team Championships have to be defended at the show. We know WWE has never given the Tag Teams the spotlight that they probably deserve but there is definitely potential in the division. For Raw, the Revival should be facing Zack Ryder and Curt Hawkins with this being the long awaited match with Ryder and Hawkins breaking the losing streak and winning the tag team championship. What a perfect end to an insane streak to begin with.
On the Smackdown side of things, there are quite a few options as the Bar, New Day, Sanity, Usos, Bludgeon Brothers, and Heavy Machinery could easily duke it out for the championship. Another match featuring 6 options for a winner can seem like a stretch but WrestleMania should see as many talents used as possible. I put the championship on Sanity and attempt to revive their careers after horrible booking all year.
The Women's Tag Team Championship should be a Fatal 4 Way match that many could only pray for. Sasha Banks and Bayley should defend against the Bella Twins, Lita and Trish Stratus, and LayCool. It is a once in a lifetime opportunity and would make for an amazing moment with so many unique pairings at times throughout the match. Sasha and Bayley would have to retain but what a moment for the WWE Women's Division.
Bring on the Main Attractions
The Smackdown Women's Championship has been severely overlooked since Asuka took the title from Becky Lynch. Smackdown has a decent number of female talents. None of them are at a level that would garner any level of interest from the fans. With Becky and Charlotte all but moving to Raw, it is time for someone to shift to Smackdown. That person should be Alexa Bliss. She should be the one to face Asuka and do the honors at WrestleMania. Asuka should retain the title as WWE needs to continue to build her character for post Mania programs of interest including the possibility of a Nikki Cross or Shayna Baszler move to Smackdown. Again, this could lead to some very interesting booking down the road.
Cruiserweight Action
The WWE Cruiserweight Championship is a forgotten title on most shows but actually features the one champion I truly want to see WWE give a substantial run to. In order to make that championship more meaningful and to elevate Buddy Murphy to another level, he needs a feud and defense against someone who can truly move the bar. Perhaps a match with a legendary superstar like Rey Mysterio would do the trick. Let's face it, Rey Mysterio is never going to be World Champion again and a run with the United States or Intercontinental Championships would do little for those titles but a run at the WWE Cruiserweight Championship, a title he once carried with pride, would make for interesting television.
I know he has feuded with the biggest and best in the business. At this stage of his career, it's time for him to give back to the up and coming talents. A sneaky ending with a quick roll up or something brought about by some outside interference would do the trick. Perhaps having Buddy Murphy get an assist from the Forgotten Sons of NXT with the history between Murphy and Blake which could set up a feud with Mysterio, Andrade, and Sin Cara that would be high impact and fresh.
Inject Life into a Dying Championship
The WWE United States Championship is a perplexing booking situation. R Truth is the current champion but he has such a long history of being a glorified jobber. Rusev was so organically over but WWE squashed that. Shinsuke Nakamura was a headliner last year for the WWE Championship and is now a mid card talent at best. What this feud needs is the injection of new life.
Fatal 4 Way matches are a great way to end this 3 way feud and add someone new to the mix. Were I booking the match, it would see the arrival of EC3 to the Smackdown Brand as a surprise entrant to the match hand picked by Triple H or Shane McMahon and I would have EC3 win the championship. It would bring someone new to the scene and open a door to a feud with Nakamura after Mania that is also an new and interesting pairing.
One Last Ride
I purposely booked the NXT Championship match the way I did for a very specific match. Anyone who has ever been a fan of the industry has to admit a WrestleMania without the Undertaker is inevitable. So I would make sure to have one last match. The match that would make the most sense and that could serve as a passing of the torch would feature The Undertaker put his career on the line against Aleister Black in what could be one of the last remaining realistically possible dream match scenarios for the fans.
Black is as popular as he needs to be and would benefit from the rub. The Undertaker could then go on to his post in-ring career and become an ambassador for the company and do public signing appearances. Do it the right way and say goodbye to the fans. That is what we thought he did when he laid his gloves, coat, and hat in the ring at WrestleMania 33. It's time for a formal retirement and a proper send off.
As Expected
WWE seems to be determined to have a Randy Orton versus AJ Styles match at WrestleMania and that is the one expected match that I both look forward to and support. The two have never had a meaningful feud and they are both some of the best workers in the business. A match between these two superstars keeps them away from the WWE Championship picture. It offers the fans a feud that has meaning and intrigue but that you truly wouldn't know who was going to win.
Something New for the IC Title
The WWE Intercontinental Championship should be on display in a high profile match that allows the superstars to really put on an athletic show. Finn Balor will head to WrestleMania as champion and he should leave as champion. His opponents are hard to determine as WWE had burnt many of the pairings along the way. We have already seen meaningless feuds with Drew McIntyre, Elias, Bobby Lashley, and Baron Corbin. With that being said, who is left to challenge for the title? Were I booking this match, I would have him offer an open challenge for the championship.
This would eliminate the need for any buildup to the match and could open the door for booking that normally would make no sense but for die hard wrestling fans would have the potential to steal the show. Answering the call and challenging for the Intercontinental Championship would be the arrival of KUSHIDA in WWE. These two have New Japan history and could put on a virtual clinic for the WWE Universe. It would establish KUSHIDA as a new WWE Superstar and having Balor retain would not hurt any current roster performers.
Booking the Big Ones
The WWE Championship has been rumored to be where Daniel Bryan faces a returning superstar or a returning legend. The possibilities are endless. Could it be a returning Bray Wyatt who enables Rowan to turn on Bryan and reform the Wyatt Family? Could Harper join Wyatt at Ringside and even the tables? I feel as though this would be revisionist booking and I would steer clear. 
As for my preference, I would book a completely different match for Daniel Bryan. My booking would see a dream match scenario. Daniel Bryan would be booked to face Kofi Kingston heading into Mania. As he goes to the ring, I would have Harper and Rowan attack him to protect the WWE Championship. This would pull Kofi from the match. Don't get me wrong, I think it is time for Kofi. I would give the championship to him the Smackdown after Mania though.
Instead I would have Shane McMahon announce a replacement challenger and bring out the Olympic Gold Medalist Kurt Angle. This is a match many thought they would never see. It's one that could give Angle one last moment of glory. Of course Bryan would have to retain. But the story these two could tell in the ring is off the charts.
Universally Accepted
This is where we decide who headlines WrestleMania. For me, the next match would feature Brock Lesnar facing Seth Rollins in a complete squash match with Seth never giving up. There would be a merciless beat down by Brock for 10 to 15 minutes. Seth would get some momentum here and there but do little damage. At a key moment in the match, Ambrose should come out to distract Lesnar. He should get obliterated by Lesnar and put through a table with an F5. When Brock slides back in under the bottom rope, that is when Seth should hit a Curb Stomp out of nowhere. Both wrestlers should be down for the count.
As Brock recovers, and the beating resumes, it should look like there is no hope only for the arena to explode with the sound of Roman Reigns' music and appearance at the top of the ramp. He should just stand there and watch as Rollins would mount his comeback and slay the Beast. In the end, there would be one last Shield Reunion with the knowledge that Dean Ambrose is leaving the company. As Brock looks on and sees the Shield Fist Bump, Bobby Lashley should attack him from behind and lay him. It would set up a match we all thought we would have seen by now.
Blockbuster Main Event
In the Main Event, Becky Lynch, Charlotte Flair, and Ronda Rousey should be given the honors. That being said, booking the match should be something the fans can truly get behind. The inclusion of Charlotte Flair has taken some of the luster off the match but that could be easily rectified. As the 3 women begin the match, none of them should gain any measurable advantage.
At a key moment in the fight, the winner of the Women's Battle Royal, Shayna Baszler should appear. She should choke out Charlotte on the outside forcing her to be taken to the back. With Baszler at ringside, Rousey should dominate for 10 minutes with several near falls or near submissions.
When Lynch makes a comeback, she should also take out Baszler at ringside bringing out Jessamyn Duke and Marina Shafir. As Lynch gets surrounded, Charlotte, Sasha Banks, and Bayley would come to the ring and clear away everyone. Lynch and Rousey would have the ring all to themselves for their final one-on-one epic showdown. In the end, Becky Lynch would walk away as the New Raw Women's Champion. She's the one to end Rousey's streak on top of the division. We get the 4 Horsewomen of WWE to pose with Becky at the end. The 4 Horsewomen of MMA look on from the ramp to end the show.
What are your thoughts on my Retooled WrestleMania? What do you think of the first edition of Book It?
Comment Below!
Social Media
Don't forget to follow us on Twitter:
@T101Sports and @T101SportsWWE
You can also talk to me, the writer:
@FroWrestling on Twitter
Also, check out the Fro Wrestling Podcast at:
YouTube, Spreaker, Stitcher, and on iTunes.