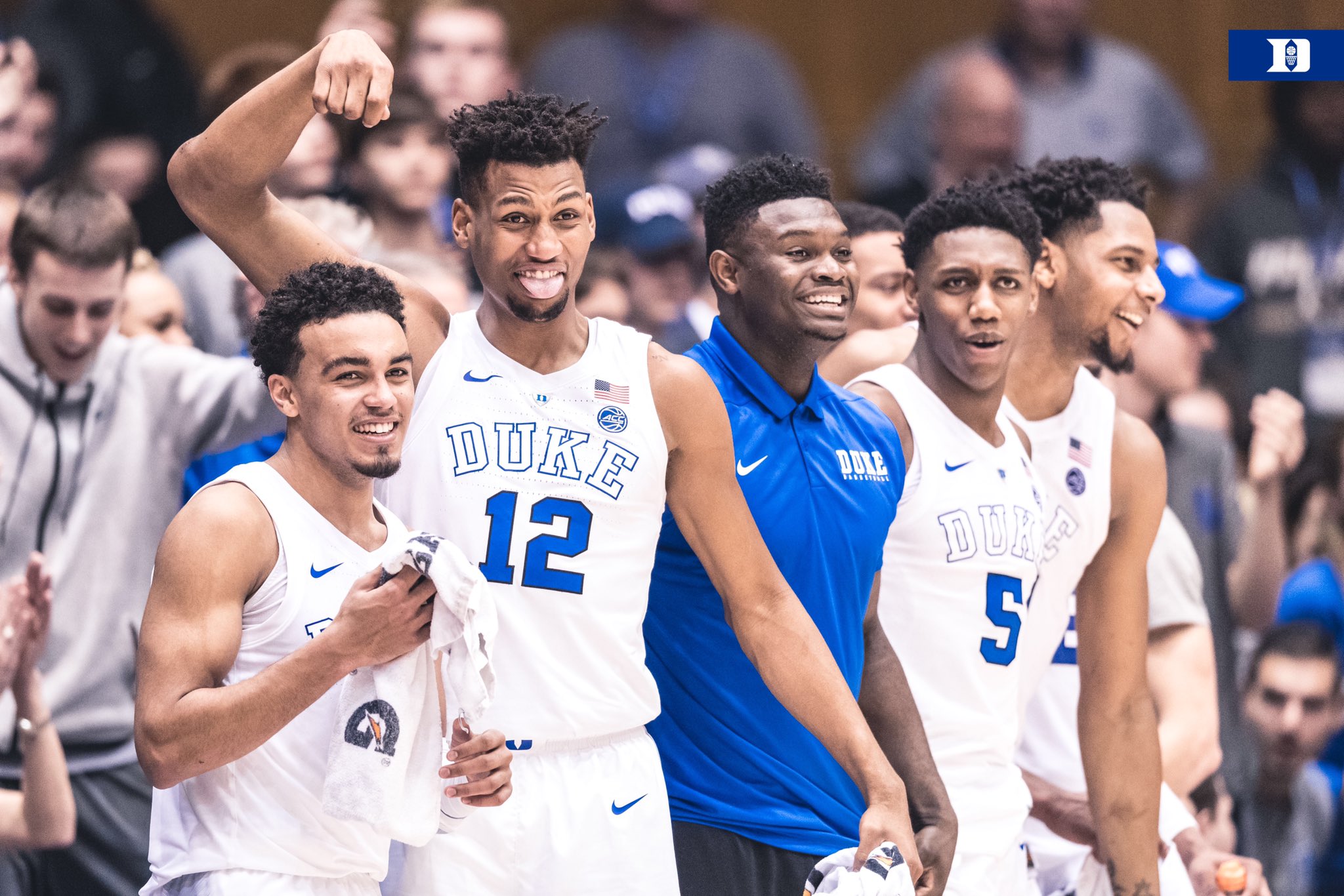 College Hoops Preview: #4 Duke vs Wake Forest
Matchup: #4 Duke Blue Devils (25-4, 13-3 ACC) vs Wake Forest Demon Deacons (11-17, 4-12 ACC)
Date: Mar. 5th, 2019
Time: 7:00 p.m. (est)
Network: ESPN
Location: Durham, North Carolina
Venue: Cameron Indoor Stadium
Seating Capacity: 9,314
Zion Williamson Update
Zion Williamson will not play against Wake Forest. The likely National Player of the Year is still recovering from a grade one right knee sprain. Per Coach K, Williamson is in stage 4/4 in his recovery process. So expect him to suit up in Duke's season finale at North Carolina.
Meet the Opponent
Starters
Point Guard – Brandon Childress (14.6 PPG, 3.6 RPG, 4.1 APG, and 1.6 SPG)
Guard – Sharone Wright Jr. (7.0 PPG and 2.3 RPG)
Guard – Chaundee Brown (11.6 PPG and 4.7 RPG)
Forward – Jaylen Hoard (13.4 PPG and 7.9 RPG)
Center – Ikenna Smart (2.2 PPG and 2.8 RPG)
Key Player
Coach K and Duke have to worry about Brandon Childress above all other Demon Deacons. He leads the team in minutes played, points, assists, and steals. Look for Duke to counter Childress with lockdown defender Tre Jones. Jones has done a superb job on elite guards all year, so look for Childress' name to be added to the Jones victim list.
Team Statistics
Points per Game: 68.6
Opposing Points per Game: 76.0
Rebounds per Game: 37.7
Turnovers per Game: 13.8
Blocks per Game: 2.6
Steals per Game: 5.0
Team Field Goal Percentage: 39.6%
Opponent Field Goal Percentage: 46.6%
Three-Point Field Goal Percentage: 30.8%
Opponent Three Point Field Goal Percentage: 34.1%
Free Throw Percentage: 72.9%
RJ Barrett Looks to Set Freshman Record
RJ Barrett currently sits in second place in the Duke freshman scoring record books. Marvin Bagley III sits in first with 694 points as Barrett sits in second place, tied with Jabari Parker with 670 points. Can he score 24 points in what will be his final home game with Duke?
Prediction
This one will be over by halftime. It's senior night and the Cameron Crazies will be saying goodbye to seniors Antonio Vrankovic and Brennan Besser plus RJ Barrett, Zion Williamson, Cam Reddish, and in all likelihood Tre Jones. Cameron will be rocking with emotion. Look for Barrett to break the Duke freshman scoring record and for Joey Baker to finally get solid minutes.
Duke: 88
Wake Forest: 60
Follow us on YouTube and Twitter
Photo Credit
@DukeMBB via Twitter