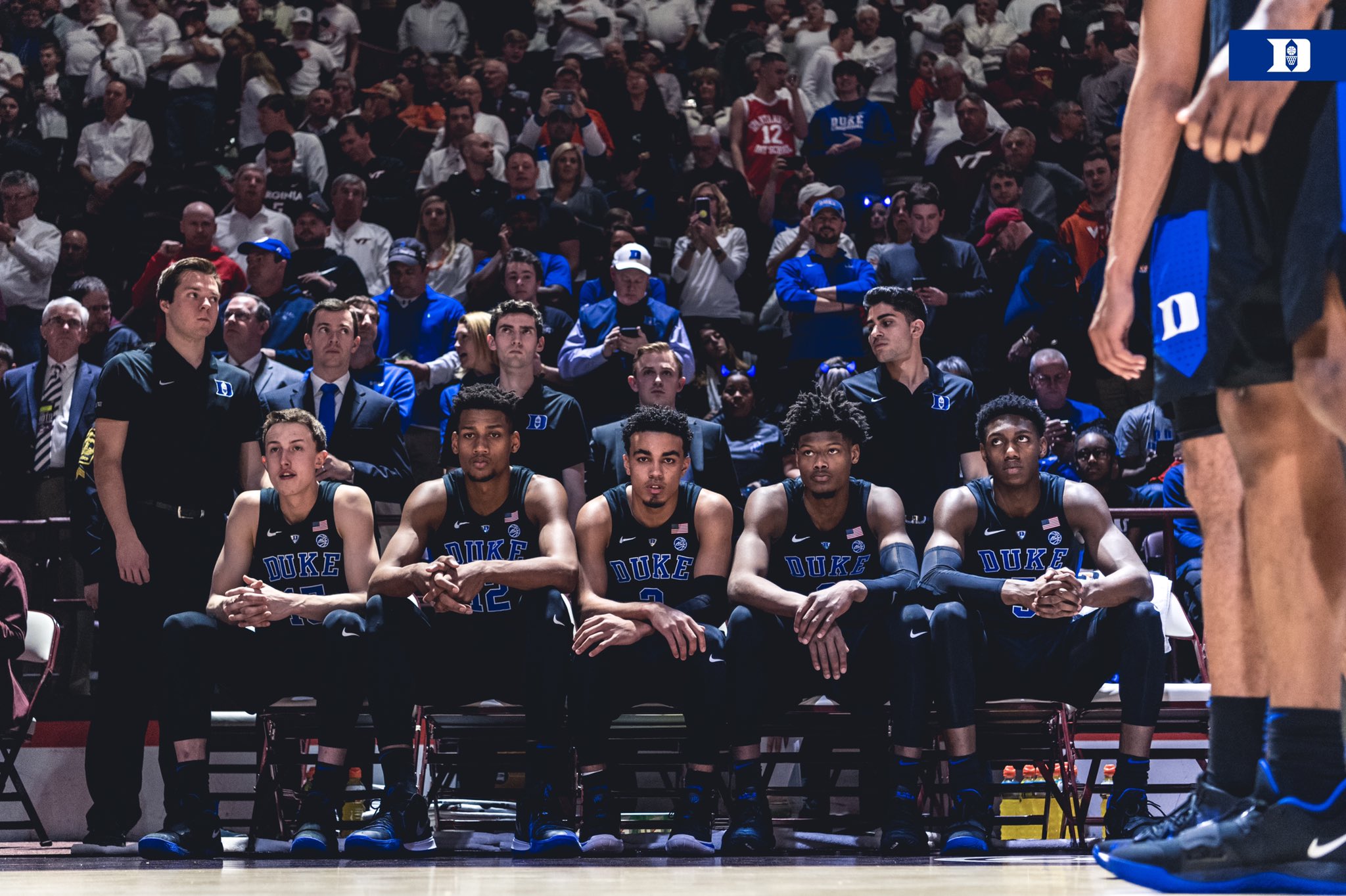 College Hoops Preview: #3 Duke vs Miami
Matchup: #3 Duke Blue Devils (24-4, 12-3 ACC) vs Miami Hurricanes (12-15, 4-11 ACC)
Date: Mar. 2nd, 2019
Time: 4:00 p.m. (est)
Network: CBS
Location: Durham, North Carolina
Venue: Cameron Indoor Stadium
Seating Capacity: 9,314
Zion Williamson
Zion Williamson will not play against Miami, as he is continuing to recover from a grade one right knee sprain, per the team.
Duke Looking to Bounce Back
Duke went down against Virginia Tech earlier in the week on the road. RJ Barrett was playing sick, and Williamson was out of the game. Now, Duke looks to bounce back against a lowly Miami team, who has just four ACC wins this season.
Miami Team Statistics
Points per Game: 72.6
Opposing Points per Game: 70.3
Rebounds per Game: 33.4
Turnovers per Game: 11.8
Blocks per Game: 3.3
Steals per Game: 6.6
Team Field Goal Percentage: 43.9%
Opponent Field Goal Percentage: 44.3%
Three-Point Field Goal Percentage: 34.1%
Opponent Three Point Field Goal Percentage: 33.6%
Free Throw Percentage: 73.9%
Miami Starters
Point Guard – Chris Lykes (16.9 PPG, 3.1 APG, and 1.4 SPG)
Guard – Dejan Vasilijevic (11.6 PPG and 4.4 RPG)
Guard – Zach Johnson (12.3 PPG, 3.0 RPG, 2.4 APG, and 1.8 SPG)
Forward – Anthony Lawrence II (11.9 PPG, 6.2 RPG, 3.0 APG, and 1.3 SPG)
Center – Ebuka Izundu (10.7 PPG, 8.6 RPG, and 1.3 BPG)
Chris Lykes
Miami is led by their undersized superstar, sophomore Chris Lykes. Despite his 5'7″, 157-pound build, opposing teams have trouble stopping him. His size hasn't kept him from shooting the ball at 42.7% from the field and hitting ridiculous circus shots around the rim. It is safe to say that without Lykes, Miami would be getting blown out of the water in every game.
Duke's Key
Stopping Lykes will be the toughest and most important task for Duke today. Tre Jones is a top defender in college basketball, so look for Lykes to be getting hounded by the Blue Devil's lockdown defender today.
Miami's Key
For Miami to have any shot at pulling off this upset, they'll need to take care of the ball on offense and force Duke to score their points in half court sets rather than running in transition. If Miami turns the ball over and allows Duke to run, this game will be over rather quickly.
Prediction
Everyone who watches college basketball will pencil this one in as a blowout. They have every reason to believe so, but Miami can shock you. They are ultra quick and deploy a small ball lineup that could really give Duke problems. Lykes can get hot in a hurry, just like he did at North Carolina on February 9th where he scored 27 points, and Miami forced overtime in Chapel Hill. If Jones is unable to contain Lykes, Miami could stay in it. This scenario is to be unlikely, though. Lykes will become yet another big-time guard to be shut down by Jones. Barrett will take over and score 25 or more points, Cam Reddish will hit threes, and Marques Bolden will pick up where he left off against Virginia Tech.
Duke: 88
Miami: 70
Follow us on YouTube and Twitter
Photo Credit
@DukeMBB via Twitter