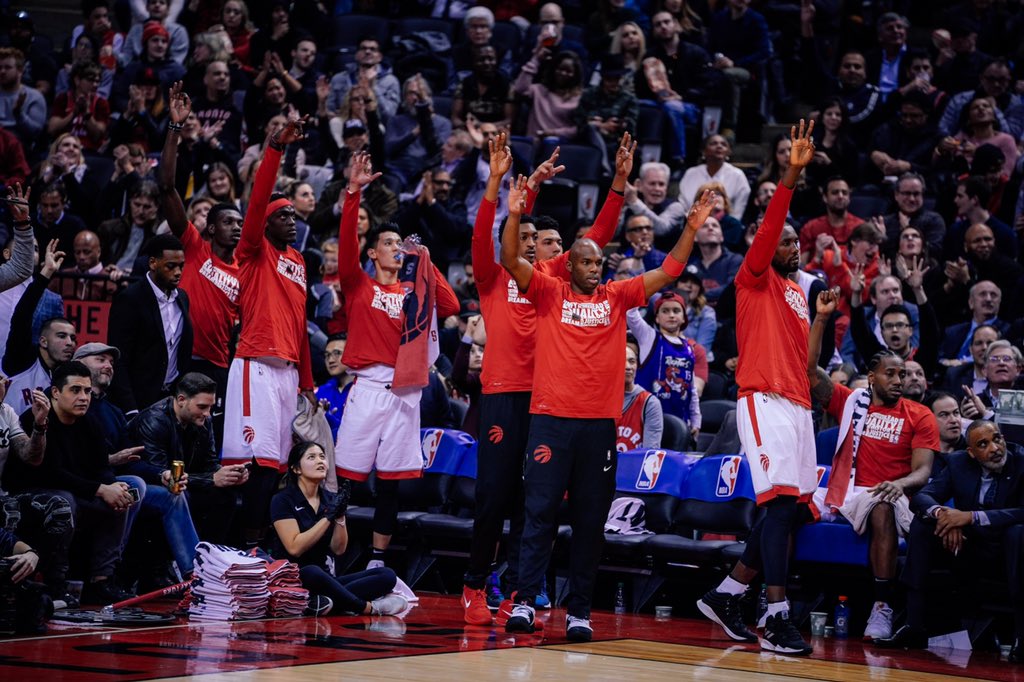 The Importance of Home-Court Advantage In Playoffs
The vital importance of home-court advantage in the NBA playoffs cannot be understated. To illustrate this point clearly, the Raptors were 29-0 against divisional opponents when playing at home. That means they haven't lost at home in a regular season game to an Atlantic Division opponent since December 2015. It's the best record by far in the NBA, during that time, and shows just how urgently the Raptors need home court advantage against fellow Atlantic division powerhouses Boston and Philadelphia. Throw in the fact that Boston leads 2-1 in the season series, and this was simply a game the Raptors needed to win.
18-0 Run Without Kawhi
We'll skip ahead to the second quarter, as this game was a dogfight until Kawhi Leonard sat. Much has been made about the Raptors' superior winning percentage when Kawhi doesn't play, and this game won't do anything to lessen the controversy.
With Leonard resting, a bench led by Marc Gasol, Patrick McCaw, Norman Powell, and OG Anunoby broke the game wide open, going on an 18-0 run. Kyle Lowry was playing beside them, but Toronto's best player was watching from the sidelines. A 4-point deficit became a 14-point lead in only 5 minutes of game time.
Later, Kawhi returned to get in on the action. He helped the Raptors increase the lead to 21 by halftime, 66-45.
Second Half Beatdown
See above.
Toronto completely dominated Boston the rest of the game. If this was hockey, there would have been a bench-clearing scrap.
Playoff Analysis
In the second half, Boston had their spines ripped out. This game was ostensibly over immediately after the Raptors 18-0 run in the second quarter.
Toronto looks extremely focused, while Boston is trending in the other direction. This game was a tale of two franchises as the playoffs loom. I know which team I'd rather be.
Final result: Toronto 118, Boston 95
NOTABLE PERFORMANCES: Everybody wearing a Raptors jersey.
Next game: Raptors play Portland Trailblazers on Friday, March 1st @ 8 pm in Toronto.
Subscribe to get the latest news from TSJ and the TSJ 101 Sports TV YouTube channel! Play and win weekly at Thrive Fantasy!
Photo Credit
@Raptors via Twitter