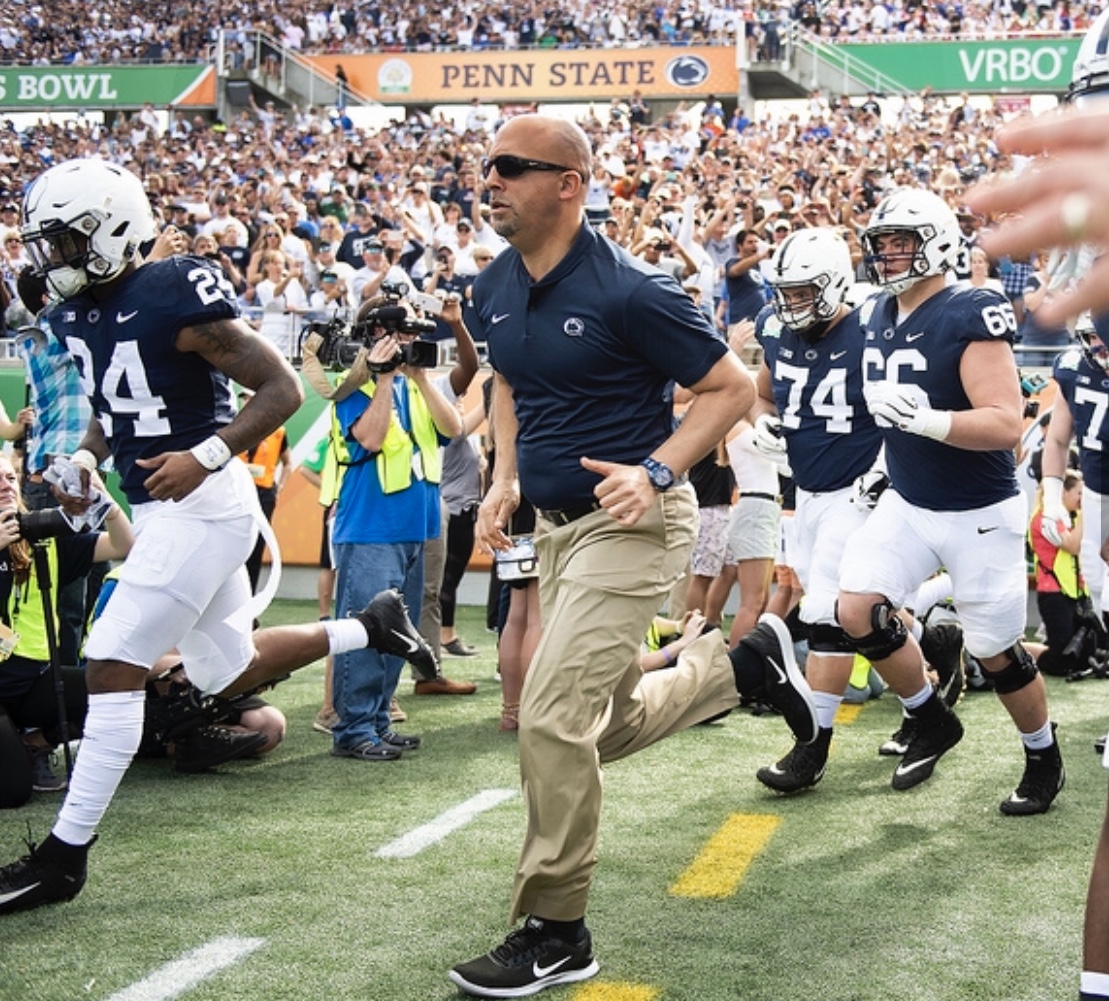 James Franklin Tenure At Penn State
On January 11th, 2014, Penn State hired James Franklin to become its new head coach of the football program. Since his arrival, Franklin has turned what was once a sanctioned-heavy program into a now national powerhouse. Before Penn State, Franklin was the head coach at Vanderbilt University from 2011-2013. James Franklin Tenure at Penn State coming your way.
Career Record at Penn State
Currently, James Franklin has an overall record of 45 wins and 21 losses overall. Besides that, Franklin has achieved a Big Ten title already in 2016 (no one predicted that). He had Three New Year's Day appearances. However, speaking of records, Franklin's only downfall in the Big Ten East is having a 3-12 record combined against rivals Ohio State, Michigan and Michigan State.
Recruiting and Lasch Football Building
Besides bringing back this winning success Penn State is use to having; James Franklin has elected to focus on something that other coaches mainly Joe Paterno didn't focus on: recruiting and football facility improvements.
James Franklin, literally wasted no time in renovating Lasch. In fact, Franklin put in the works a nutrition bar in the weight room and a total renovation of the locker room. In the last four years of fundraising, donations have came close to 25-million dollars. Many more upgrades to Lasch are expected including coaches offices, and position meeting rooms (which have already happened). A Player's lounge and the player's area are forthcoming.
Yes, renovating facilities does indeed help recruiting and improves the overall performance of student-athletes.
Bowl Games
As a Penn State coach, James Franklin is 2-3 in bowl games. Franklin won both the Pinstripe Bowl and Fiesta Bowl. However, Franklin has lost the TaxSlayer Bowl, Rose Bowl and recently the Citrus Bowl.
Winning seasons and recruiting
Winning is something James Franklin has proven he can do. When he first arrived in 2014, Franklin was dealing with sanctioned levied hurdles that he somehow overcame. His first two season finished with identical 7-6 records. The next two seasons seen a huge spike in win totals at 11 each respectively. This past season seen a slight decline in wins at nine. On the other hand, Franklin was just two wins shy of finishing three consecutive seasons with 10 plus wins.
When the aspect of recruiting comes up, Franklin has done an astronomical job with that department. I won't count the 2014 class against Franklin considering that was mainly Bill O'Brien recruiting class. As soon as 2015 hit, Franklin started bringing it recruiting classes that Penn State never seen before. 2015 had 25 commits some of those recruits included: Saquon Barkley, Ryan Bates, Sterling Jenkins, Manny Bowen and Brandon Polk. The average commit in the class was a 89.05 and the overall class score was 250.00. It also finished 2nd in the Big Ten that year.
2016 saw a little drop with the class ranked 20th in the nation with 20 commits. The average commit had a score of 88.08 and overall score of the class was a 237.79. This class would include the first 5-star commit in Miles Sanders. Other notable commits in this class were Connor McGovern, Cam Brown, Will Fries and Danny Dalton. This class finished fourth in the Big Ten in recruiting that year.
2017 saw an improvement to the 15th best class in the nation with 22 commits. Average commit had a score of 88.32 and overall score of the class was a 240.47. This class included Journey Brown, K.J Hamler, Mac Hippenhammer, Lamont Wade, CJ Thorpe, Sean Clifford, Yetur Gross-Matos, Jonathan Sutherland, Tariq Castro-Fields just to name a few. This class was ranked 3rd in the Big Ten.
Fast forward to 2018, this class was the best thus far under James Franklin. This recruiting class was ranked 6th in the nation and it was a highly talented class with 23 commits. The average rating for this class was a 91.70 and the class total score was a 285.92, making it perhaps the best ever for Penn State football.
This class included three 5-star commits and 12 4-star commits along with eight 3-star commits. Some notable recruits include Micah Parsons, Justin Shorter, Ricky Slade, Zack Kuntz and Pat Freiermuth just to name a few.
The 2018 class finished ranked 2nd in the Big Ten. James Franklin has also vamped up the 2019 recruiting class which currently stand at No. 13 nationally and currently 2nd in the Big Ten. Some notable recruits in this upcoming class are Noah Cain, Devyn Ford (two prized running backs), a local stand out from State College Keaton Ellis and the lone 5-star recruit in Brandon Smith.
Conclusion
When James Franklin took over the job from Bill O'Brien, he was taking on a program levied by some of the harshest; if not the harshest sanctions ever handed down on a division one college football program. For Franklin to get Penn State football from where it was to where its at now is nothing short of remarkable.
Penn State hasn't seen the type of recruits nor recruiting classes that Franklin has brought in from any other coach. Franklin has plateaued this program to new heights. He recently signed a five-year extension worth $5.4-million-dollars per season with a buyout option every year at $1-million-dollars.
I don't see Franklin going anywhere anytime soon and nor should fans be calling for him to go. Franklin has worked very hard and tirelessly to get this program back on the map. Some people have a point when it comes to the fourth quarter and his conservative play calling. However, Franklin is revamping this program through renovations to the Lasch building and he's going after in-state/home grown talent.
Grade: A-
I give Franklin this grade for several reasons. He has revamped recruiting and such. However, some big Bowl game loses and that conservative coaching does pay some dividends. If Franklin and his staff weren't conservative on some occasions then I think Penn State football would be in a better situation. Part of the grade also comes from being 3-12 against arch rivals Michigan, Michigan State and Ohio State. That needs to change.
Franklin and staff can't expect to contend if they're not defeating those three teams on a annual basis.  Ohio State especially has proven they can win consistently on the big stage. So if Penn State wants to become lite like James Franklin has said; they're in the process of doing that, and they'll find a way to defeat the elite teams in college football.
Photo Credit to Penn State alumni association via Flickr