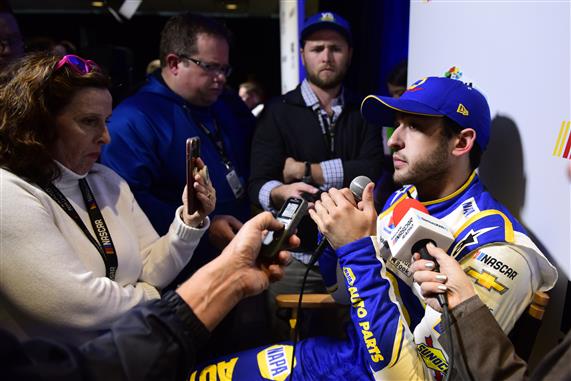 Local Favorites Look for Luck in Atlanta
This weekend NASCAR makes its stop in the city of Atlanta, Georgia, for the second race of the season.  Both Chase Elliott and David Ragan will be looking to claim the trophy in their home state.  When comparing the two, Elliott seems to be the local favorite to collect the checkered flag on Sunday.
"It's a special place and there's definitely a lot of fans around home so I always enjoy going back,'' Elliott told NASCAR.com. "More than that, it's a fun race track to drive. I've enjoyed racing there from a driver standpoint, and glad they didn't repave it. With it being the second race of the year, we can all get back to downforce racing. Big transition and an important week to see how we all stack up. I'm looking forward to getting there."
Though Chase stacks up better on every aspect, it's important not to count out Georga's own David Ragan.  Ragan's team Front Row Motorsports has invested in a number of resources to improve over the off-season.  With the addition of a new car driven by Matt Tifft and a better alliance with Ford and Roush Fenway Racing, you can't write this team off yet.  This weekend Ragan will start 23rd, one spot behind Elliott, as his fellow teammates start 12th and 31st respectivley.  With this season's new package the door for a smaller team seems to be open like never before.
Elliott and Ragan's Atlanta Stats
In three Monster Energy Cup Series races at Atlanta, Chase Elliott has never finished outside of the top ten.  In his debut race at the track, he scored an 8th place finish and followed that up with 5th and 10th place in following years.  Though he's had such success, Elliott's starting positions haven't been the best in Atlanta.  In two of his three starts, he qualified outside of the top 20 much like this weekend where he'll line up 22nd.
As for David Ragan, in his 16 Cup starts he's only finished in the top ten once.  Ragan currently holds an average finish of 25.88 and starting position of 23.8.  Though the odd's are stacked against him, anything can happen.
Which Georgia native do you think can claim the victory in Atlanta?  If not the win, who will finish in front of the other?  Let me know by posting your answer below or tweetings me at twitter.com/noah_lewis1!