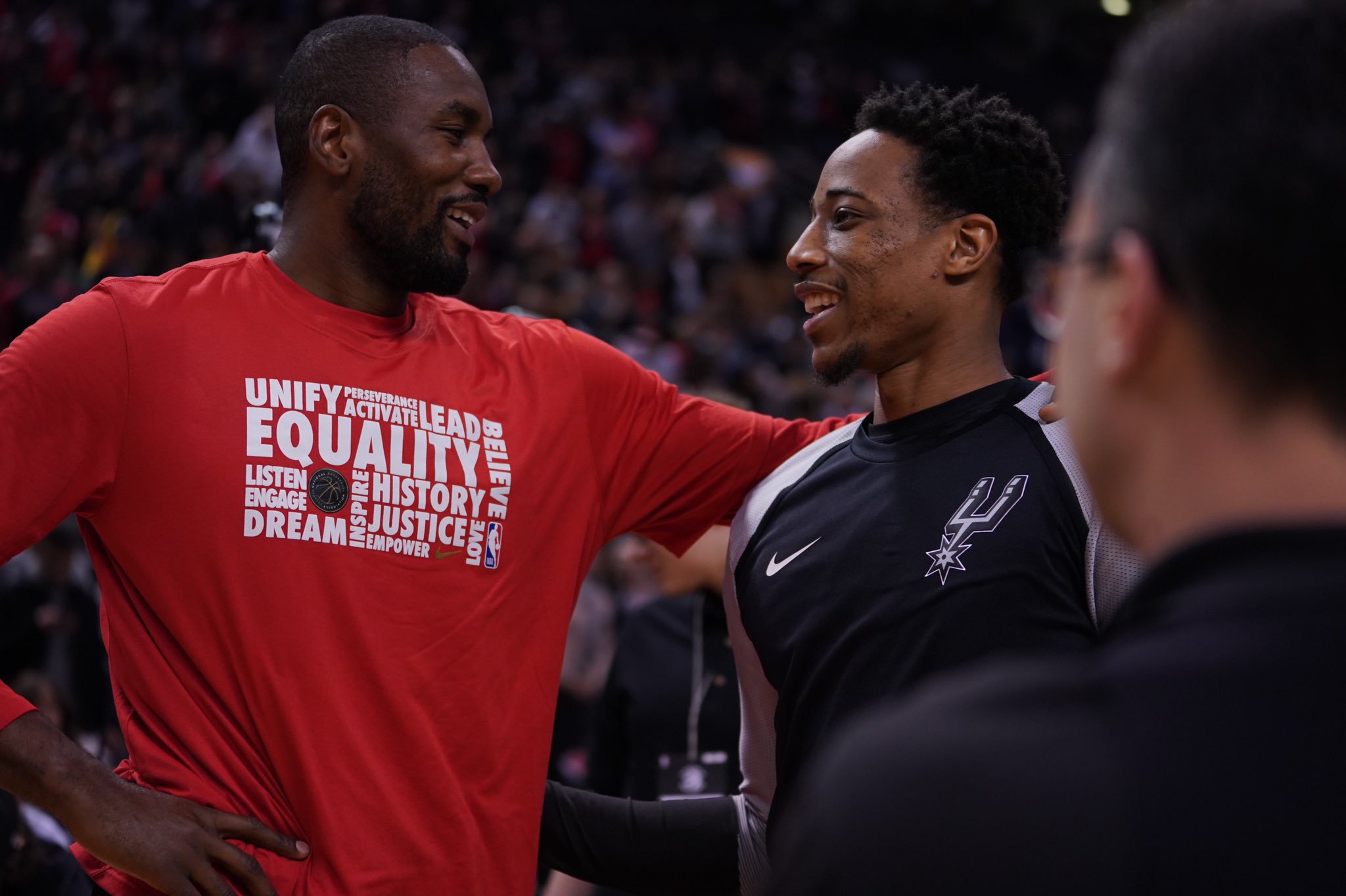 The Confrontation
DeMar DeRozan dribbled the ball upcourt by himself.
Meeting him at halfcourt was Kawhi Leonard — the man he was traded for. In this improbable meeting, the game's outcome lay in the balance. 
On a night where DeMar received an excessively long standing ovation as a final thank you for his decade in Toronto — as the longest-tenured, top scorer in franchise history — it would come down to the old face of the Raptors franchise versus the new face. 
Offense vs Defense
DeMar had been a wizard all night. He even busted out a 360 layup from his old bag of tricks. 
Leonard, on the other hand, had a more difficult night. An uncharacteristically inefficient night against his old franchise, this game was one of Kawhi's worst all season. The Spurs developed Kawhi through their system and seemed to know the many weaknesses that lie inside of him.
Their meeting at the halfcourt line was as improbable as inevitable — this was destiny in motion. A classic offensive player versus a classic defensive player. A volume scorer versus a two-time Defensive Player of the Year.
In another era, Raptors fans would be rooting the other way. A metaphor was in the making: Would DeMar's clutch scoring ability usurp Leonard's clutch stopping ability?
Destiny, for the Toronto Raptors
The final blow came from a friend — maybe even a brother.
In true Cain & Abel fashion, Kyle Lowry went from best friend to enemy, swarming DeRozan as an ambush. This surprise threw DeRozan off balance, creating the split second Leonard needed to steal the ball. An uncontested dunk followed at the 15.1-second mark of the 4th quarter, and the 1-point Spurs lead became a 1-point deficit.
San Antonio would get no closer to victory than that moment.
On a night when DeRozan's entire career was edited together in a touching tribute video, he became a ghost. The Toronto Raptors franchise will always remember DeRozan fondly. A boy who became a man; a basketball player who became a star. The entire city rooted for him and still roots for him. But on this night, he reminded the fan base that the trade heard around the world was worth it. The nostalgia of the past means less than the hope of the present. 
The hard truth is that the future is brighter because DeRozan isn't a part of it.
Final result: Raptors 120, Spurs 117
NOTABLE PERFORMANCES:
DeMar DeRozan – 23 points, 4 REB, 8 AST, 2 STL, 1 BLK
Kawhi Leonard – 25 points, 6 REB, 2 AST, 2 STL, 1 BLK
Next game: Raptors play Orlando Magic on Sunday, February 24th @ 3:30 pm in Toronto. 
Subscribe to get the latest news from TSJ and the TSJ 101 Sports TV YouTube channel! Play and win weekly at Thrive Fantasy!
Photo Credit
@Raptors via Twitter