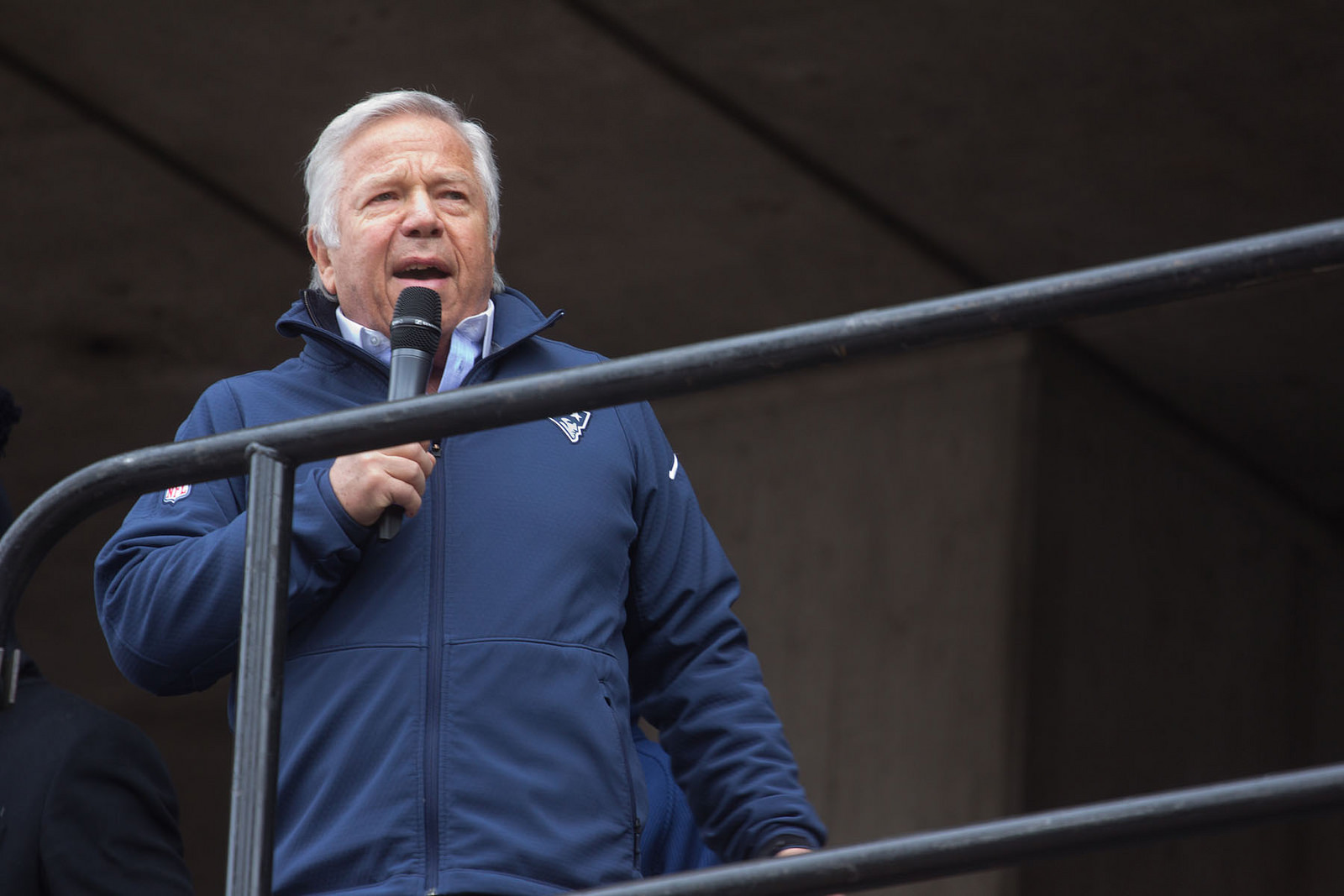 New England Patriots Owner Robert Kraft Charged with Soliciting Prostitution
On Friday, February 22, the Jupiter, Florida Police Department charged Robert Kraft, the owner of the New England Patriots, with two counts of soliciting prostitution. Kraft was one of more than 25 men charged as result of an ongoing investigation into a human trafficking ring in Florida. Specifically, Florida Police surveilled Kraft visiting the "spa" under investigation in Jupiter twice in recent months. As of now, Kraft vehemently denies any wrongdoing and has only been charged, not arrested.
However, reporters are still revealing disgusting details of the story; reporting how women who could barely speak English were forced to live in horrible conditions and perform sex acts. As of now, it sadly seems that there is much more of this appalling story to be revealed. ESPN's Adam Schefter has hinted at there being names even bigger than Kraft's that could possibly be involved with the human trafficking ring.
ESPN's Adam Schefter on the Florida prostitution sting: "There are people down there in that area I'm told who say this story is going to heat up and get a lot worse…I'm also told that Robert Kraft is not the biggest name involved down there"pic.twitter.com/BZTRkabUYi

— Ryan Saavedra (@RealSaavedra) February 22, 2019
Ali Schmitz, a reporter based in Florida, tweeted a list of the men currently being charged.
Implications for Kraft
Sadly, I'm sure only more disgusting details will be revealed. For Kraft, specifically, it is unclear what exactly will happen. As mentioned earlier, he has only been charged with prostitution, not yet arrested. Kraft could face up to 60 days in jail if found guilty. Additionally, he could face up to six months probation and fines. Since Florida Police say they have video, it seems likely that he will be found guilty if the case reaches trial. Even if Kraft escapes without legal charges, the NFL can still choose to discipline him under the personal conduct policy.
The NFL will likely fine and suspend Kraft. Considering his and the Patriots organization's previous disciplinary issues with the NFL, it seems likely he is penalized fairly heavily. The most notable of these previous cases, of course, are Spygate and Deflategate. While this is clearly a disciplinary issue of a completely different kind, those previous cases can give an idea as to the course the NFL may take. As of now, the NFL has done nothing but acknowledge the charges. They seem to be waiting at this time for law enforcement to finish their investigation.
NFL statement on Robert Kraft:

"The NFL is aware of the ongoing law enforcement matter and will continue to monitor developments."

— Adam Schefter (@AdamSchefter) February 22, 2019
On a personal note, writing this story has left me disgusted, and I hope the NFL takes the appropriate disciplinary measures with Mr. Kraft.
Photo Credit
Featured image courtesy of DEREK via Flickr
Follow Timmy Gibson on Twitter (@timmygibson13) and on TSJ101Sports: NFL!
Subscribe to get the latest news from TSJ at the TSJ 101 Sports TV YouTube channel!
Play And Win Weekly at ThriveFantasy!