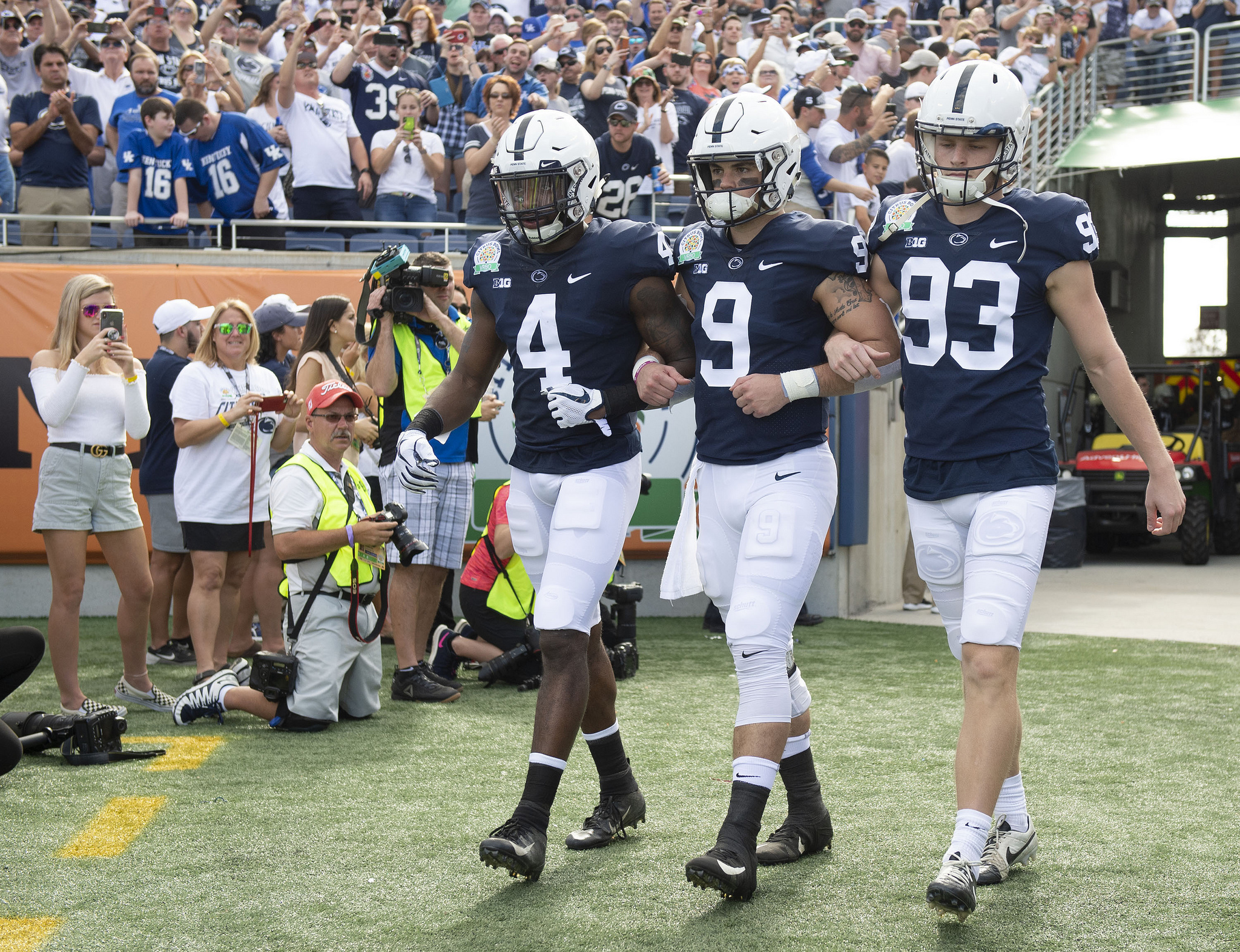 National Signing Day 2019 in the books
Penn State wrapped up its 2019 recruiting class with national signing day. Overall, Penn State will bring in the nation's No. 13-ranked recruiting class in the country. In the Big Ten, it will be  second behind Michigan and in front of Ohio State as far as rankings.
Breaking Down the Recruiting Class
This incoming class had 23 overall commits with the average rating compiling a 0.9101 score which is phenomenal. This class is unique in many ways. In fact, this is the first recruiting cycle in which actually involved two signing  periods. The first occurred in December in which some recruits would be able to enroll early at the school of their choosing. The most recent period involves the recruits that will step foot on campus in May/June.
11 of the recruits in this year's cycle are already enrolled for the spring semester. Two of the  standouts are State College Area standout Keaton Ellis (4-start), who is a corner back recruit.  Noah Cain, who is a power house (4-star) running back recruit out of IMG Academy in Bradenton, Florida. Brandon Smith is the lone 5-star prized recruit who enrolled early. Smith is a line backer recruit, who will look to further solidify Penn State secondary as "Linebacker U".
Experience at All Levels
In terms of talent, this class is up there. However, in other ways, this class lacks some levelness. James Franklin will only bring in one 5-star recruit in Brandon Smith. Smith has a total score of 0.9911 which inevitability makes him the most prized recruit. Smith is 6-4 and weighs 228; and was the nation's 18th-best linebacker and ranked No. 1 at his position and ranked No. 1 in the state of Virginia.
4-Star Recruits
17 members of this class earned a 4-star rating. There's a lot of 4-star talent in this class.
Noah Cain enrolled early and signed during the early signing period in December. Cain is 5-10 and weighs 208 pounds. Cain's overall score is 0.9568 and was ranked 98th nationally. He was 6th at his position and 13th in the state of Florida. Devyn Ford out of Virginia is the other running back and Ford is 5-foot-11 and weighs 195 pounds. Ford is nationally ranked 79th at his position, and  5th overall at his position and 2nd in the state of Virginia.
There is one notable recruit in this class and that's Joey Porter Jr. He is the son of former Steelers linebacker coach Joey Porter. Porter Junior is 6-foot-2 and weighs 185 pounds.
Porter Jr is ranked 324th nationally at his position and and 4th in the state of Pennsylvania. His overall score is 0.8969
Daequan Hardy is another Pittsburgh product in this recruiting class. Hardy is 5-foot-10 and weighs 160 pounds. Hardy is the 26th best player in the state of Pennsylvania at corner back.
The loan 3-star recruit is Marquis Wilson at corner back. Wilson is ranked 407th nationally and 41 at his position and 4th in the state of Connecticut.
Recruiting compared to last year
Last year, James Franklin finished with the No. 6-ranked class in the country. falling five spots probably wasn't on his agenda. Last year's class had 23 commits and the average commit was a 91.70 and had an overall score of 285.92
Last year's class also had three 5-star recruits. This year, Penn State's average is 91.01 and the overall score is 270.67
Conclusion
Now that coach Franklin has finished up on this recruiting cycle. He and his coaching staff will now shift to spring camp and his focus now turns towards building next year's class and beyond. Spring practice will then lead up to the annual Blue and White game which will be held on April 13th at 3:00 p.m.
Photo Credit to Penn State alumni association via Flickr