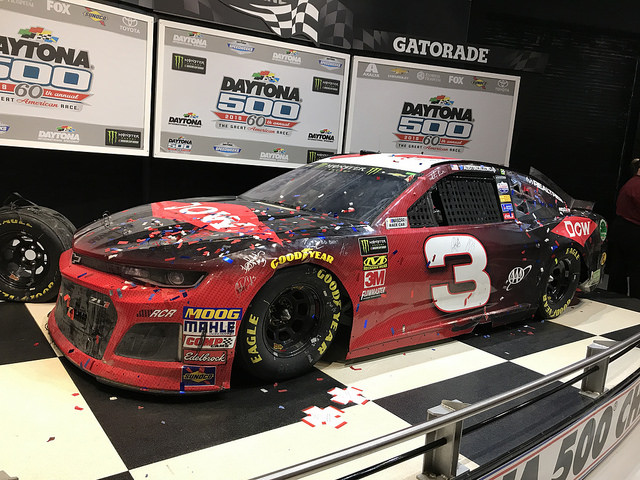 Dominating Daytona does Anything but Guarantee Victory
The 2019 Monster Energy NASCAR Cup Series season is finally upon us. As always the year will start with NASCAR's Super Bowl, the Daytona 500. Every driver in the field grows up dreaming about winning this one race. If nothing else, winning the Daytona 500 cements your name into the record books to never be forgotten. Your name will be immortalized on the Harley J. Earl Trophy. Just like every other race you only need to lead one lap to accomplish that feat. But in NASCAR generally leading the most laps gives you a better chance to win. However, dominating Daytona guarantees anything but victory.
In the past five Daytona 500's just two of the races winners led the most laps in that year's event. Dale Earnhardt Jr. accomplished the feat in 2014 and it was honestly never in doubt. However, the other driver to accomplish this was Denny Hamlin in 2016. Despite leading the most laps it still took a last lap pass and the closest finish in Daytona 500 history for him to stamp his name in racing lore. Twice in that five-year span has the winner only led the last lap. Kurt Busch in 2017 and Austin Dillon in 2018. Which proves that all you have to do is make the move when it counts.
Dominating Daytona Leads to Heartbreak
When looking at these stats it proves that dominating Daytona is nothing more than a recipe for heartbreak. Kyle Busch led over 80 laps in 2008 and 2009 and failed to win the event both years and is still searching for that elusive victory. In 2007, Kurt Busch led 95 laps and just finally broke through in the event in 2017. Since 1993 a driver leading over 100 laps has only won the 500 twice. This happened when Dale Earnhardt did it in 1998 and Sterling Marlin in 1995.
On the other side of that is Ryan Blaney, who last year led 118 laps of the 200. The most dominant performance since Davey Allison in 1992 who led 127 en route to victory. Instead of mirroring that feat though, there was a late race caution. The yellow shook things up and caused Blaney to finish 7th. Blaney's feat a year ago has similarities to when Tony Stewart led 107 laps in 2005.
So as a driver heading into the Daytona 500 your mind shouldn't be set on dominating, it should be set on leading the one lap that counts.
Photo credit to Andy Todd via Flickr.