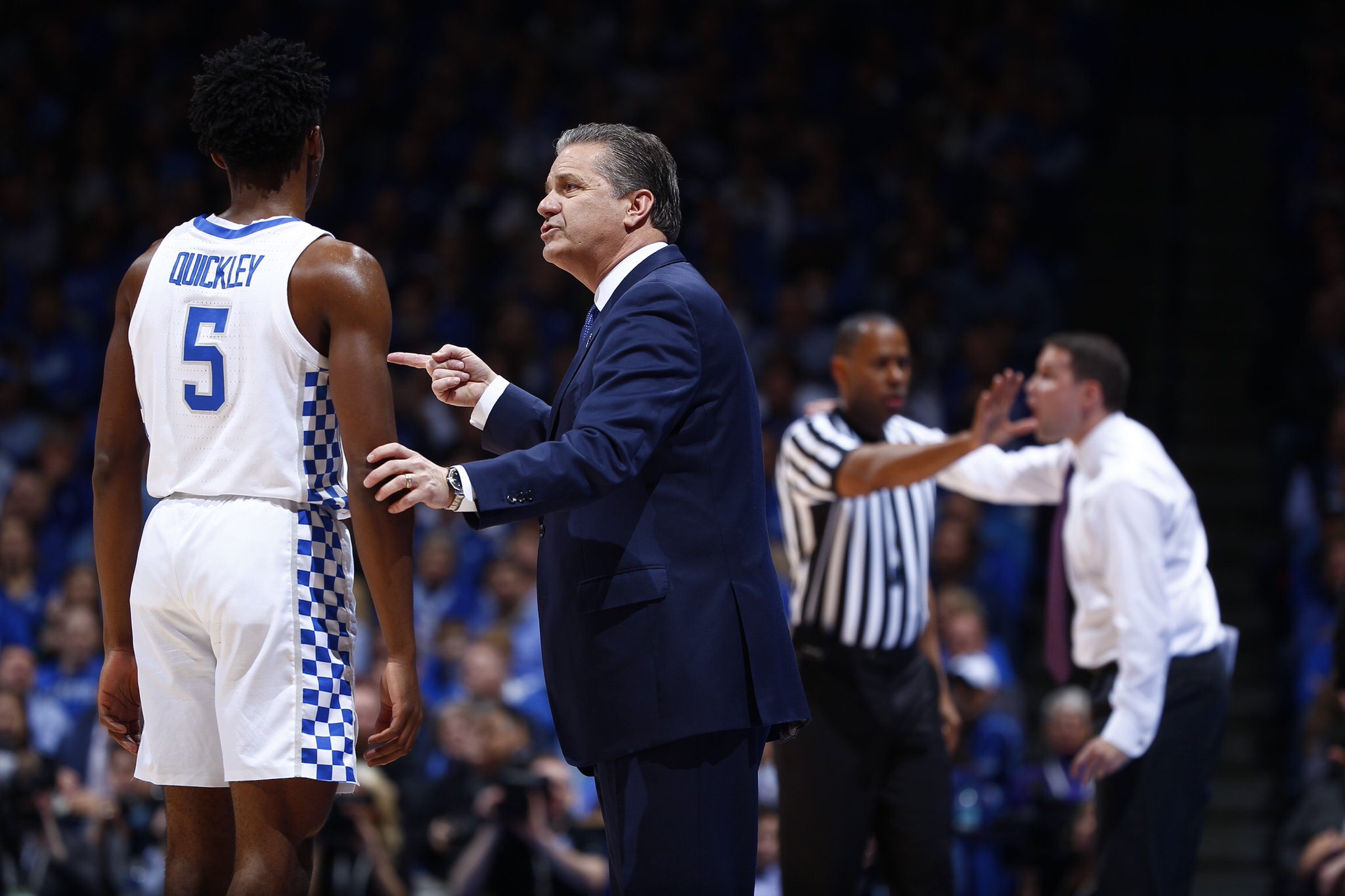 College Hoops Preview: #1 Tennessee vs #5 Kentucky
Matchup: #1 Tennessee Volunteers (23-1, 11-0 SEC) at #5 Kentucky Wildcats (20-4, 9-2 SEC)
Date: February 16th, 2019
Time: 8:00 pm EST
Network: ESPN
Location: Lexington, KY
Venue: Rupp Arena
Seating Capacity: 23,500
Tonight is an SEC blockbuster showdown
The top-ranked Tennessee Volunteers take their 19-game win streak on the road to take on John Calipari's Kentucky Wildcats. Tonight's blockbuster SEC matchup will be a hard test for Tennessee, who has been running over the competition as of late.
Tennessee has one of the best offenses in the nation
Tennessee boasts the seventh best offense in the nation, scoring 85.4 points per contest. The Vols have five players who average double-figures, led by Junior Forward Grant Williams. Williams has grown into a dominant player this season, averaging 19.4 points and 7.4 rebounds per game. In addition to Williams dominance in the paint, Senior Guard Admiral Schofield (16.4 ppg) provides the pain from the perimeter. The bruising guard isn't afraid of contact and often overpowers opponents with his strength.
While Williams and Schofield provide the points, Junior Guard Jordan Bone (13.2 ppg) makes sure the offense is running smoothly. His ability to penetrate and find the open man (6.5 assists per game) is what helps Tennessee's offense tick. Junior Guards Lamonte Turner and Jordan Bowden also contribute, averaging 11.7 and 11.5 ppg respectively.
Rick Barnes' men haven't tasted defeat since November 23rd to then second-ranked Kansas. Barnes will be looking forward to leading the Vols to their 20th straight win over a strong Kentucky team.
Kentucky is solid defensively in SEC play
In their last game, Kentucky suffered a tough loss to SEC powerhouse LSU Tigers, 73-71. Calipari will be hoping to get his team back on the right track against the top team in the nation. In SEC play, the Wildcats have been holding opponents to 61.5 ppg. If Kentucky is to pull off the upset, team defense has to play a vital role.
Sophomore Forward PJ Washington leads the Wildcats in scoring (14.4 ppg) and in rebounding (8.1 rpg). He has to have a big game for Kentucky to have a chance. Also, freshman backcourt combo Keldon Johnson (14.0 ppg) and Tyler Herro (13.3 ppg) have to make their presence felt against Tennessee's experienced guards. Senior Forward Reid Travis (11.6 ppg and 7.0 rpg) has to show up big on the boards and help neutralize Williams strong play in the paint.
Will the Vols continue their winning ways or will the Wildcats pull off an upset?
Kentucky is the favorite to win this game and expect Calipari's young men to pull off the upset. Losing the way they did to a strong LSU team will leave a bad taste in the Wildcats mouth. Washington and Reid will crash the boards and provide Williams with some problems in the post, and Kentucky's strong defensive showing in conference play will shine tonight in a wire-to-wire matchup with the Vols.
Prediction:
Tennessee: 73
Kentucky: 75
Follow us on YouTube and Twitter
Photo Credit
@KentuckyMBB via Twitter
Written by Ryan Gayle