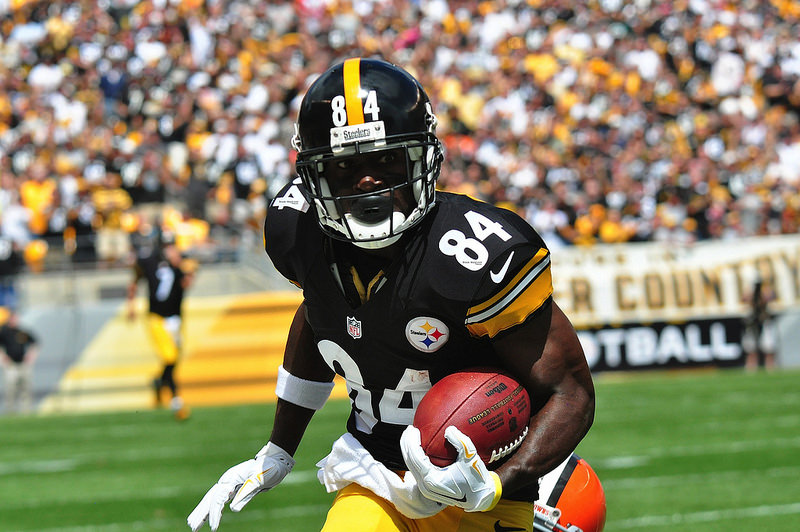 Antonio Brown Sends Parting Tweet to Steelers Nation, Suggesting a Future Trade Demand
Antonio Brown lit up Twitter with a cryptic tweet he sent out Tuesday morning. The Steelers' wide receiver posted, "Thank you SteelerNation for a big 9 years… time to move on and forward." The tweet also had a video montage playing homage to his tenure in the black and yellow.
Brown's exit from the Steel City doesn't come as a shock. Front offices around the league, besides Pittsburgh seemingly, have been preparing for his departure hoping to acquire him in a trade. While Brown's time in Pittsburgh brought much success, it was also met with great controversy.
Quick History of the Falling Out
At the beginning of the 2018 regular season, Brown missed an important practice, something that would reoccur later in the season. In Week 2 of the season, Brown had yet another sideline altercation. This time he held back on the water cooler but instead got in his coach's face.
Just a few weeks later, Brown was sued for throwing furniture off an apartment deck, an allegation he denies. In December he missed practice again and then reportedly got into an altercation with Ben Roethlisberger in the locker room; his actions in this fight got him benched in Week 17.
In the beginning of January, head coach Mike Tomlin told the media that Brown had not requested a trade. Various reports almost immediately begin to dispute this fact, while other circulate potential landing spots for Brown.
Pittsburgh and Brown's Rocky Relationship
Brown's Beef with Mike Tomlin
Pittsburgh's head coach, Mike Tomlin, has had a long-standing reputation as a "player's coach" for his diplomatic demeanor. Over the last two seasons, Brown hasn't been able to attest to such. Multiple reports have stated, Brown feels Tomlin took his quarterback, Ben Roethlisberger's side too often.
In 2017, Brown secretly recorded Tomlin in the Steelers' locker room talking about the New England Patriots. Brown did so via Facebook Live thereby live streaming the video for anyone following or looking at Brown's Facebook page. A serious of practice blowups and no-shows by the wide receiver have been interpreted as frustrated retribution towards his coach.
Brown's Beef with Ben Roethlisberger
Most if not all of AB's problems with the Steelers have stemmed from his negative relationship with Roethlisberger. It's not uncommon to see WR and QB disputes in the NFL, but this feud was one for the history books.
Roethlisberger has struggled with consistency the past few years, even contemplating retirement after throwing five interceptions in one game. Brown has expressed on multiple occasions that he feels his production is suffering from Roethlisberger's poor play.
In 2015, fans saw a heated exchange between the two. Roethlisberger had missed Brown open downfield, and Brown wanted answers. The next three seasons was more of the same. After another sideline incident with the QB in 2018, Brown tweeted "trade me."
Both have made below-the-belt comments regarding each other in the media, but the brawl peaked at the end of the 2018 regular season. AB reportedly threw a ball at his QB in a heated altercation that led to Brown storming out of the locker room and being suspended via coach's decision for Week 17.
Brown's Time in Pittsburgh
Brown, a Central Michigan alumnus, was drafted by the Steelers in 2010 in the sixth round as the 195th overall pick. In his rookie year, AB played in just nine games, starting none of them. The Steelers went to the Super Bowl that year but lost to the Green Bay Packers. The following season Brown played 16 games, catching 69 passes for 1,108 receiving yards.
In his nine-year career as a Steeler, Brown recorded over 1,000 receiving yards every season but two (2010, 2012). He was also voted First-Team All-Pro four years in a row (2014-2017). From 2013-2017, Brown was Pittsburgh's top receiver, being replaced by JuJu Smith-Schuster in 2018.
However, Brown still found himself in the top ten receivers this year at number seven; the only seasons Brown wasn't in this class was his first three seasons. For reference, the last season Brown wasn't a top ten receiver, Calvin Johnson, Victor Cruz, Dez Bryant, and Reggie Wayne were.
2017 – 2018 Frustrations
The Steelers drafted Smith-Schuster in the second round of the 2017 NFL draft. Smith-Schuster became a fast favorite of Roethlisberger to target downfield. Brown was also sharing targets with running back, Le'Veon Bell, who had 85 receptions and 106 targets in 2017.
Despite the delegation of passes, Antonio Brown's targets have climbed the last three years while his receptions have gone down. The decline in receptions is mainly due to Brown facing double-team coverage and poor pass placement by Roethlisberger. However, from 2016-2018 Brown saw 154, 163, and 168 targets respectively.
His lack of production and division of targets became a source of frustration for Brown undoubtedly. Additionally, the contract mishandling of Le'Veon Bell regarding the use of the franchise tag didn't help matters. Bell sat out the 2018 season in protest after threatening to do so if Pittsburgh didn't offer him a longterm contract with guaranteed money. Brown expressed support for Bell in a tweet at the beginning of the 2018 season. This debacle only worsened the rocky waters.
In 2017 the Steelers suffered a heartbreaking loss in the divisional round to the Jacksonville Jaguars, 42-45 after finishing 13-3. The following year in 2018, the Steelers finished just 9-6-1 missing the playoffs for the first time since 2013.
Trade Destinations for Brown
Antonio Brown may have forced the Steelers' hand, but they control his fate. Brown doesn't become a free agent until 2022 and will have to leave Pittsburgh via trade. The earliest possible date Brown could be traded is March 13th. With an expensive contract and an intense attitude, the potential destinations for Brown are somewhat slim.
While the best landing spot may be Green Bay, the Packers probably don't have the money for him. Teams who have the financial fortitude to pick up his contract and need a wideout include Oakland, New York, and San Francisco. The San Francisco 49ers are the most popular theory as far as new homes go for Antonio. With Jimmy Garoppolo under center and Kyle Shanahan on the sideline, Brown could take a franchise with great potential to playoff and Super Bowl heights.
Photo Credit
Featured Image courtesy of Brook Ward
Subscribe to get the latest news from TSJ at the TSJ 101 Sports TV YouTube channel!
Play And Win Weekly at ThriveFantasy!