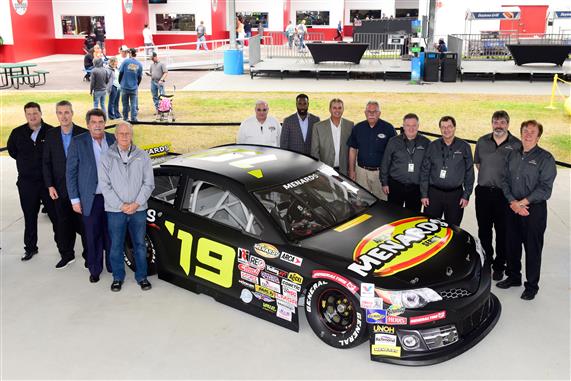 Burton Wins Third Career ARCA Race
Harrison Burton opened SpeedWeeks at Daytona International Speedway with a victory in the ARCA Menards Series season-opener.  Burton turned 18 years old in October to meet the age requirement for the top NASCAR-sanctioned tracks.  Saturday's Lucas Oil 200 was the first of a five-race ARCA deal with Venturini Motorsports for Burton.
Todd Gilliland finished second and gave Burton a push on the restart in overtime that sealed his victory.  Burton and Gilliland will be teammates at Kyle Busch Motorsports in the Truck Series this season.  The pair will race in the Truck Series season opener on Friday.
Harrison came up through the NASCAR NEXT program and won the 2017 NASCAR K&N Pro Series East Championship. He is the son of former 18-year Cup Series veteran Jeff Burton, who also won a race at Daytona in 2000.
Pole Winner Christian Eckes Finishes Fourth
Christian Eckes, driving the #15 JBL Audio Toyota, finished 4th after beginning in the pole position.  Like Burton, Eckes also competes for Venturini and will drive for Kyle Busch Motorsports in the Truck Series.
ARCA, Menards Agree to Partnership Expansion
Welcome to the era of the "ARCA Menards Series."
Prior to Saturday's race, ARCA announced that they had agreed to a partnership expansion with Menards.  The expansion elevates Menards to the entitlement sponsor.
Ultimately, the fact that NASCAR acquired ARCA last year was what made this deal happen.
"We would not be sitting at this table and making this announcement had we not been a NASCAR property," said ARCA President Ron Drager.
Next up on ARCA's schedule is the Pensacola 200 at Five Flags Speedway on March 9.  As a reminder, all ARCA races will air live on TV for the first time in series history this year.  For the most part, the races will be broadcast on MAVTV (12 of 20 races).  The eight remaining races will air on either FS1 or FS2.
Teddy Rydquist is on Twitter: @TeddyRydquist