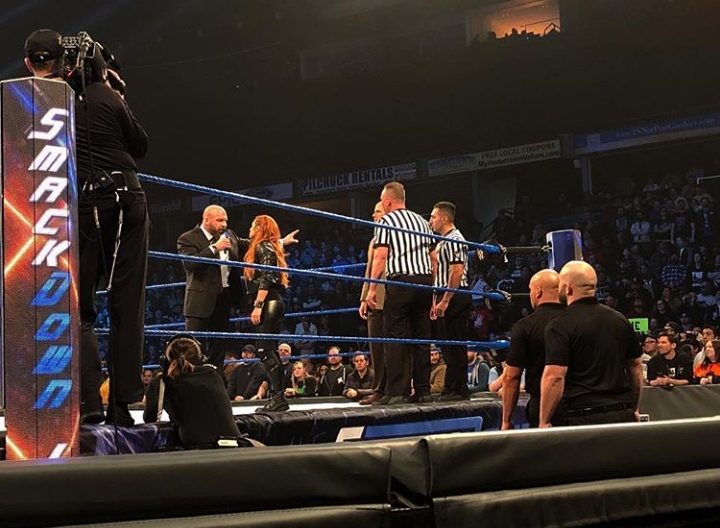 SmackDown Recap for the February 5, 2019 Episode of SmackDown Live
The First Hour
This rendition of SmackDown Live starts out with Charlotte Flair taking to the ring. She says the only thing worse than ignorance is arrogance. Charlotte says Becky's arrogance is the reason she's on suspension. She says if Becky can't compete, she knows someone who would love to face Ronda Rousey at WrestleMania and points to the giant sign hanging above the audience.
Emerging from the crowd, underneath the WrestleMania sign, is Becky Lynch. Becky hops the barricade and takes a microphone. Charlotte and Becky bicker for a moment before Triple H interrupts them.
Triple H reminds Becky she isn't supposed to be here, due to her suspension. He sends Charlotte to her room, making her leave the ring.
Triple H says all Becky has to do to get to WrestleMania is to see a doctor. Becky says she won't because she doesn't trust the system. Triple H tells her it doesn't matter due to WWE rules whether or not she trusts it. Becky asks how Stephanie McMahon is doing after last night. Triple H says Becky is looking for an excuse not to get cleared by a doctor because she is afraid of Ronda Rousey. Becky slaps H across the face. After a stare down, Becky smiles and leaves the ring.
Tag Team: Gallows & Anderson vs Rusev and Shinsuke Nakamura
Result: Rusev pins Anderson
Lana helps Shinsuke into the ring, after he gets knocked out
Rusev wins with the Machka Kick
Mustafa Ali cuts a promo backstage, saying no one expects him to beat Randy Orton or win the Elimination Chamber, but "what if" he did.
The Usos cut a promo in a different part of the backstage area. Jimmy and Jey go back and forth saying how they're the real best tag team in the world and plan on beating Miz and Shane McMahon for the SmackDown Tag Team championships.
One on One: Mustafa Ali vs Randy Orton
Result: Orton pins Ali
Orton pulls Ali off the top rope and counters with an RKO for the win
After the match, Samoa Joe slaps on the Coquinoa Clutch on Randy Orton. He kicks Mustafa Ali in the face.
Daniel Bryan comes out with a smug sense of confidence every vegan has. Joe walks up to Bryan, looking like he's going to fight him, but Rowan walks out behind Bryan and Joe stops.
Samoa Joe cuts a promo backstage about physics… no, really.
Back to the ring now with "The New" Daniel Bryan and "Millennial Vegan-Hipster" Rowan. D-Bry's the hometown boy and he panders to the crowd a little. He says that the people of Washington state are more intelligent than anybody else in the world because they understand him.
Daniel says the old WWE title was a symbol of excellence. He says his new eco-friendly title is a symbol of excellence and change. Rowan says he and Daniel are dangerous because of their ideas (I think this is the first time Rowan ever spoke more than seven words at one time). Rowan says the WWE will try and silence him and Daniel. Daniel says he is the planet's champion. He says the planet needs him as the WWE champion.
Dasha Fuentes, I think, talks to Jeff Hardy backstage. Jeff says what Daniel is doing is disrespectful to the WWE championship because of his insane ramblings. He says he's going to go out there and make Daniel Bryan shut up because that's what real champions do.
AJ Styles cuts in. He asks Jeff if he is really the person to defend the WWE title's legacy. Jeff says they'll settle everything in the Elimination Chamber.
Naomi and Carmella are the third team to represent SmackDown in the Women's Tag Team Elimination Chamber because they volunteered..
Sonya says their match at Elimination Chamber is no joking manner because she's taking it very seriously. Mandy says she and Sonya have more experience in the Elimination Chamber, other than Bayley and Sasha Banks.
Tag Team Triple Threat: The IIconics vs Fire & Desire vs Fabulous Glow
Result: Mandy pins Naomi
Mandy steals Tommaso Ciampa's finisher to pin Naomi
Zelina Vega and Andrade "Don't call me 'Cien' Almas" are backstage in a locker room. Vega says the legend of Andrade starts with the end of Rey Mysterio.
A hype package airs, showcasing SmackDown Women's champion, Asuka, who isn't on the show for some odd reason.
One on One: Jeff Hardy vs Daniel Bryan
Result: Hardy wins via disqualification after Rown pulls him out of the ring
After the match, Daniel Bryan locks Jeff Hardy into the LeBell Lock. Samoa Joe runs out and slaps on the Coquina Clutch on Bryan. Randy Orton runs out and attacks Joe. Mustafa Ali comes out of nowhere and jumps on both Orton and Joe. Rowan slams Ali on the announce table. AJ Styles's music hits and he runs out. Styles hits the Phenomenal Forearm on Jeff Hardy.
In Gorilla, Daniel further pushes his eco-friendly image. He says he will be WWE champion forever because that's what the planet needs.
Contractually Obligated Social Media Plug
If you hate TSJ101Sports, then you hate America…
Follow TSJ101Sports on Twitter: @T101Sports and @T101SportsWWE
Follow me, the writer, on Twitter if you have nothing better to do: @JordanPiekarski
Photo credit to WWE via Instagram