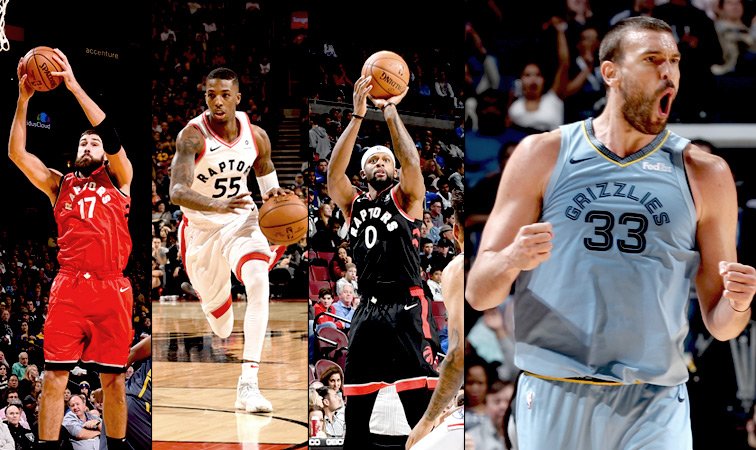 Raptors Acquire Marc Gasol, Defeat the Hawks 119-101
Jonas Valanciunas was supposed to return to the Raptors last night.
Instead he will be on a plane to Memphis.
Traded just before yesterday's 3 pm NBA trade deadline, Valanciunas was included as part of a package that brought back Grizzlies legend Marc Gasol as the newest Raptor. The playoff run has officially begun in earnest.
The return for Gasol was steep: 26-year old Valanciunas, 26-year old combo guard Delon Wright, 3-point specialist CJ Miles, and a second round pick. But one thing was clear: the Raptors needed to bolster their roster moving into the playoffs. 
Eastern Conference Playoff Race
The Philadelphia 76ers started an Eastern Conference arms race earlier this week by acquiring Los Angeles Clippers star Tobias Harris less than 24 hours after being handled with ease by the Raptors. That started a domino effect where the Milwaukee Bucks acquired Stanley Johnson. Afterward, the Bucks flipped him for talented scoring forward Nikola Mirotic. 
The Raptors, in an effort to keep up with their main competitors in the East, essentially had no choice but to follow suit. They also extricated Greg Monroe and Malachi Richardson from the roster to free up cap space to acquire Gasol.
Interestingly, this leaves the Raptors three roster spots below league requirements — with two weeks to add three players. The NBA buyout market beckons…
Undermanned Raptors vs Atlanta
With Marc Gasol not yet in Toronto, with five less players than last game on the roster, and with Kawhi Leonard taking the game off, the Raptors had to perform against a feisty Hawks squad with a roster disadvantage.
The first half was surprisingly competitive. The Hawks came out aggressively, building up a 33-22 advantage by the end of the 1st quarter. With only nine men available (two of whom have barely played this season), all could be forgiven if the Raptors gave up a game on the eve of the NBA trade deadline. 
But the Raptors found more strength from within during the 2nd quarter, pulling to within eight at halftime — 68-60.
Raptors Turn It On in the Second Half
The second half was a completely different story. The Raptors fought their way to an 11-point turnaround in the 3rd quarter and rode that momentum into a 4th quarter blowout. Pascal Siakam and Fred VanVleet each set career-highs in point totals with 33 and 30, respectively.
NOTABLE PEFORMANCES:
Pascal Siakam – 33 points, 12/20 FG, 14 REB, 4 AST, 2 STL, 1 BLK, +23
Fred VanVleet – 30 points, 11/22 FG, 4 3PM, 5 REB, 6 AST, +32
Next game:
Raptors play the New York Knicks on Saturday, February 9th @ 7:30 pm in New York.
Subscribe to get the latest news from TSJ and the TSJ 101 Sports TV YouTube channel! Play and win weekly at Thrive Fantasy!
Photo Credit
@Raptors via Twitter