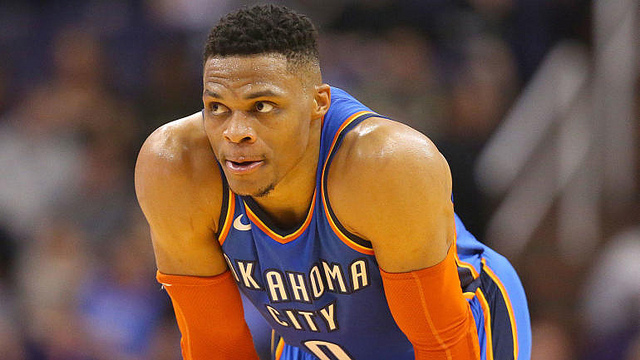 Thunder Fall Short Against The Celtics 134-129 in Boston
With the Oklahoma City Thunder being down multiple times by double-digits throughout this game, they still had a chance to win. The Thunder found themselves down 12 to the Boston Celtics with five minutes left in the game. It looked all but over. However, with two minutes left, they somehow found themselves in a very close game only down two points. Big plays and shots from Russell Westbrook, Paul George and Jerami Grant saved this team.
With the game at 130-128 and Jayson Tatum missing his second free-throw, the Thunder saw a huge opportunity to take advantage. Westbrook grabbed the rebounds, went down the court and somehow lost the ball and that was all she wrote. The Thunder ended up falling short 134-129 and it snapped their winning streak.
What Went Wrong
This may have been the worst defensive performance from the Thunder this year. Yes, even worse than the Spurs game. Even though the Spurs made a lot of there shots, they were contested and the Thunder just seemed very unlucky. This game had some of the laziest defending as a collective whole from this group. There wasn't a soul that could guard Kyrie Irving, he finished with 30 points on 14-19 shooting and 11 assists. He was unstoppable, it didn't matter who was on him.
The Celtics played a total of nine guys last night, and eight of them scored in double-figures. They shot 59% from the floor as a team, that is absurd. The Celtics also just played at an insanely high level, and even with the Thunder making a comeback, it still felt like they were getting beat down for most of that game.
It also didn't help that Westbrook started off the game shooting 2-9 from the field. George didn't exactly light it up shooting-wise either. Yet, they still found a way to make this game interesting.
Making it a Game
In the third quarter, the Thunder found themselves actually taking the lead 79-78. Westbrook seemed to find his shot and ball movement was great. That lead ended when Marcus Smart hit a few three pointers to push the lead back up to double-digits. Yet this Thunder team never gave up, they kept fighting until the final buzzer.
Last season, the Thunder probably would've given up. However, this year's team fought and clawed their way back. Down 12 with five minutes left, Westbrook started making great plays. George and Grant also started hitting shots and just like that they were in a two-point game on the road.
Tatum went to the line to shoot two free-throws, only hitting one of two shots. Westbrook of course grabs the ball and goes down the court like he always does. He ended up turning it over to Al Horford and Tatum hit his next two free-throws to extend the lead to four. It was all over by then.
Westbrook Helping and Hurting
After that brutal first-half, Westbrook put in the work and turned the game completely around. In the second half, he shot 6-10 and a big three pointer to cut the lead to four and then a layup to cut it to two. That whole sequence of them coming back within two minutes was because of Westbrook. He had his hand-prints all over that game. Every basket his teammates had was assisted by him. He had a few offensive rebounds to keep possessions alive.
Him going down-court and making a play is what Westbrook does. They trapped him and turned the ball over. You take those chances with him, especially when George is having a very odd shooting night. He might have been the reason they lost, but he was the reason they even climbed back into this game. He finished the night with 22 points on 8-19 shooting, 16 assists and 12 rebounds.
Key Performers: Thunder vs Celtics
George ended the night with 37 points on 11-27 shooting and five three-pointers. It was one of the very few nights you saw him miss a couple of shots he normally makes. It was definitely his worst night in quite sometime, and yet he still ended up with 37 points. 10 of those points came from the free-throw line as well. Grant finished with 15 points on 5-8 shooting and Steven Adams contributed with 16 points and nine rebounds.
Dennis Schroder has been big off the bench the past few games and last night he did well. He finished with 16 points, six rebounds and three assists. As a whole they shot 40 percent from three and 49% from the field.
As for the Celtics, Irving wasn't the only one who had a good game. Horford finished with 19 points and nine assists. Marcus Morris finished with 19 points and seven rebounds. Smart was sharp scoring 18 points and hitting four three-pointers to go along with seven assists, four rebounds and two steals.
The bench for the Celtics ended up with 39 points, and the bench unit for the Thunder scored 28.
On to the Next One
The winning streak ends at seven for the Thunder after this game. There isn't much to worry about from this game, because what they struggled in most won't be a re-occurring theme for them. They have been one of the best, if not the best, defensive teams in the NBA this year. That will be fixed. George shooting that poorly won't happen too many more times this season either. There is nothing to worry about from this game.
They go back home to face the Orlando Magic on Tuesday night. They are currently 33-19 on the season and still hold the third spot in the Western Conference.
Subscribe to get the latest news from TSJ and the TSJ 101 Sports TV YouTube channel! Play and win weekly at Thrive Fantasy!
Photo Credit
James Anderson via Flickr
Writer Brandan Verrastro