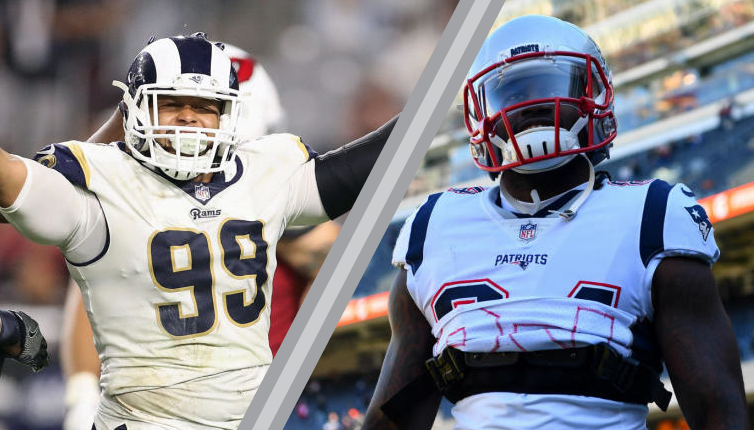 Four Key Players for Super Bowl LIII
The Los Angeles Rams and New England Patriots are game-planning for each other for upcoming Super Bowl LIII — and will try to find mismatches where they can. Last year, players like Nick Foles came out of nowhere to win Super Bowl MVP after leading the Eagles to their first Super Bowl victory. Neither team has an underdog story like Foles did last year, but they do have players that can make a huge impact.
This matchup will pit two of the most respected coaches in the NFL against each other. Patriots' head coach Bill Belichick is one of the greatest minds in NFL history. He has built up the Patriots dynasty and will be appearing in his ninth Super Bowl. On the other side, Sean McVay is one of the brightest young coaching minds. In this contest, he will look to win his first Super Bowl. Here are two players for each team that stand to make a big impact in Sunday's matchup.
Los Angeles Rams
Aaron Donald — Defensive Tackle
This may seem like an obvious choice, as the reigning Defensive Player of the Year continued his stellar form this season. The Rams will need him even more than usual, however, come game time against New England. The Patriots rely heavily on running the ball inside. Stopping the run is something L.A. will need Donald to do if they want to get themselves ahead of the Patriots. The Rams will also need Donald to put consistent pressure on Tom Brady if they intend to shut that offense down. Brady thrives when he has time in the pocket to survey his options. Donald is one of the most disruptive forces in the NFL and the Rams will absolutely rely on that against Brady.
C.J. Anderson — Running Back
Everyone will talk about how the Rams expect Todd Gurley to come up big in this game, but he has not looked 100% over the past few games. Meanwhile, C.J. Anderson has become a significant contributor since the Rams signed him late in the season. L.A. cannot rely on Jared Goff to win this game for them. He has struggled late in the season and is still only a third-year player entering his first Super Bowl. The veteran Anderson will be there to take pressure off of Goff, especially if Gurley is not 100% come kickoff. If the Rams want to have a chance, they will need Anderson to step up and play like their lead back.
New England Patriots
Cordarrelle Patterson — Wide Receiver/Running Back
This may seem like a surprising choice, but Cordarrelle Patterson has become a key contributor in the Patriots offense. Patterson, notably, has no specific role. It seemed like he was making a transition to running back earlier in the season, but has shifted more towards receiver in the playoffs — while still managing touches in the run. Patterson is the ultimate utility and big-play threat. That is what this game could come down to: which team can make the big plays when they're needed most. The Patriots should find as many ways to get the ball in the hands of Patterson as they can.
Stephon Gilmore — Cornerback
Stephon Gilmore has morphed from the number-two corner on the Patriots, while Malcom Butler was on the team, to number-one corner and up there with the best in the league. Gilmore has consistently shut down number-one receivers all season. He will have a tall task this weekend, though, facing either former teammate Brandin Cooks or the dynamic Robert Woods. Both receivers have drastically different skill sets — and Gilmore will be tasked with shadowing one or the other at varying points. The Patriots will need Gilmore to lock down whoever he is covering to make Jared Goff force throws to less-than-ideal targets.
Date: Sunday, February 3rd, 2019
Time: 6:30 pm EST
Location: Mercedes-Benz Stadium – Atlanta, GA
Photo Credit
Featured image courtesy of James Anderson & James Anderson via Flickr
Follow Ben Glassmire on Twitter (@brglass10) and on TSJ101Sports: NFL!
Subscribe to get the latest news from TSJ at the TSJ 101 Sports TV YouTube channel!
Play And Win Weekly at ThriveFantasy!