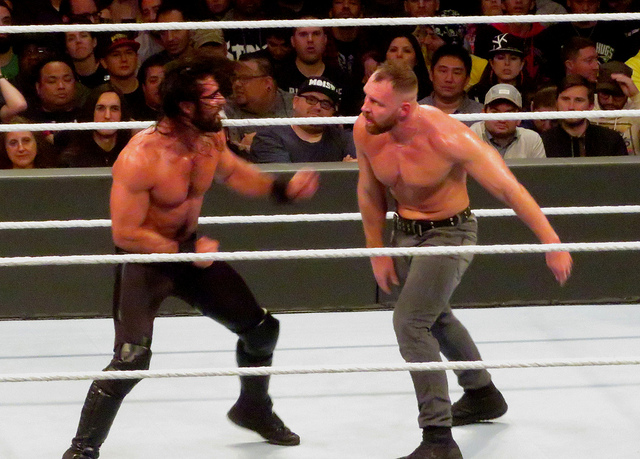 As WWE fans, we all know that a lot of Superstars come and go. Contracts end, and they decide not to sign again with the company. Superstars  leave for better opportunities. Ronda Rousey could possibly be leaving WWE after Wrestlemania. However, in a new turn of events, a high-profile Superstar plans to leave very soon as well. Dean Ambrose has informed the company that he will be leaving WWE after Wrestlemania.
Dean Ambrose Leaving WWE
Ambrose has given his notice to WWE and will be packing his bags once his current deal is up at the end of April of this year.
The Lunatic Fringe was offered a new contract and a pay raise but he told WWE officials and Vince McMahon last weekend he has no interest in more money or staying.
Why is he wanting to leave? It turns out he is frustrated with the creative team.
His status in WWE looked very noticeable Monday on RAW after an attack by Nia Jax occurred.
On Sunday he didn't have a great Royal Rumble either, and lost the Intercontinental Championship shortly after TLC to Bobby Lashley.
Who is Dean Ambrose?
The former WWE champion has been working for WWE since 2011, first as part of the FCW developmental, and then making his main roster debut in 2012 with the rest of The Shield alongside Seth Rollins and Roman Reigns.
He was 1x WWE Champion, 3x Intercontinental Champion, 1x longest reigning United States Champion. He is also a 1x Money in the Bank winner.
Ambrose is married to Renee Young and no news has been announced yet whether this departure will involve Young as well. Young is one of the voices of Monday Night RAW, as she became the first permanent female commentator for a major WWE show.
What's Next?
What is next for the Lunatic Fringe? Offers to join AEW have been put on the table for the former champion.
Will he join All Elite Wrestling? Of course, nobody knows what goes on in his mind. Not even his own wife.
As more information comes available on Dean Ambrose's status whether his departure is true or not, we will share the details.
Social Media
Follow TSJ 101 Sports on Twitter: @T101Sports
Department: @T101SportsWWE
Writer: @luvstowrite88
Picture Credit: Rich via Flickr
Kayla McCurry