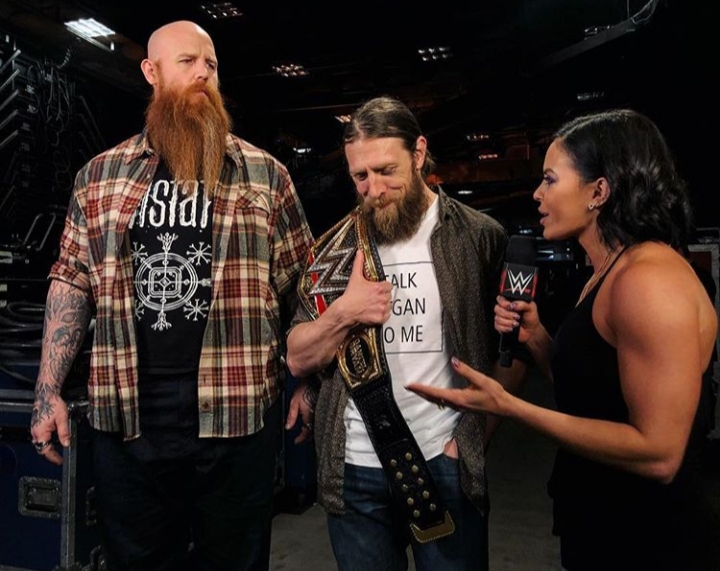 RAW Recap for the January 28, 2019 Episode of Monday Night RAW
Hour One
The RAW after the Royal Rumble 2019 kicks off with Seth Rollins making his way to the ring. Rollins says he won the Royal Rumble because of his love for pro wrestling. He lets everyone down and points at the WrestleMania sign. Rollins says he now has to choose between Daniel Bryan or Brock Lesnar to challenge in the main event of WrestleMania.
Triple H makes his way down to the ring. He says he's glad Seth lived his dream and pointed at the sign. H says he's proud Seth brought back the real Seth Rollins after being challenged to do it. Triple H says that the Rumble is a test to see who the best is, and that it's clearly Seth. He tells Seth he needs him to tell everyone who he's going to face at WrestleMania.
Dean Ambrose interrupts and heads down to the ring. He says he's sick of Triple H's game. Dean says he always believed in Seth before anyone else did. He says Seth is just kissing up to the higher ups.
Dean demands a match between himself and Seth. Triple H sets up the match.
One on One Match: Seth Rollins vs Dean Ambrose
Result: Rollins pins Ambrose
Rollins hits the Curbstomp to score the win
Following the match, Ambrose begins to address the crowd, but Nia Jax and Tamina interrupt. Nia shoves Dean out of the ring. Ambrose tries to get back in the ring, but referees won't let him. Ambrose walks off as Alexa Bliss and Mickie James walk out.
Elimination Chamber Qualifying Match: Mickie James and Alexa Bliss vs Tamina and Nia Jax
Result: Jax pins Mickie
Nia hits a Double Samoan Drop on Alexa and Mickie, then pins Mickie for the win
Backstage interview with Kurt Angle. He says the only person that should have any worry tonight is Baron Corbin.
One on One Match: Kurt Angle vs Baron Corbin
Result: Corbin pins Angle
Corbin cuts a promo before the match. He says that the fans don't care about him and he will humiliate Kurt.
Corbin hits the End of Days for the win
Hour Two
Finn Balor heads down to the ring. He noticeably doesn't do his signature pose with his theme's crescendo and lights. He says the only reason Brock beat him up so badly is because he made Brock believe in him.
Bobby Lashley and Lio Rush interrupt and enter the ring. Rush tells Balor it's a disgrace that he got a title shot. He says that Balor has no chance at beating someone like Bobby Lashley.
Balor and Rush beat down Balor before heading back up the ramp.
Tag Team Match: The Revival vs Hawkins & Ryder
Result: Wilder pins Hawkins
Reunion match for Hawkins and Ryder
Wilder pins Hawkins after hitting the Shatter Machine with Dawson
Charly Caruso interviews Daniel Bryan backstage. She asks him about his controversial win against AJ Styles from the night before. Daniel says he can beat AJ whenever he wants, with or without help. He says that he will end Seth Rollins's WrestleMania hopes and dreams.
Elias is in the ring, playing his guitar. He says that everyone in the audience is in the presence of his greatness.
Jeff Jarrett comes out and says he shouldn't be worried about having a problem with the people because he has a problem with Jeff Jarrett.
Road Dogg comes out behind Jeff Jarrett. They both start singing "Alone With My Baby Tonight". Elias hits both of them with guitars.
Cut to backstage to Dana Brooke talking to Natalya. Brooke says she won't let Natalya down in their qualifying match. Brooke says she's not only better than Ember Moon, but better than Natalya too.
Mojo Rawley yells at his reflection in a dark room backstage.
Elimination Chamber Qualifying Match Match: The Riott Squad vs Natalya and Dana Brooke
Result: Morgan pins Natalya
Liv Morgan rolls up Natalya for the win
Hour Three
Ronda Rousey makes her way to the ring to address her title defense from the night before. She says she's proud to be Women's champion. Bayley interrupts and accepts Ronda's open challenge.
RAW Women's Championship: Ronda Rousey (c) vs Bayley
Result: Ronda submits Bayley
Ronda pulls Bayley off the top rope and locks in the Armbar for the win
Becky Lynch takes to the ring after the match. She takes to the mic and tells Ronda she told her she'd find a way to get her back. Becky says the last time they were together, she dropped her in the ring. She challenges Ronda to WrestleMania, with her Royal Rumble win from the night before. Becky says she'll kick Ronda's ass at WrestleMania.
Ronda tells Becky any ring she steps into belongs to her. She says she could kill Becky with her bare hands and that she's going to own her at WrestleMania.
One on One Match: Drew McIntyre vs Braun Strowman
Result: Braun wins via disqualification after Baron Corbin interferes
Seth Rollins runs to the ring to fight Brock Lesnar. He gets some offense in, but Lesnar hits the F5 to break it up.\
Brock hits a few more F5's before leaving the ring with Paul Heyman.
Social Media
Becky Lynch is going to annihilate Ronda Rousey…
Follow TSJ101Sports on Twitter: @T101Sports and @T101SportsWWE
Follow me, the writer, on Twitter: @JordanPiekarski
Photo credit to WWE via Instagram