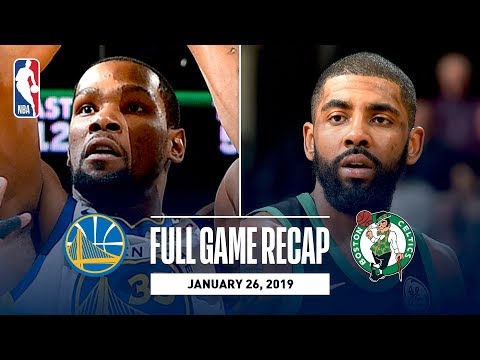 Lessons Learned For The Celtics In Their 115-111 Loss To Golden State
For a youthful team like the Boston Celtics, games against teams like the Golden State Warriors shouldn't be taken for granted. Facing a team of this caliber always comes with baggage. Whether it be trying to stop Stephen Curry's onslaught of threes or containing Kevin Durant's offensive game, whenever the Celtics play the Warriors they seem to be at their best.
Unfortunately, being at your best is not always enough to beat the Warriors. It goes without saying. The Warriors are the epitome of 21st century basketball, and they proved it once again Saturday night. The Celtics put in a great effort in Saturday's loss, highlighted by another Kyrie Irving double-double. Al Horford had 22 points, 13 rebounds and 2 blocks. Jayson Tatum poured in an efficient 20 points. Alas, none of that was enough for the Celtics to beat a loaded Golden State team.
Crumbling under pressure
When facing a team like the Warriors, any sort of lapse isn't an option. Whether it be on offense or defense, Golden State can and will find a way to make a big play. Why? Because they have a team full of play makers. The Celtics gave away the game late with costly turnovers down the stretch.
Klay Thompson deserves credit for his amazing on-ball defense down the stretch. Yet, the Celtics should have been able to at least get a shot up despite the strong defense. Instead, with two minutes remaining, Irving lost the ball and Thompson got a wide open three off of the turnover.
Then, with the game tied Al Horford fouled Thompson, which resulted in two free throws. The most frustrating mishap happened late in the fourth quarter. Draymond Green missed two free throws off the rim with eight seconds to go. However, Green ended up with the rebound and passed it to Curry, who iced the game at the free throw line.
So, what did we learn from this game?
Despite the loss, the Celtics have a lot of positives that they can take out of this game. Irving had one of his strongest performances of the season despite fizzling out at the end. He once again proved that he can put up 30 points and 10 assists regardless of the opponent.
Horford had somewhat of a revenge game while matched up against DeMarcus Cousins. Last season, Cousins put up 29 points and 20 rebounds when the New Orleans Pelicans came to Boston. However, Cousins only had 15 points and 8 rebounds last night. Brown continued to make strides out of his poor start to the season. Marcus Smart and Marcus Morris continued to play great defense and provide the necessary energy for the Celtics.
Social Media
Follow us on Twitter @T101Sports and on YouTube
Photo Credit
News Videos via Flickr