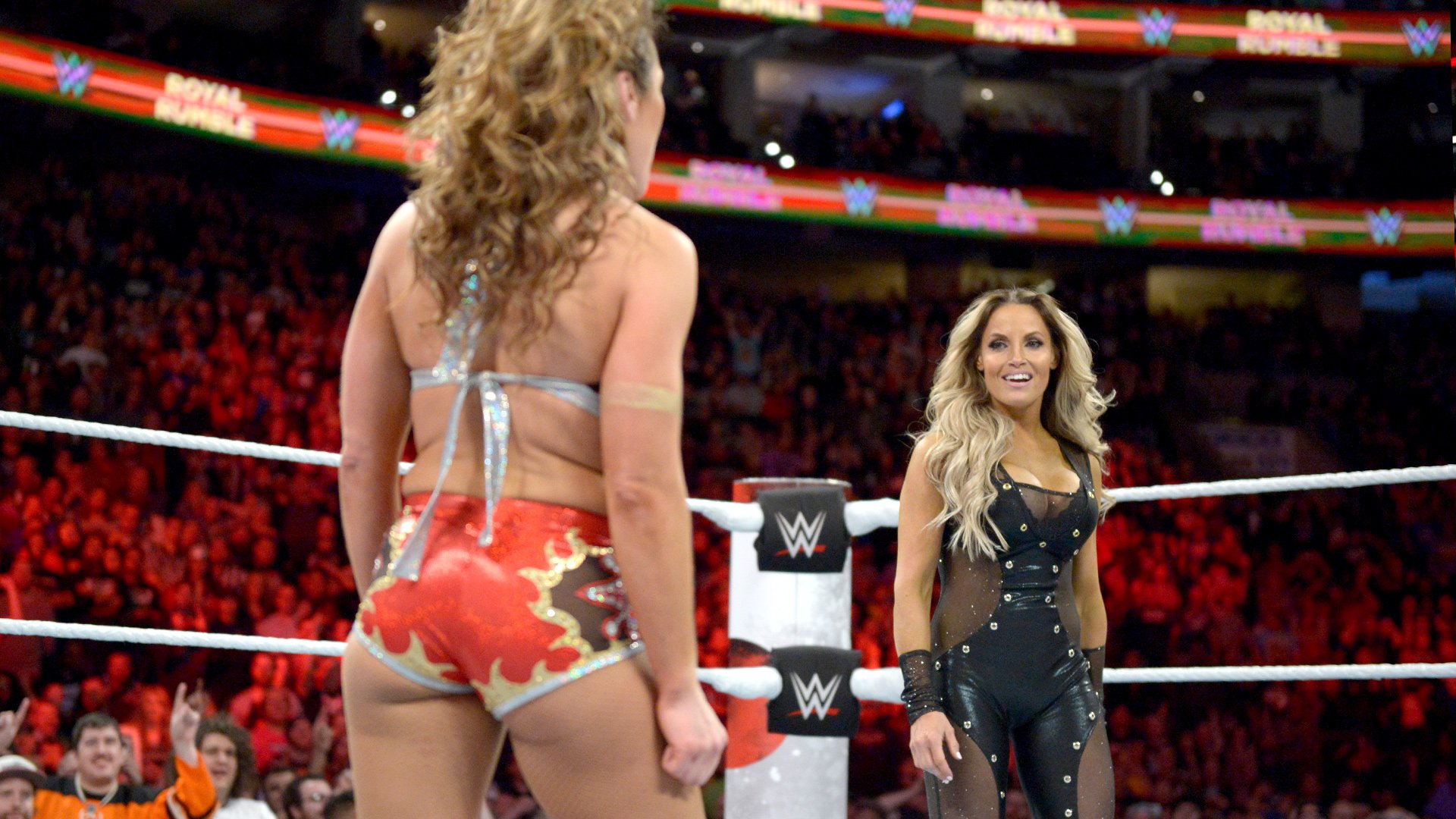 2019 Royal Rumble Preview
The countdown to Wrestlemania season begins in Phoenix, Arizona as the 2019 Royal Rumble is finally here. Last year's event was one for the ages, with the first ever women's Royal Rumble along with two Japanese superstars winning the historic match. The time has come to relive one of the greatest and most exciting matches in WWE history!
Buddy Murphy (C) vs. Kalisto vs. Hideo Itami vs. Akira Tozawa – WWE Cruiserweight Championship
Ashley: Buddy Murphy
Greg: Kalisto
Jordan: Buddy Murphy
Kayla: Buddy Murphy
Andrew: Buddy Murphy
Thom: Buddy Murphy
Match Note: This is one of two matches on the kickoff show, meaning it is not technically part of the main show. Expect a high-flying and extremely fast-paced match between these four aerial attackers. The 205 division has thrived in the short amount of time Murphy has been champion, so it's unlikely WWE will switch the belt here. Hideo Itami is a popular enough superstar to carry the belt into Wrestlemania, and Kalisto has more accomplishments than any superstar in the match. Murphy should win, but this is realistically more of a toss-up.
Rusev (C) vs. Shinsuke Nakamura – United States Championship
Ashley: Nakamura
Greg: Rusev
Jordan: Rusev
Kayla: Rusev
Andrew: Rusev
Thom: Nakamura
Match Note: This match is another toss-up, as it's hard to picture these two squaring off for the last time. A victory by either Rusev or Shinsuke would carry this rivalry into Elimination Chamber, so who wins isn't too much of a concern. These two should continue to fight at least for another month, especially if anything happens to Lana in the match. There have been teasing moments throughout the month that Lana's safety is in jeopardy, so that's something WWE may explore and use to push these two further into a rivalry.
The Bar (C) vs. Shane McMahon & The Miz – Smackdown Tag Team Championship
Ashley: The Bar
Greg: Shane & Miz
Jordan: Shane & Miz
Kayla: The Bar
Andrew: Shane & Miz
Thom: The Bar
Match Note: This match can go either way, as our panel was split 50/50. It does seem that Shane vs. Miz is being set up for Wrestlemania, but how does WWE get there? Having Miz and Shane win is a start, then use the next few months to break the team up. Another way to get there is to have Shane or Miz turn on the other in tonight's match. Either way, one of WWE's greatest villains of all-time is The Miz and so he should continue to be treated that way. The Miz's characteristical traits tell us he will turn on Shane at some point, but the potential for Shane to be the villain is still very much there. As for The Bar, they seem to have the best odds to win out of all the underdogs tonight (yes, they're underdogs). Miz and Shane winning would add another layer to their story if and when they fight at Wrestlemania, but the simple route for WWE to take would be to have either Shane or Miz turn on the other tonight. Miz's motives for Shane stealing his World Cup spotlight could be evidence he will turn on Shane as well.
Ronda Rousey (C) vs. Sasha Banks – Raw Women's Championship
Ashley: Ronda Rousey
Greg: Ronda Rousey
Jordan: Ronda Rousey
Kayla: Ronda Rousey
Andrew: Ronda Rousey
Thom: Ronda Rousey
Match Note: Not a ton to explain here, as Ronda Rosey enters as the highest favored superstar to win their match at the Royal Rumble. Ronda enters at a -900 favorite, which basically means one would have to bet $900 just to win $100. Rousey is one of the biggest draws in all of WWE, so it's almost a lock that she will enter Wrestlemania as the champion.
Brock Lesnar (C) vs. Finn Balor – Universal Championship
Ashley: Finn Balor
Greg: Brock Lesnar
Jordan: Finn Balor
Kayla: Brock Lesnar
Andrew: Brock Lesnar
Thom: Brock Lesnar
Match Note: Brock Lesnar should be a lock here, but truth is that he's not. WWE's trend going back to the 60's is putting the belt onto who they feel is the biggest draw, which is currently Brock Lesnar and Ronda Rousey. So Brock winning this match and going on to defend the belt at Wrestlemania is 'best for business'. However, with the recent growth of AEW and WWE clearly trying to mix things up for fans to enjoy, there is a chance Finn wins. Changing champions on your main show is one way to show fans you're open to trying new things, not to mention the teasing clues WWE has dropped by saying Finn winning is a 'fairytale'. It seems WWE is setting everything up nicely for an upset victory. The only roadblock for Finn is the time of year, Wrestlemania season. WWE will probably play their cards close to their chest and have their biggest draw (Lesnar) enter their biggest show as champion. If it was any other month besides January-April, Finn winning would be a much greater chance.
Asuka (C) vs. Becky Lynch – Smackdown Women's Championship
Ashley: Asuka
Greg: Asuka
Jordan: Asuka
Kayla: Asuka
Andrew: Asuka
Thom: Asuka
Match Note: This seems like a lock, mainly because it's no secret Becky Lynch vs. Ronda Rousey is what WWE wants for Wrestlemania. How WWE gets there, that's still in the air. However, the missed opportunity for Becky vs. Ronda at Survivor Series showed the WWE just how big of a match that is in the eyes of its audience. If WWE wants to add Charlotte Flair or not we can get into later, but Asuka winning is a sure bet if only for the reason that WWE wants Ronda vs. Becky. Becky winning the belt makes that almost impossible, so picking the Empress of Tomorrow seems like a safe pick.
Daniel Bryan (C) vs. A.J. Styles – WWE Championship
Ashley: Daniel Bryan
Greg: Daniel Bryan
Jordan: Daniel Bryan
Kayla: Daniel Bryan
Andrew: A.J. Styles
Thom: Daniel Bryan
Match Note: The planet's champion should win this match here, for multiple reasons. The most obvious reason being that Daniel Bryan is excellent as a villainous champion. His promos are great, his wrestling is better and the WWE Championship has been more polished then it's been in a very long time. AJ losing also seems likely because he has yet to sign a new contract with the WWE. This news may actually leak into a story for A.J. entering Wrestlemania season, as it seems likely Styles vs. Vince is going to be a Wrestlemania theme. It's very likely Vince costs Styles his match against Daniel Bryan, prompting a feud between the company's top 'babyface' and the cutthroat boss who has always been a villain on television. The odds of Vince screwing A.J. out of a win are more likely than Vince taking A.J. under his wing, which can also propel an intriguing story between A.J. and Vince entering Wrestlemania.
Women's Royal Rumble Match
Ashley: Becky & Charlotte tie
Greg: Charlotte
Jordan: Becky & Charlotte tie
Kayla: Charlotte
Andrew: Becky Lynch
Thom: Alexa Bliss
Match Note: This match has a ton of likely outcomes, which is odd, to say the least. What most people expect is some sort of tie between Becky Lynch and Charlotte Flair. The fact Becky isn't even in the match yet should tell you what most people are thinking will occur. It's no secret WWE wants Ronda, Becky, and Charlotte in the same match at Wrestlemania. Having a draw in the women's match definitely accomplishes that goal, with no difficulty in booking in the next few months. However, with the odds in both Charlotte and Becky's corner, perhaps WWE goes down a different path so the result is a much bigger surprise.
Asuka will need an opponent for Wrestlemania, and who better to fight than the top villain in the women's division Alexa Bliss. Bliss was injured and a +1200 (7%) favorite to win the Royal Rumble. Since her announcement of returning, Bliss' odds have jumped to +700 which is a 12% increase. Having Bliss win and challenge Asuka allows WWE three months to create a story that would get Becky and Charlotte against Ronda. Anything is possible, but it seems that Becky and/or Charlotte winning is a lock. Alexa winning, however, not only makes sense booking but would be a genuine surprise.
Men's Royal Rumble Match
Ashley: Kevin Owens
Greg: Drew McIntyre
Jordan: Seth Rollins
Kayla: Seth Rollins
Andrew: EC3
Thom: Seth Rollins
Match Note: There are three favorites in this match, none bigger than Seth Rollins. From there, Braun Strowman is next in line to likely win followed by McIntyre. It does seem likely these three have the best odds to win, considering the story in front of us. Seth Rollins has been fighting for his fallen Shield brother Roman Reigns for months now. He is on top of the world and one of the most popular superstars today, so having Seth win the Rumble is likely.
Dean Ambrose is a reason that may not happen, as WWE may elect to have Dean vs. Seth at Wrestlemania without a belt. That would leave Drew and Braun, both of which are very high on Vince's list to dethrone Brock Lesnar. WWE taking Braun out of the title match may be a big clue as to what WWE wants to do with Strowman, possibly saving the monsterous showdown for Wrestlemania. Strowman winning would gaurantee Vince's wish in having the two giants square off. WWE can still get to Brock vs. Braun is Seth Rollins wins the Royal Rumble, by simply having Seth challenge Daniel Bryan.
Women's Rumble Possible Surprise Entrants
Nikki Bella
Brie Bella
Trish Stratus
Lita
Io Shirai
Toni Storm
Rhea Ripley
Michelle McCool
Stephanie McMahon
Shayna Baszler
Dakota Kai
Bianca Belair
Men's Royal Rumble Possible Surprise Entrants
Dolph Ziggler
Kevin Owens
Sami Zayn
Shelton Benjamin
Aleister Black
Velveteen Dream
Batista
Bray Wyatt
Kenny Omega
Mojo Rawley
Lars Sullivan
EC3
Cedric Alexander
Kane
Adam Cole
Big Show
The Rock
Follow TSJ101Sports on Twitter: @T101Sports and @T101SportsWWE
Photo Credit: WWE via WWE.com