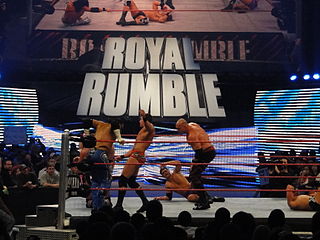 The Rumble Rumor Mill is Running
It is that season once again. It is Royal Rumble and the Road to WrestleMania which always puts die hard wrestling fans on high alert. With the introduction of All Elite Wrestling and the prospect of many free agents floating around out there none more so than Kenny Omega, WWE is in a tight spot and needs to deliver in a big way if they want to build any momentum heading into the biggest show of the year.
The Card
The lineup for the Royal Rumble is relatively pedestrian in comparison to other years. There are few matches that generate true excitement and even less that seem like match of the year candidates. The Main Event has been changed recently and the report indicating that Finn Balor was always in line to face Brock Lesnar at the Rumble only serves to complicate the situation.
There are a few matches worth noting. Sasha Banks challenging Ronda Rousey holds some promise. The Becky Lynch vs Asuka match seems like an obvious win for Asuka. Seeing Shinsuke Nakamura battle Rusev is mildly entertaining. One of the biggest question marks is what to do with the AJ Styles vs Daniel Bryan match-up. The Revival getting yet another tag team championship opportunity is starting to feel like redundancy.
The Obvious
I think everyone expects a great match out of Finn Balor and Brock Lesnar but is anyone really expecting Balor to walk out as Universal Champion? The Bar defending against The Miz and Shane McMahon seems like a waste of time but smart money has Shane and the Miz walking out as champions. I don't see anyone defeating Buddy Murphy right now even if some of his opponents have been waiting patiently for any semblance of relevance. The point is that this card is anything but stacked.
The Fix
There is actually an easy fix for these issues. Claiming how easy it is doesn't make it probable or even possible but the WWE Universe needs both new faces and new energy. This past week on Raw we saw something that should be exciting. As simple as it sounds, the impact of AEW on the career of Zack Ryder could be interesting for fans. A reunion with Curt Hawkins actually has potential. The former Smackdown Tag Team Champions could inject some life into a stagnant division especially if they interject themselves into the Raw Tag Team Championship match.
There is probably nothing more explosive than if WWE were to negotiate a deal with New Japan to have Kenny Omega make an appearance at the Royal Rumble. Let's face it. Nobody expects Omega to join WWE at this point. We all know he is just waiting out the last few weeks of his New Japan contract before joining up with his Elite Brethren in AEW. Can you imagine the insanity of Omega entering the Rumble at #10? You could have the typical Tye Dillinger music play, have him get thrown from the back onto the entrance way, and insert Kenny Omega there to what would probably be the biggest pop in wrestling history. It would certainly be one of the biggest surprises of all time.
Beyond that, the Rumble matches themselves have to be both inventive and include the right number of surprises. We have seen our annual Kofi Kingston antics at ringside forever. Fans expect a few worthless entries each year. What would the show feel like if there were true insane surprises? The Rock entering the Rumble at #2? John Cena coming to the ring and cleaning house only to see the clock tick down to a Hulk Hogan appearance? How about an NWO invasion mid Rumble? There are just so many things they could try to do.
Reality Check
When we take a step back and think about all of the dream scenarios that we would love to see, at some point reality kicks in and we all know what will happen. WWE will give us the same fodder we have come to expect for several years now. Oh sure, Batista or Bray Wyatt could be big surprises that make a lot of sense but we aren't getting Kenny Omega. WWE is going to set up their WrestleMania Main Event on Sunday Night and it will not sit well with many fans. With the arrival of a new rival promotion, the knowledge that AEW is looking to change the industry, and the incredible talent being wasted on WWE's under-card, the Royal Rumble will inevitably be a let down unless Vince McMahon invests more time and energy in things we truly want to see.
What are your thoughts? Comment Below!
Social Media
Don't forget to follow us on Twitter:
@T101Sports and @T101SportsWWE
You can also talk to me, the writer:
@FroWrestling on Twitter
Also, check out the Fro Wrestling Podcast at:
YouTube, Spreaker, Stitcher, and on iTunes.