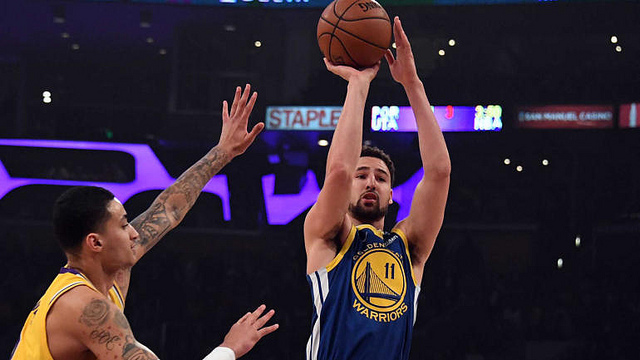 Klay Thompson Scores 44, Leads Warriors To 130-111 Win Over Lakers
The last time the Golden State Warriors and Los Angeles Lakers met was on Christmas Day. To the surprise of many, the Warriors lost by a huge margin 127-101 on their home court in Oracle Arena. As we were already aware, the major story to come from that game was LeBron James straining his groin. He hasn't returned to in game action for the Lakers since.
Monday night was a rematch between these two inter state rivals. The Lakers had quite a task on their hands on Monday. Not only were they facing the top team of the Western Conference, but they faced a Warriors team at full health for the first time this season. The Lakers are also missing two key players from their back court.
Klay Thompson Got Hot For The Warriors And Never Looked Back
Rajon Rondo is expected to return to the team this Thursday. However, they will be without Lonzo Ball for 4-6 weeks with a grade three sprain of his left ankle. Needless to say the Lakers fell short in virtually every category. As a result, the Warriors took control early on and never looked back. Klay Thompson continued their record setting trend as the Warriors cruised to a 130-111 victory over the Lakers.
The Warriors Joined Klay Thompson In Torching The Lakers
Every active member of the Warriors roster scored on Monday. Although it was Thompson's hot hand that was the main attraction, a lot of eyes were focused on DeMarcus Cousins, who recently returned. Since his debut and insertion into the Warriors starting lineup, his monstrous presence has added fuel to their fiery eight game winning streak. In 21 minutes, he also came close to a double double with 8 points and 9 rebounds.
Cousins also dished out 5 assists. He racked up 21 valuable minutes on the floor. Kevin Durant was no slouch either his 20 points, 6 rebounds and 3 blocks helped the Warriors maintain their lead for 3 straight quarters. In what appeared to be an off night for Stephen Curry (11 points, 12 assists and 5 rebounds), the most memorable play for him was a blooper fitting for Shaqtin A Fool.
As he approached the rim with no defenders in sight, rather than finishing with a monster dunk, Curry went sliding into the baseline. If I had not known any better, the hardwood floor at the Staples Center morphed into the Los Angeles Kings home ice. Thompson tallied 44 points in 27 minutes. His three point shooting spree was startlingly accurate. He shot 10-11 from 3-point range. It's impressive because he didn't miss any of his first ten attempts. It's pretty safe to say that when he rested post game in the ice bath that steam omitted from him.
Showtime Cancelled
Ivica Zubac tormented the Warriors on Christmas Day. Ivica provided due diligence by leading his short handed squad with 18 points and 4 rebounds. Brandon Ingram, Michael Beasley and Javale McGee all averaged double figures. Don't let the stat sheet fool you.
It might reflect a productive fourth quarter for the Lakers, but this was during garbage time for the Warriors. Obviously, without the trio of James, Rondo and Ball, this version of the Lakers didn't come close to posing any sort of threat to anyone in the Western Conference. The Warriors made sure to it that this version of showtime was cancelled.
Wizards and Warriors
Next up for the Warriors, they take flight to our nation's capital to do battle against the Washington Wizards. Bradley Beal and company are currently on a two game winning streak. They would take much pleasure in preventing a ninth win in a row for the top team in the Western Conference. Will the Warriors hot streak continue? Or will the Wizards conjure up a winning formula leaving them spellbound? Tune in to find out!
Photo Credit
James Anderson via Flickr