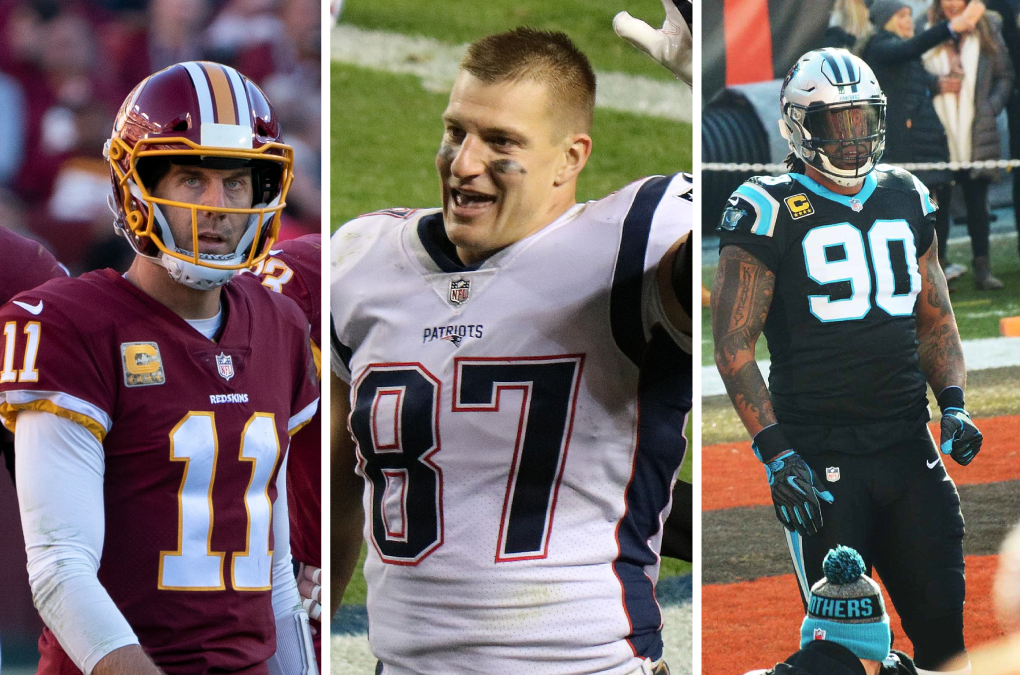 Aging NFL Players Mulling Whether to Retire or Return For Another Season; Our Predictions
The end of the NFL season brings many decisions for aging players. Some will decide to give it another go and see if they can prolong their careers. Others will decide to finally hang it up and take a shot at the retired life. Notable players have already retired or said they will come back for another year.
For example, Frank Gore – the former Miami Dolphins running back – will come back for another year, it will be interesting to see where he will end up. Gore is a free agent this offseason and will surely look to join a team looking for veteran depth at the position. Brian Orakpo, formerly of the Tennessee Titans, has already called it a career. He had lost his effectiveness this season and realized it was probably time to retire. The players below all have a decision to make on whether they want to retire or continue their careers.
Players with Decisions to Make
Players on the Fence
Rob Gronkowski – TE, New England Patriots: While Gronkowski is only 29, injuries seem to have taken a toll on his explosiveness. It was rumored that he was mulling retirement last season and that the Patriots were looking to trade him. If he was mulling retirement coming off a good year, it would seem that it would weigh even heavier in his mind this year.
The money will not be an issue for him, as he has made a sizable amount in his playing career. He is also one of the most recognizable figures in not only football, but sports in general. He will have no shortage of offers for various engagements if he chooses to call an end to his playing days.
Prediction: Gronkowski will come back for another year, unless he is traded or Tom Brady retires.
Drew Brees – QB, New Orleans Saints: Brees has played arguably some of the best football of his career this year. He will most likely place second in MVP voting behind the dominant Patrick Mahomes. He threw for almost 4,000 yards with 32 touchdowns and only five interceptions this season (the lowest mark of his career). Brees and the Saints faced the Rams this week with a trip to the Super Bowl on the line, but suffered a crushing defeat in overtime. He is obviously in the twilight of his career at age 40, even with his present form. Retirement will surely be heavy on Brees' mind this offseason.
Prediction: Brees stays one more season, playing out the last year of his contract.
Leaning Toward Retiring
Julius Peppers – DE, Carolina Panthers: Peppers is one of the most prolific pass-rushers in NFL history and likely a first-ballot Hall of Famer once he calls it a career. He's racked up 159.5 sacks in his career, the fourth-most in league history. The 38-year-old Peppers, however, is coming off a season with the Panthers in which he managed just five sacks total. Additionally, he has started only 13 games over the past two years. Peppers has become more of a situational pass-rusher and may be getting tired of the role. Julius Peppers has had a prolific career and no one would blame him for hanging up his cleats.
Prediction: Peppers retires during the offseason and is voted in the Hall of Fame as soon as he is eligible.
Jason Peters – LT, Philadelphia Eagles: Peters is one of the best offensive tackles of all-time and has been a stalwart in the Eagles' offensive line for a decade. If he continues to play, he will be entering next season at the age of 37. On top of that, Peters has already suffered serious injuries that kept him out for nine games last year. Peters' retirement, however, would leave a big hole in the Eagles offensive line that would need to be filled. He could be brought on as an offensive line coach for the team, though, as his experience could prove invaluable.
Prediction: Peters calls it quits after a 15-year Hall of Fame-worthy career.
Leaning Toward Staying
Tom Brady – QB, New England Patriots: Tom Brady is arguably the greatest quarterback of all time. He has put his team in the AFC Championship and will face rising star Patrick Mahomes for a trip to the Super Bowl. Brady is one of the greatest players of this generation and many are wondering when he will retire. He will enter next season at age 42. While it is not unprecedented that a player goes this long, it's fair to wonder how long Brady can play at this level.
Prediction: As long as he continues to lead his team to playoff berths – and play at a semi-high level – Brady will not retire.
Alex Smith, QB, Washington Redskins: Smith would not have been a part of this list at this time last year. Most thought he had another couple good years left. However, it didn't quite work out as he hoped. Smith suffered a devastating injury this season, leaving his future in doubt.
Smith broke his tibia and fibula in his right leg. In addition to breaking both bones, he suffered further from infections as a result of surgeries. Smith had already shown that he was not the same player in Washington that he was in Kansas City. It's fair to wonder, then, whether he thinks it's worth trying to test his surgically repaired leg in game action. Additionally, Smith is unlikely to come back as the player he once was — if he does come back at all.
Prediction: Smith doesn't call it a day, yet. He will try to recover this offseason and push the retirement decision off until next season.
Photo Credit
Featured image courtesy of Keith Allison via Flickr, Jeffrey Beall via Wikimedia Commons, & Bill Bryan via Flickr
Follow Ben Glassmire on Twitter (@brglass10) and on TSJ101Sports: NFL!
Subscribe to get the latest news from TSJ at the TSJ 101 Sports TV YouTube channel!
Play And Win Weekly at ThriveFantasy!