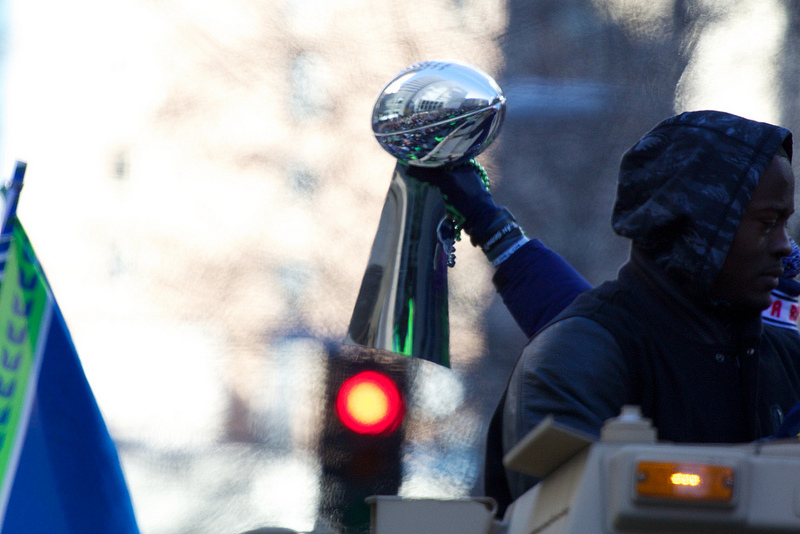 As the Conference Championship Dust Settles, Who Will Remain?
Approaching Conference Championship Sunday, the uncertainty of who will advance to Super Bowl LIII is tangible. The Kansas City Chiefs, New England Patriots, Los Angeles Rams and the New Orleans Saints each have a great shot at the Lombardi trophy. So which matchup generates the most exciting game for fans?
With four Super Bowl possibilities, each matchup has it's pros and cons. Out of the four possible matchups, three of them haven't occurred in the regular season. However, the Kansas City Chiefs and the Los Angeles Rams squared off in Week 12, resulting in a bout of offensive firepower. The shootout is already acknowledged as one of the greatest regular season games of all time.
Other possible matchups include the Saints vs. Chiefs, Saints vs. Patriots, and the Rams vs. Patriots. Each matchup brings with it an enticing headline. Here are TSJ's rankings for the most intriguing Super Bowl LIII matchups.
#SuperBowl odds for the exact result

• NOR over KNC +325/33.5%
• NOR over NWE +450/18.2%
• KNC over NOR +375/21.1%
• KNC over LAR +550/15.4%
• LAR over KNC +500/16.7%
• LAR over NWE +750/11.8%
• NWE over NOR +500
• NWE over LAR +750#SportsBetting #SportsBet #Gambling

— T101SportsBet (@T101SportsBet) January 16, 2019
Possible Super Bowl LIII Matchups From Worst-To-First
4. New England Patriots vs. New Orleans Saints
The list begins with the battle of two of the greatest NFL quarterbacks of all time. There aren't many headlines that can compete with "Brees vs. Brady". The last matchup of these two quarterbacks resulted in over 800 total passing yards and five touchdowns. So what makes this matchup the least intriguing?
This is the only matchup possibility that doesn't include the Kansas City Chiefs or the Los Angeles Rams. The Rams haven't won a Super Bowl in 19 years. The Chiefs have had worse luck as they haven't won a Super Bowl since the "Purple People Eaters" were dominating the trenches.
As exciting as it would be to see two bonafide Hall Of Famers go at it, seeing a franchise get out of a championship drought is more enticing.
3. New England Patriots vs. Los Angeles Rams
Next up is the Super Bowl XXXVI rematch. The New England Patriots take on the Los Angeles Rams for the title. Both of these teams matchup interestingly with each other.
How will the Patriots' offensive line block Aaron Donald? Will cornerbacks Stephon Gilmore and Jason McCourty lock down wide receivers' Robert Woods and Brandin Cooks?
The matchup also brings with it a chance for redemption. The Rams finished the 2001 regular season 14-2, with high expectations for the playoffs. Unfortunately, the Rams ran into a young Tom Brady, a clutch Patriots defense, and a kicker that was even more clutch.
Nothing says revenge more than seeing the Rams take the Patriots out and winning Super Bowl LIII.
2. Kansas City Chiefs vs. Los Angeles Rams
The rematch of the best regular season matchup in recent memory settles for second in TSJ's ideal Super Bowl LIII scenario. Watching the Kansas City Chiefs and the Los Angeles Rams combine for 891 yards, and ten touchdowns are any defensive coordinator's worst nightmare. Yet this game was as entertaining as any game in the history of the league.
The game had everything you wanted: huge defensive turnovers, explosive plays, and a clutch finish. However, putting this matchup on the big stage puts two of the NFL's most talented young quarterbacks under a microscope.
Decision-making becomes a huge factor as each quarterback will have to make flawless reads. It's safe to say that not many Super Bowl matchups can top a Chiefs-Rams rematch. However, one matchup does just that.
1. Kansas City Chiefs vs. New Orleans Saints
The battle of the two MVP candidates tops the list of intriguing Super Bowl LIII matchups. Quarterbacks Patrick Mahomes and Drew Brees simply dominated the 2018 NFL Season. The two signal-callers combined for over 9,000 passing yards and 82 touchdowns.
Each quarterback also had a 110+ passer rating. Aside from the quarterbacks, both teams are number one seeds. Both teams rarely showed chinks in their armor throughout the regular season. A Saints win gives Brees a ring and a possible "ride off in the sunset" moment.
A Chiefs win ends a 40-year drought and brings a Super Bowl back to a city that deserves it, and solidifies quarterback Patrick Mahomes as a force to be reckoned with.
Photo Credit
Featured Image courtesy of Jon Chambers
Follow Khadeem on Twitter at @ReachingGod and TSJ's NFL Department @T101SportsNFL
Subscribe to get the latest news from TSJ at the TSJ 101 Sports TV YouTube channel!
Play And Win Weekly at ThriveFantasy!