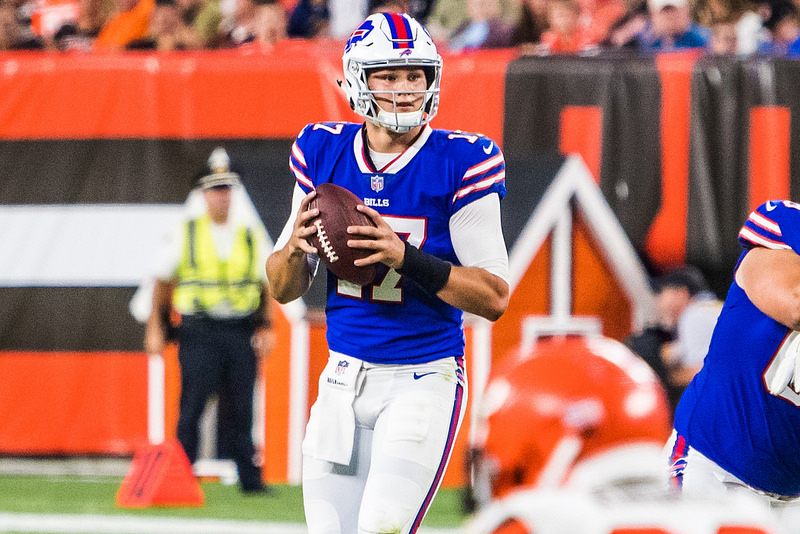 Looking Back at How the Top Young Quarterbacks Measured Up
In Week 4 of this season, TSJ compared and ranked some of the newest signal callers in the NFL. With the regular season at a close and Conference Championship week underway, we take a look at how the original ranking of the young quarterbacks aged.
The Freshman Class
The 2018 NFL Draft featured five first-round QB selections, tied for second-most of all time. The Cleveland Browns, who had the first overall pick in the draft, selected Baker Mayfield. New York City had the first and second pick; the Giants took running back Saquon Barkley, and the Jets secured QB Sam Darnold.
Following Darnold, the Bills took Josh Allen at seventh, the Cardinals selected Josh Rosen at tenth, and with the last pick of the first round Baltimore called up Lamar Jackson.
Out of the five, just one saw postseason action: the last pick of the first round, Lamar Jackson. Due to injuries and depth chart dynamics, only Darnold started the entire regular season, however, by the end of the season, they were all named QB1. However, Baker Mayfield is the only one in the running for Rookie of the Year.
The Sophomore Class
Since the first minutes of the season opener, Patrick Mahomes has been the focus of the league's attention. Not only has he become a standout in his draft class but the league as a whole. This Sunday he'll take on Tom Brady and the New England Patriots who are making their eighth straight appearance in the AFC Championship game. Mahomes wasn't the only sophomore to find success this year.
Mitchell Trubisky led the Chicago Bears to a 12-4 record and a division title. With the help of linebacker Khalil Mack, the Bears won seven more games than their previous season. Unfortunately, their season was cut short in the Wild Card round after a tipped field goal cost them the game against the Philadelphia Eagles.
Deshaun Watson came back as the Houston Texans' starting quarterback after tearing his ACL in practice during the prior season. After losing their first three games, Houston went onto win nine straight behind Watson's performance and leadership. Similar to Trubisky, Watson won his first division title but quickly lost his invitation to the Divisional round via the Indianapolis Colts.
Week 4 Rankings
In Week 4 of the season, we ranked the freshman and sophomore quarterbacks by the numbers. The ratings were calculated by NFL career rating, touchdown/interception ratio, and passing yards per game.
Lamar Jackson had only thrown four passes at the time thereby putting him last but only by circumstance.
Patrick Mahomes
Baker Mayfield
Deshaun Watson
Sam Darnold
Mitchell Trubisky
Josh Allen
Josh Rosen
Current Standings
Using the same metric as before (career rating, TD/INT, YPG) along with the results of their respective seasons
By Draft Class
Patrick Mahomes: 111.7, 50/13, 316.5, 12-4 (Conference Championship*)
Deshaun Watson: 103.1, 45/17, 255, 11-5 (Wild Card)
Mitchell Trubisky: 87.7, 31/19, 208.3, 11-3 (Wild Card)
Baker Mayfield: 93.7, 27/14, 266.1, 6-7
Lamar Jackson: 84.5, 6/3, 75.1, 6-1 (Wild Card)
Sam Darnold:77.6, 17/15, 220.4, 4-9
Josh Allen: 67.9, 10/12, 172.8, 5-6
Josh Rosen: 66.7, 11/14, 162.7, 3-10
Overall
Patrick Mahomes
Deshaun Watson
Baker Mayfield
Mitchell Trubisky
Lamar Jackson
Sam Darnold
Josh Allen
Josh Rosen
Mahomes outperformed both classes in every single category and is without question the top dog of this group and very well may be for a long time. Watson averaging a 103.1 rating alone justifies his second place spot. Forty-five touchdowns and just 17 interceptions along with a playoff appearance also help.
While Mayfield won just six games this season, he did so with a team that had one none the year prior along with two coaching changes midseason. He edges out Trubisky for the third spot based on more than his higher passer rating. The talent around Trubisky, especially Chicago's defense, helped elevate his play. While Cleveland has been hoarding talent, Mayfield didn't have as many resources to help secure key wins.
Additionally, further statistics begin to pull Mayfield ahead. Trubisky throws an interception on 2.5% of his attempts and touchdowns on 4.1%. Mayfield, on the other hand, throws an interception on 2.9% of passes but touchdowns on 5.6%. Mayfield also averages more passing yards per game than Trubisky.
First Playoff Games

Mitchell Trubisky 60.4% completion,
303 yards, 1 TD, 0 INT, 2 Sacks, 89.6 Rat.

Deshaun Watson 59.1% completion,
235 yards, 1 TD, 1 INT, 3 sacks, 69.7 Rat.

Patrick Mahomes 65.8% completion,
278 yards, 0 TD, 0 INT, 4 sacks, 85.2 Rat. 1 fumble.

— Chicago Bear Pause (@ChicagoBearPaws) January 13, 2019
Jackson and Darnold are the hardest two QBs to contrast from one another. Jackson has only played seven regular-season games this season, most of which against poorly performing teams. A dual-threat quarterback, his passing abilities have yet to be truly shown, however, he has proven he can win big games. An impressive performance against the Chiefs in Week 14 almost resulted in a loss by just three points, followed by an upset win in Week 16.
Darnold thus far has shown he's the more prolific passer, but his tendency to throw interceptions has hurt his passer rating. His ability to score multiple passing touchdowns far out shadows Jackson Jackson also had the element of surprise in that teams had less of an idea of how to prepare for him in Baltimore's offense. These two could very likely swap positions by next season's end.
Rosen and Allen both had poor showings their rookie seasons. They both had losing records as starters and threw more interceptions than touchdowns. Allen threw more touchdowns, fewer interceptions, won more games and threw for more yards all while starting fewer games due to injury.
The future outlook looks much brighter for Allen than Rosen after this past year. Allen has the potential to climb up on the chart, potentially surpassing Darnold, Jackson, and Trubisky.
Yearbook Awards
This Sunday we'll find out if Patrick Mahomes will be packing for home or headed to Super Bowl LIII. For this reason, Mahomes is easily named Most Likely to Succeed. Most Improved goes to Mitchell Trubisky without much question. The work Trubisky put in during the offseason was apparent in his performance this year, improving in every category.
Josh Allen based on his athleticism takes Highest Potential and Mayfield Hardest Working. Both Allen and Mayfield are strong in both categories and maybe the QB duel we're all talking about for the next ten years.
Sam Darnold is the dark horse of the group; he has the most room to grow and has shown promising signs that he can. New York will need to provide him with the right personnel and offensive counterparts to grow their first-round pick. Most Likely to Play in the CFL: Josh Rosen
Photo Credit
Featured Image courtesy of Erik Drost
Subscribe to get the latest news from TSJ at the TSJ 101 Sports TV YouTube channel!
Play And Win Weekly at ThriveFantasy!