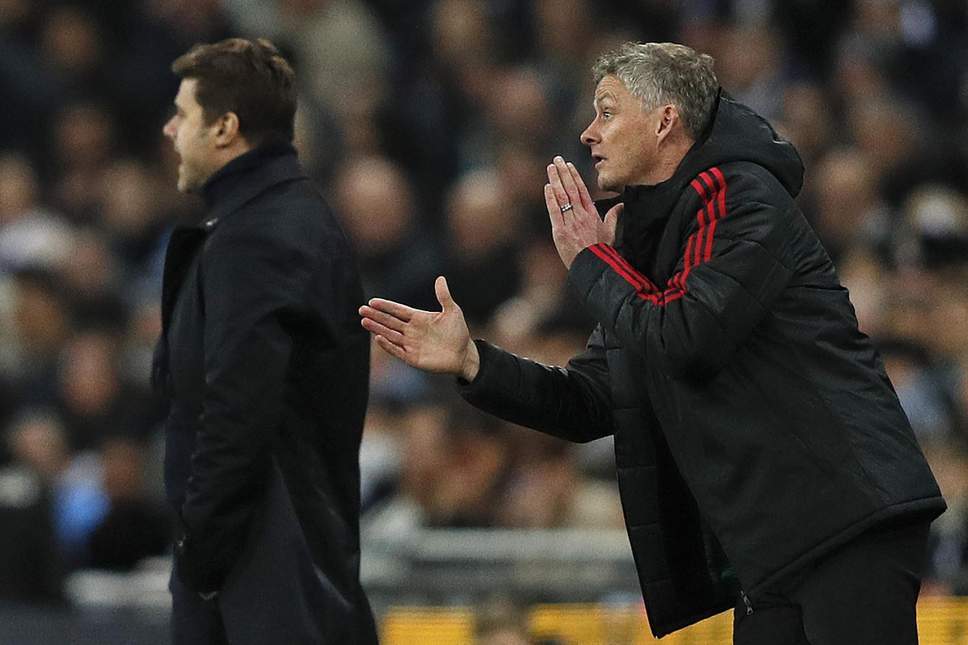 Marcus Rashford Helps Man Utd Defeat Tottenham
A goal from Marcus Rashford on the stroke of half time helped Manchester United defeat Tottenham at Wembley.
Rashford brilliantly finished a superb ball over the top by Paul Pogba, which was a goal United deserved following their first half display.
Tottenham pushed in the second half, but time and time again they were denied by David De Gea, who showed once again why he is the best goalkeeper in the world.
It is now six wins out of six under caretaker boss Ole Gunnar Solskjaer. The first Manchester United boss to win his first six games in charge.
This is the best of the lot for Solskjaer, as he continues to put his case forward to get the job on a permanent basis.
Bright Start From Manchester United
Tottenham had a big chance to open the scoring after just eight minutes. A neat through ball from Christian Eriksen found Son Heung-Min outside the box.
He played a great reverse pass to Harry Winks but the Englishman dragged his shot way wide of goal.
Manchester United started to look the sharper of the two sides. A great cross into the box from Ashley Young was cleared away by Tottenham defender Toby Alderweireld but only as far as Jesse Lingard.
The English winger though skied his shot over the bar, when he really should have hit the target.
On 18 minutes, Anthony Martial drove forward into the Tottenham penalty area and unleashed a powerful shot, which was well saved by Hugo Lloris in the Spurs goal.
On the stroke of half time, Manchester United took the lead.
A brilliant floating ball over the top of Tottenham's defence by Paul Pogba set Marcus Rashford in on goal.
Rashford then strode forward, took one touch and then slotted the ball past Lloris and into the net.
Better From Tottenham
Tottenham began the second half much brighter. Christian Eriksen, Dele Alli and Erik Lamela all combined to set up Harry Kane inside the box.
However, Kane's shot was straight at the legs of United keeper David De Gea.
Moments later, the Spanish goalkeeper was tested once again. This time denying a header from Dele Alli, which forced him into a flying save.
Just five minutes later, Pogba had another good chance. Anthony Martial drove forward into the box and set up his compatriot outside of the box.
Pogba hit a side foot shot, which was well saved by Lloris in the Spurs goal.
With 25 minutes to go, Tottenham had a big chance to level. A great counter attack saw a  through pass by Harry Kane split open the United defence and set Dele Alli in on goal with only De Gea to beat.
However, not for the first time, the Spanish keeper rode to United's rescue and parried the ball away.
After 70 minutes, De Gea pulled off another fantastic save, this time denying Kieran Trippier from close range.
Tottenham were beginning to exert some severe pressure, as they looked to find an equaliser.
With just four minutes to go, Harry Kane had a great chance to level for Spurs. Fernando Llorente nodded the ball down to Kane, who unleashed a shot from just inside the penalty area.
But once again he was denied by the feet of David De Gea in the United goal.
Spurs pushed for an equaliser but couldn't find it, as they suffered back-to-back home Premier League defeats for the first time this season.
David De Gea Is The Best Keeper In The World
David De Gea's second half display showed why he is the best goalkeeper in world football.
He pulled off a number of superb saves to deny Harry Kane, Dele Alli and Kieran Trippier in the second half.
In terms of shot stopping, there is nobody better.
De Gea has had his critics after a disappointing World Cup campaign, where incredibly having faced 11 shots on target, was only able to save one.
The Spanish keeper has had his critics this season also, having only kept two clean sheets in the Premier League going into the game against Tottenham.
However, De Gea was in inspired form in the second half and made an amazing 11 saves in the second half.
If you want to win trophies and beat the best, you need to have a top goalkeeper. United were great in the first half but needed their keeper in the second to secure all three points.
They might have been holding on in the second half, but this is a statement victory for caretaker boss Ole Gunnar Solskjaer and will help his chances to secure the job on a permanent basis.
Unlucky Tottenham
Following Tottenham's second half display, Mauricio Pochettino will be wondering how they didn't win the game.
Poor finishing and inspired goalkeeper by David De Gea helped deny them and condemn them to back-to-back home league defeats.
Tottenham were poor in the first half and failed to register a single shot on target. They looked jaded after their midweek exertions against Chelsea in the League Cup.
Spurs did a lot of running after the ball in that game and looked off the pace in the first half.
They were miles better in the second and deserved to get something out of the game.
The best chance for them fell to Dele Alli but his shot was too close to De Gea.
Also, the same could be said of Harry Kane who wasn't as clinical as he normally is.
Despite their second half display, the reality is Tottenham have lost further ground in the title race.
Now nine points behind Liverpool, it is hard to see them winning the title now.
Next up for Spurs is Fulham away from home in the Premier League. For Man Utd they face Brighton at Old Trafford.
Photo credit to Sandeep Pal via Flickr