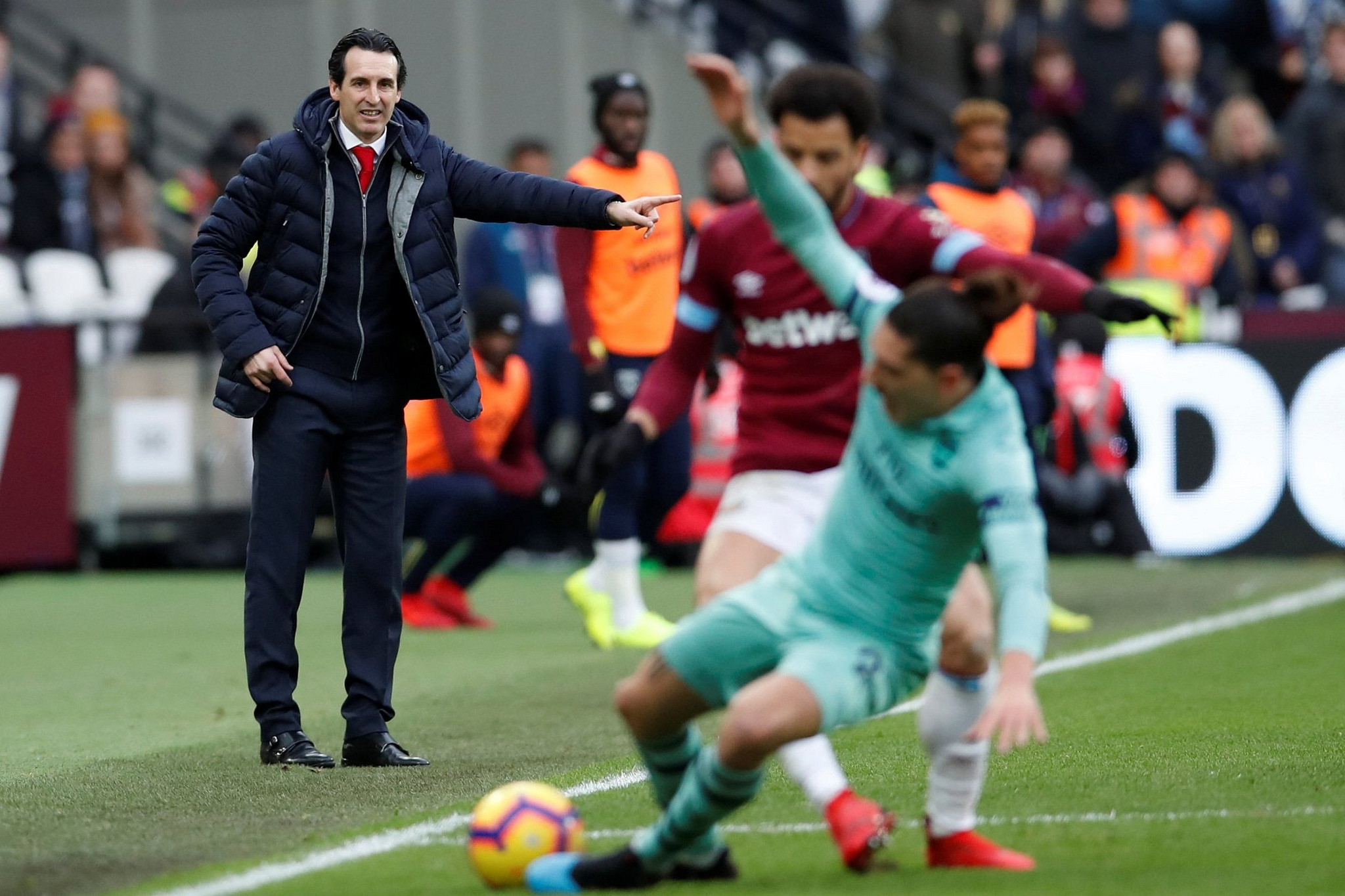 Arsenal's Season Reaches New Low After First Loss At West Ham Since 2006
Same, but Different
Even though Arsenal had not lost at West Ham since 2006, this result was not surprising. Once the lineups were revealed, Arsenal fans knew their side was in for a tough day. The Gunners started with five defenders and no attack-minded midfielders. Mesut Özil wasn't even selected in the 18-man squad. Aaron Ramsey and Lucas Torreira were also left out of the starting 11 for tactical reasons.
Arsenal had gone two months searching for a road win in the league. They didn't not find it at the Olympic Stadium. There was not much to separate the two sides given Arsenal's lack of creativity on the pitch. Predictably, Arsenal struggled to create chances while possessing 60 percent of the ball. If the Gunners did have any talent advantage, it was offset by the energy of the West Ham players and fans. A record Olympic Stadium crowd went home happy as a 48th minute Declan Rice goal was the difference.
Rice, Nasri and Arnautovic Steal the Spotlight
Arsenal's issues are extensive, but West Ham deserve credit. 19-year-old midfielder Declan Rice has been superb this season. He turned in a man-of-the-match performance. His first club goal was one he'll long remember. A Filipe Anderson corner was partially cleared but returned to him on the wing. Anderson easily blew past Alexandre Lacazette and chipped in a cross. Granit Xhaka's weak header fell to Samir Nasri in the corner of the area. Nasri quickly laid the ball off to Rice who side-footed it into the near corner.
Arsenal fans had an eerie feeling that Nasri would play a decisive role in the match. West Ham signed the ex-Arsenal midfielder on a free transfer on January 1st. As if there was any doubt, he started as the number 10 against Arsenal. Fans despise the Frenchman due to the greedy nature of his departure to Manchester City. There is a log history of vilified ex-players coming back to haunt Arsenal. Therefore, Nasri's winning assist won't shock anyone, but it stings nonetheless.
The game may also be remembered as the final act in claret and blue for Marko Arnautovic. The star striker turned in a quiet performance but drew attention when he was subbed off. Many believe he was waving goodbye to the fans after being the subject of serious transfer interest. Reports are that a Chinese club want his services. This would be a big loss for West Ham. However, if he does go to China, they will receive a handsome fee.
Arsenal Struggling at All Levels
Stan Kroenke
Arsenal's largest problem is the ownership. American billionaire businessman "Silent" Stan Kroenke hasn't invested a single dollar of his own money into the team in the past decade. It is apparent he doesn't care about the team on an emotional level and sees it only as an investment. The situation has become magnified during this January transfer window. With Arsenal in need of investment, Kroenke has made it clear there is no money available to purchase players. Apparently loan moves are the only transfers available to one of the largest clubs in the world.
Somehow, the ownership situation gets worse. Kroenke recently obtained 100 percent ownership of the club after forcing out billionaire Alisher Usmanov who owned 30% of the team. The Russian was a massive Arsenal fan and far wealthier than Kroenke. He famously hated Kroenke and made numerous attempts to take over the team. He would have been the perfect owner to take Arsenal forward. Kroenke now appears unlikely to sell the team any time soon unless a truly outlandish offer materializes.
Unai Emery
The new Arsenal manager's decision making is coming under heavy scrutiny. He has waged war with Özil, Ramsey and Lacazette by slashing their playing time. Repeatedly, he has left the stars out of the lineup for "tactical reasons" and it is now seriously hurting the team. Team spirit appears to be gone and players no longer look like they are enjoying playing for the Spaniard. Arsenal are not a deep team, so there is no room for the manager to be putting his personal issues with stars above the team.
"The players that were here were the players that deserved to be at this match," Emery said after the match. It's tough to take the manager seriously when Özil didn't even make the bench and Ramsey and Torreira were omitted from the starting 11. Emery chose to put 3 fullbacks on the bench along with a 19 year old striker who has never started a Premier League game. Arsenal need to first play their best players before they can attempt to force action from their owner. Kroenke won't want to spend more money if his most expensive players aren't even playing.
Matteo Guendouzi
It is harsh to single out any player after such a poor performance. However, the French teenager seems to be a constant in Arsenal's bad games. The recently unknown midfielder arrived out of the blue over the summer for £7.1M from France's second division. It was expected he would be a squad player or even be loaned out for the season. Instead, he has played more games than any other Arsenal player this season. The results haven't been pretty.
Arsenal win 25% more often in the league when Guendouzi doesn't start. He hasn't started in virtually all of the team's best performances. Conversely, he has started almost all of Arsenal's worst games. The team has only lost once all year without him in the first-11. He has 0 assists, 0 goals, 1 shot on target and 3 chances created in 19 league appearances. He is often asked to create for the team instead of Ramsey and Özil and the results are not surprising. Arsenal fail to dominate games and cut teams open with Guendouzi in the side. He was not ready to play so often and is now exhausted from playing the most games in the team. It is time for Emery to end his infatuation with the youngster and give him an extended break from starting league games.
Photo credit to linkvao bong88ag via Flickr