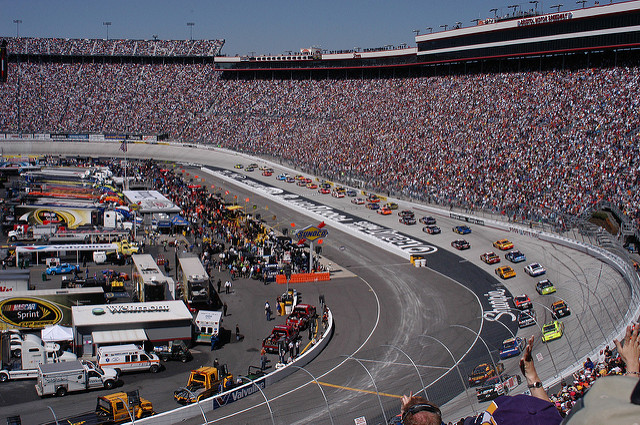 Fewer Personalities in Racing is Driving Fans Away
Over the past several years, the ratings decline for NASCAR has been well documented. 3 of the sport's all-time greatest drivers have left in 3 consecutive seasons. So a ratings dip is something to be expected. Obviously, it isn't realistic to expect the likes of Jeff Gordon, Tony Stewart, and Dale Earnhardt Jr. to retire and have them replaced immediately by drivers who are not proven yet. However, it has come to a point in which you have to ask yourself what exactly NASCAR is doing to compensate for their losses on track. The answer to that question is absolutely nothing to this point. A great place to start however, would be to let these drivers have some personality because this is NASCAR's cookie cutter Problem.
NASCAR's Cookie Cutter Problem
When someone brings up NASCAR's cookie cutter problem the first thing they will think of is likely the over saturation of 1.5-mile tracks in the current schedule. However, that is not the issue in this case. The issue being talked about here is that aren't any different personalities in the sport outside of a select few. There isn't anything to distinguish drivers like Chase Elliott and Ryan Blaney outside of car number. This isn't something that can be placed solely on the drivers, however. This starts from the top of the business. Today's drivers are taught from a young age to be extremely marketable for sponsors. Unfortunately being marketable from a sponsorship standpoint doesn't help add excitement and personality to the sport. It makes all drivers have the same delivery and tone when talking. As a result, nothing controversial is ever said.
NASCAR: Judge, Jury, and Executioner
One of the main reasons nothing controversial is ever done or said is because how NASCAR deals out its punishments. NASCAR doesn't like being criticized for its on track product and that was never more apparent than in 2013. In an interview, Denny Hamlin talked about how NASCAR has work to do with the Gen-6 car, in order to get it where it needs to be. After these remarks, Hamlin was fined $25,000. Of course, this is a bad look for the sport. When drivers are concerned with being fined for saying the wrong thing it leads to a lack of personalities.
Also, NASCAR likes to play favorites when it comes to handing out suspensions. When Jeff Gordon retaliated and wrecked Clint Bowyer in 2012 nothing was done. But in 2015 when Matt Kenseth did the same thing to Joey Logano, he was handed a suspension. The inconsistency in punishments leaves drivers on edge.
When you consider these factors it becomes apparent that this is an easy fix. All that needs to be done is to let the drivers go out and be themselves every weekend. As fans tune in and see that drivers are showing personality rather than coming off as a corporate robot it could bring in a new fan base. Or possibly bring back some of the old ones that left. This, of course, wouldn't be the end all be all, but it would be a step in the right direction for a sport in a ratings nosedive.
Photo Credit to David Hinson via Flickr.