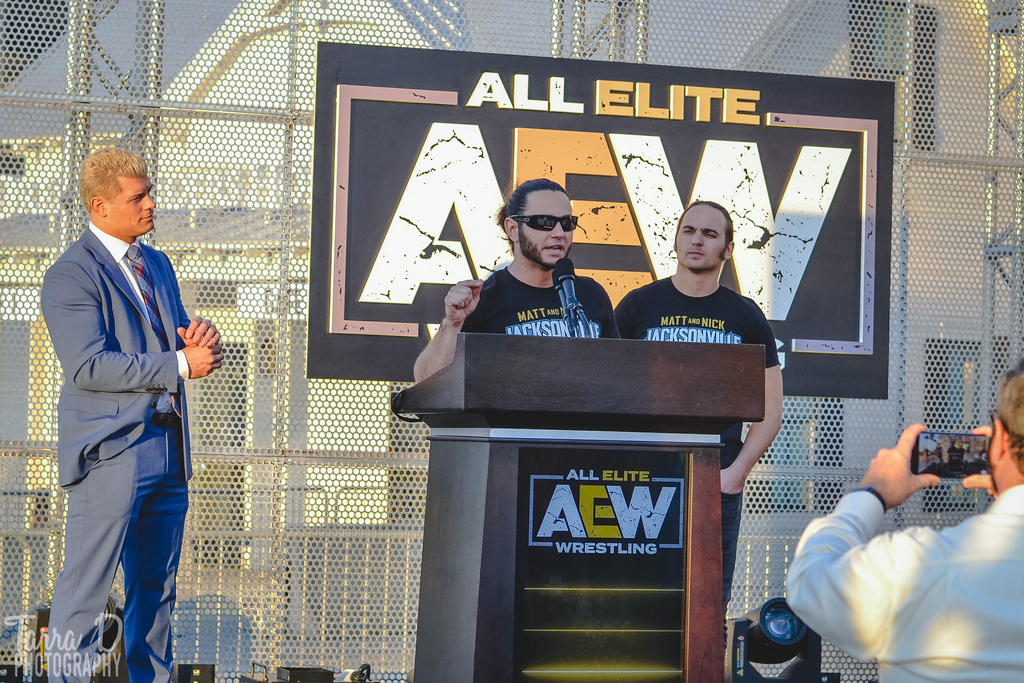 AEW
AEW is now the talk of the town, and almost every wrestler wants to be part of it. All Elite Wrestling (AEW) is backed by the Khan family, who easily have a billion dollars. Meanwhile, "The Elite" led by Cody Rhodes and The Young Bucks are the executive vice presidents for this new promotion. Cody and the Bucks are still going to be active in-ring wrestlers too.
How the promotion came to life
It all started when Cody Rhodes and the Young Bucks did the impossible by organizing the biggest Non-WWE/WCW related pay-per-view event in Chicago. ALL IN brought in over 10,000 fans. This went down in history as the biggest independent wrestling show ever.
After the event success, the Elite hinted that they might be going for ALL IN II. On New Year's Eve, the Elite dropped a double announcement. Using their phones, Cody and The Bucks showed the world that ALL IN 2: Double or Nothing PPV would be happening this year. However, when Hangman showed what his phone contained, it was a little different:
"Mine's say something different!" he stated.
It was the logo of All Elite "AEW" Wrestling.
Then, on January 8, Chris Jericho shocked the world by signing a contract with the promotion during the All Elite Wrestling rally. After the press conference, Jericho said:
"I'm here because I believe in doing something different. I believe in doing something new. It's what I have always done my entire career. I'm a maverick. I'm an outlaw. I'm a pariah. I'm Chris Jericho, baby."

"I'm not here just to change the world. AEW is not here just to change the world. We are here to change the whole universe."

He added that he's "not here because of the money. "
HBO's "Vice News" was also on-hand to do special filming of the promotion. Which, in my opinion, can only be spell one thing for the WWE: Trouble!
AEW other signees!
They are Adam "Hangman" Page, MJF, So Cal Uncensored (Christopher Daniels, Frankie Kazarian, and Scorpio Sky), Joey Janela, Britt Baker, and wrestlers from OWE (Oriental Wrestling Entertainment).
The biggest latest revealed signee is the former WWE 205Live Champion, Neville, aka PAC. Another mega-name rumored to be joining is Bill Goldberg. The promotion president did meet with Goldberg and said he really likes him a lot. He also thinks Goldberg is one of the greatest drawing cards ever in the business.
Cody's wife Brandi Rhodes also confirms that there will be a Women's Division in All Elite Wrestling.
TSJ Writer Andrew Aung's view
No doubt about it, I believe a lot of unused and poorly used Superstars from WWE should go to AEW sooner rather than later. And there are those rumored to be heading there once their contracts expire. So, who do I think should make that move?
First in mind is:
Finn Balor!
He has been hinting  leaving WWE on his Twitter account, with his head on Homer Simpson's body with suitcases leaving. Then, he later tweets a photo of himself looking old with a caption:
 "I'll get that title shot soon …."
It looks like the Demon Prince is not too happy with WWE management's poor storylines.
Dolph Ziggler
Well, he did resign with WWE. However, no one knows what kind of deal was made for him to accept at the mid-card level. But now with the rising popularity of a new wrestling promotion; he could be waving goodbye to WWE soon. And Cody said Ziggler is a great wrestler and would be more than welcome to the new promotion.
Other folks who would be good for the new promotion are The Good Brothers (Luke Gallows and Karl Anderson), Samoa Joe, Rusev and Lana, Shinsuke Nakamura, The Hardyz, The Revival, Kevin Owens, and Sami Zayn.
AEW Interested in WWE's Top Star
AJ Styles' contract with the WWE is said to be expiring very soon. The Wrestling Observer's Dave Meltzer said that AEW would give Styles the same type of contract that Daniel Bryan is getting in WWE. That contract will give him a much lighter schedule for the 41-year-old Phenomenal One, who can spend more time with his family. If Vince McMahon doesn't plan on giving the same contract to AJ Styles, we could see him heading to All Elite Wrestling. And maybe that wouldn't be bad, with his close brothers Gallows and Anderson. It would be a true Bullet Club reunion.
And with Khan's money, All Elite can offer a much better offer with a much lighter schedule.
Also joining the promotion is the WWE Hall of Famer and one half of the Legion of Doom, Animal. Animal says that he could be a huge help to the tag team division:
"They got a great product. I think I'd help them enhance their product with my wrestling knowledge in the tag team industry especially. I think I could be a good addition other than anything else."
TV Time
One rumor going around is that the TNT/TBS could be emerging again to involve themselves with All Elite Wrestling, since TNT/TBS is no stranger competing with the WWE. Another network is Paramount (formerly known as Spike TV) which had both WWE and Impact Wrestling on their network before.
So what do you think? Are you excited to see a new bigger promotion going head to head with WWE? Who you think is going to jump ship from WWE to All Elite Wrestling? Leave a comment below.
Follow us on Twitter:
And follow the writer:
Photo Credits to Tarra Dunlop via Flickr.com