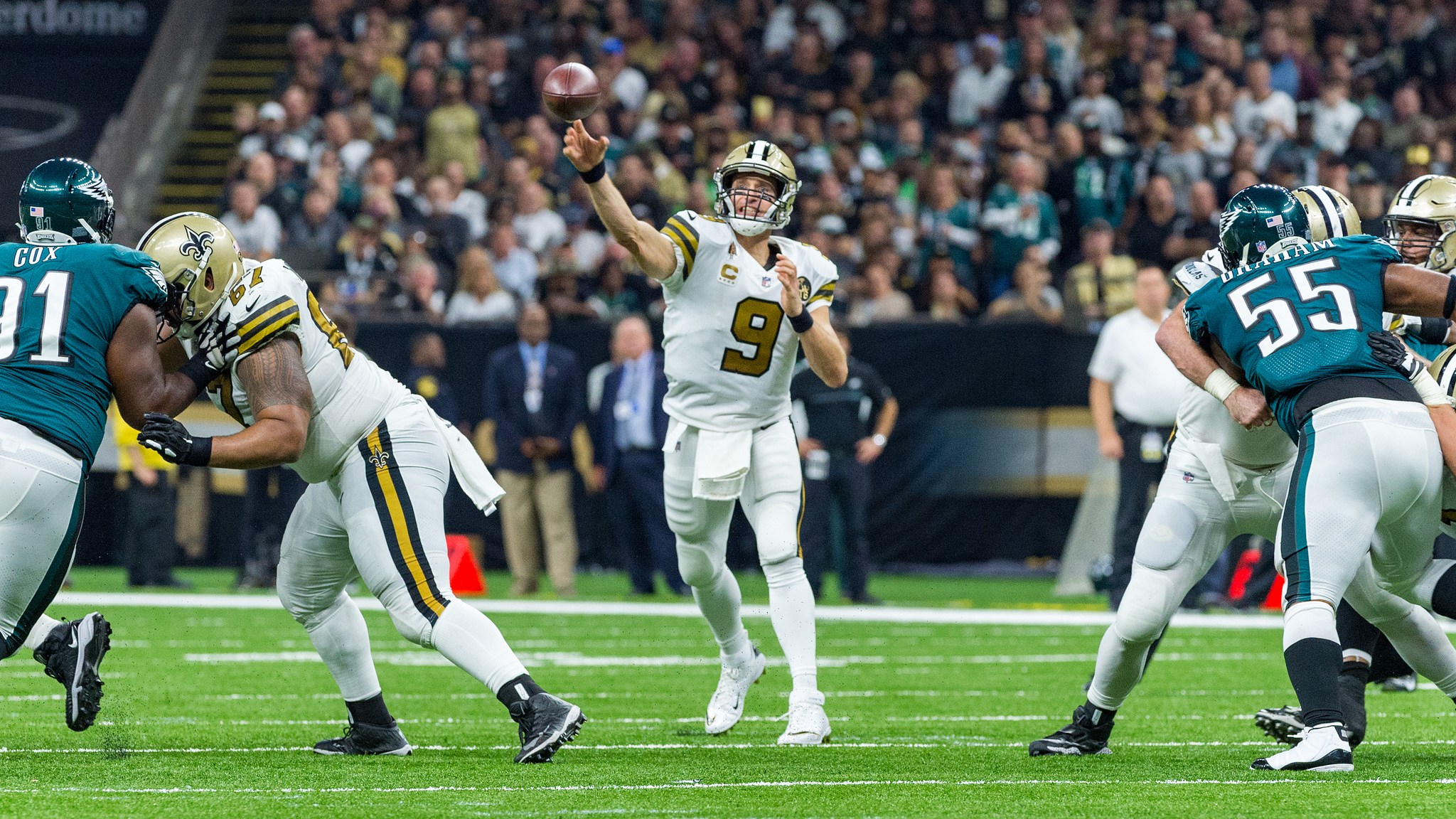 Philadelphia Eagles Face New Orleans Saints in Divisional Round, Look to Redeem Week 11 Loss
The Philadelphia Eagles and New Orleans Saints meet at a crossroad to the NFC Championship. The Saints, who were denied a trip last season at the hands of the Minneapolis Miracle, are desperately looking to rewrite history. The top-seeded Saints sailed through the regular season, including a 48-7 Week 11 victory over Philadelphia.
Saints quarterback Drew Brees has had a record-setting year. Adding a second Super Bowl victory would only solidify his Cinderella season — and his legacy.
In contrast, the Eagles – who were once 4-6 – stumbled into the playoffs as the sixth seed, denying the Vikings once again from playoff glory. Nick Foles took over QB duties in Philadelphia in Week 15 and has yet to lose a game since. Despite the winning streak, the Saints are heavily favored to leave the Divisional round with a victory.
Injury Report
As of Thursday morning, both teams had eight players listed on the injury report. Most notably, Eagles defensive end Michael Bennett did not participate at all during Wednesday's practice due to a foot injury.
Brees vs. Foles
Both quarterbacks hail from Westlake High School in Austin, Texas. Brees, who won Westlake a state championship, had his career passing yards and touchdown record broken by Foles. The two have also met before in the postseason. In 2014, Brees and Foles faced each other in the Wild Card round, where the Saints got the better of the Eagles. That game was Foles' only postseason loss.
Nick Foles' 4-1 postseason record as a starting quarterback comes with a 69.8 completion percentage, 1,432 passing yards, ten touchdowns, and one interception. Drew Brees has a 7-6 postseason record, completing 65.9% of his passes and recording a staggering 4,209 passing yards, 29 touchdowns, and nine interceptions.
Brees vs. Foles This Season
Brees: 74.4 completion percentage, 32 TD, 5 INT, 115.7 passer rating
Foles: 72.3 completion percentage, 7 TD, 4 INT, 96 passer rating

— Lauren Phillips (@LaurenP_52) January 10, 2019
Offensive Weapons to Watch
While Brees has had a better season than Foles – and has both experience and acumen on his side – Foles seems to be on a predestined course, accompanied by a steady hand and composure. Their respective offensive weapons will be a deciding factor in the matchup.
New Orleans
The Saints have a dominant backfield led by running backs Alvin Kamara and Mark Ingram, but a thin receiving core. Wide receiver Michael Thomas leads the team in receptions, as well as receiving yards and touchdowns. Thomas' 1,405 receiving yards is followed by Kamara's 709 receiving yards. While Drew Brees rarely struggles to find and hit an open receiver, the lack of available receivers on the Saints effects their offensive efficiency.
New Orleans' success greatly relies on the production of Kamara and Ingram. Kamara, who has 17 touchdowns on the year, recorded three of those in the last two minutes of games. He's averaging 4.6 yards per carry this season and is at the top of the league in touchdowns. Additionally, in games where Kamara recorded less than 50 yards, the Saints have only managed a 3-2 record.
The combination of Kamara and Ingram could be lethal for the Eagles. With a future Hall of Fame quarterback in Brees and the support of a strong ground game, their weak receiving core may be no problem at all.
Philadelphia
The Eagles have the opposite problem of the Saints: Nick Foles has a plethora of receivers to target, but little help behind him. The Eagles' backfield has been riddled with injuries this season. They've lost Jay Ajayi for the season, Darren Sproles and Corey Clement for a few weeks, and have to begin calling up the practice squad.
Philadelphia's offensive x-factor as of late, Josh Adams, was having an impressive season until last week, when he recorded just one carry. In just 120 attempts, Adams has scored three touchdowns and is averaging 4.3 yards per carry. Additionally, since Foles took the reigns in Philadelphia, the Eagles have turned more towards their running game. Foles, more so than Carson Wentz, utilizes the run option in the heavy RPO playbook Doug Pederson has laid out.
The Saints' defense has allowed the second-fewest rushing yards in the league this season, but the fourth-most passing yards. If the Eagles can find a way to run the ball with success early on, it should bolster their chances of winning. An effective ground game will allow the Eagles to dominate time of possession and, importantly, keep Drew Brees off the field.
Decisions in the Details
Containing the Saints' explosive offense will be a struggle for the Eagles' defense. While improvements have been made, injuries and inexperience in the secondary set Philadelphia on poor footing. However, if their run defense can contain Kamara as best they can – and stop Brees on crucial third downs – they should be able to keep a lid on the scoreboard.
Making tackles, DB's not expectantly cheating routes, and communication before and after the snap are all whiteboard bullet points for the Eagles' defense. It will take each man on the Eagles' defense knowing and fulfilling their responsibilities to create short drives for Brees. If the Eagles can keep the Saints off the field, they'll give Foles and the offense a shot.
The Eagles' offense with Foles is predictable, but efficient: RPO's, buttonhooks to Alshon Jeffery, slant options to Zach Ertz and Dallas Goedert, all while staying in the pocket. If the Saints can put pressure on Foles by getting through the offensive line, Foles will either take sacks or throw the ball away, potentially leading to one or more interceptions. Zone coverage in the midfield to remove Ertz or Goedert as targets will also be crucial.
Doug Pederson and Sean Payton know each other better than most opposing head coaches. This week's game prep will be much like a chess match. Both offenses have the potential to score a lot of points — and likely will. This game could be a race to 35 points: whoever hits it first moves on. Whichever team can find a way to contain the other's offense will leave the field with the win. The two teams' defensive consistency and discipline will likely be deciding factors in this matchup.
Photo Credit
Featured image courtesy of scottclause.com via Flickr
Stay informed, follow our NFL Department and Lauren on Twitter for upcoming stories and news.
Subscribe to get the latest news from TSJ at the TSJ 101 Sports TV YouTube channel!
Play And Win Weekly at ThriveFantasy!