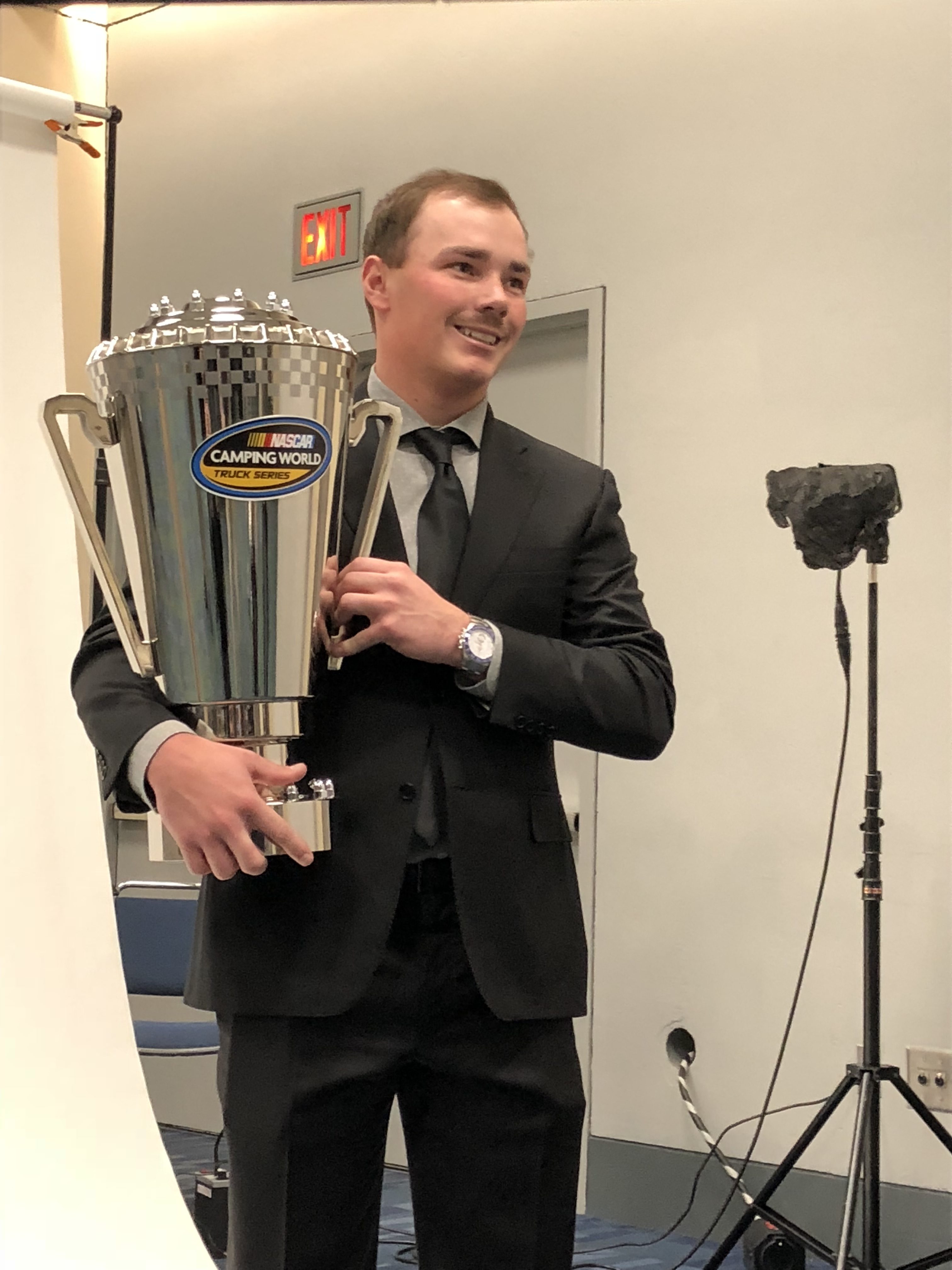 Brett Moffitt to Race for GMS Racing in 2019
Following up on yesterday's breaking news, GMS Racing announced today the addition of Brett Moffitt for their Truck Series team. Moffitt, the 2018 Gander Outdoors Truck Series champion, was a free agent until today. He will take over the 21 Truck, but it will switch to the number 24 Silverado for 2019.
Moffitt's Sponsorship Struggles
The center of the controversy surrounding Brett Moffitt and Hattori Racing was a lack of sponsorship. Ironically, he is bringing some partners with him to GMS Racing. However, these partners were not enough to keep Moffitt with his prior team at GMS. As he said, "Staying at Hattori was never an option. I didn't know that they were signing someone else until after the season, when I was informed of it. Quite frankly, I don't think it would have been enough to move the needle. I think GMS has given us a really good platform where we can take some of our partners and their partners to build it all. That's going to be a big benefit towards myself and the Gallagher family. It will prove very beneficial towards us at GMS."
Moffitt's Timeline with GMS
Following his championship win in November, Brett Moffitt was released by his team, Hattori Racing. This was due to a lack of sponsorship that plagued the 16 team all year long. As recently as the championship banquet, Moffitt had yet to hear from any team owners. When asked today about how long he knew about this deal, Brett said the following. "It was super last minute, I didn't know about it long at all. This all started between the holidays, and they wanted to see what I could bring to them and if I was still available."
Oddly enough, 2019 will not be Brett Moffitt's first time racing for GMS. Back in 2017, Moffitt raced the number 96 Chevrolet Camaro for GMS in the Xfinity Series at Iowa. When questioned on a possible return to Xfinity action with GMS, Moffitt was unsure. "At the moment, we have not had that discussion. My biggest concern was getting this deal done to be in the truck full-time. I'm not going to say yes or no either way, but I think we need to get the ball rolling in the Truck Series, to go out there and have some success. We're going to build this relationship and you never know what the future may hold."
The Gander Outdoors Truck Series season kicks off on February 15th, with the NextEra Energy 250 at Daytona International Speedway. Expect an even greater level of consistency for Brett Moffitt when the Truck Series season kicks off next month. GMS Racing has proven to be a championship-caliber team, and with Moffitt's prior success, their marriage could be bad news for the competition.