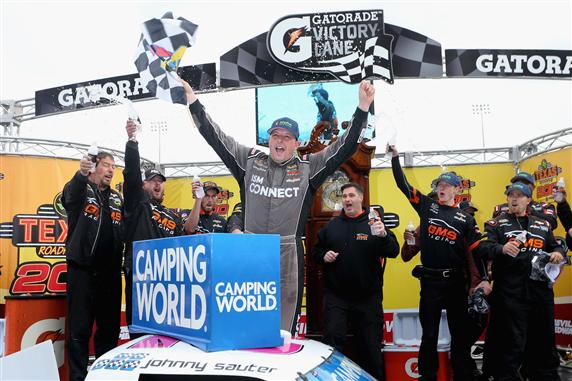 Truck Series Veteran Johnny Sauter Forced Out of GMS Racing
Arguably the best ride in the NASCAR Truck Series is newly open, after a bombshell release today. 2016 NASCAR Gander Outdoor Truck Series champion Johnny Sauter has been released by GMS Racing. The split comes just one month before the season opener at Daytona, leaving Sauter without a ride. This change is effective immediately, per the announcement. Considering that Sauter has been one of the most consistent drivers, this news comes as a major surprise.
Sauter, 40, began his time with GMS Racing in 2016. In only his first race with the team, he was able to score the victory at Daytona. That win also clinched his position in the Playoffs. Sauter would go on to be the champion and would contend in the championship race in 2017 and 2018. 2017 would see Sauter score 4 wins and be the championship runner-up. This past season, Sauter ended the year 4th in points after a dismal performance at Homestead.
Reactions From Sauter, GMS
The split comes as a surprise to many, as the 21 team was able to win 6 races in 2018. When asked who willl replace him, Sauter told SiriusXM NASCAR Radio that it would be Brett Moffitt. Moffitt is the defending Truck Series champion. He is still without a ride for 2019.
"If he's bringing something, it's more than I'm bringing. Let's just leave it at that," Sauter told SiriusXM. "I don't pay to race. If I had that kind of money, I'd be racing something else probably. I had actually heard this rumor about being ousted out of that truck a month ago. I asked some questions and nothing ever was mentioned about it. Yeah, it's late in the game. Daytona is a month away, there's not a hell of a lot I can do about it. That's the nature of the beast. It's an expensive sport. Owners need money not just from sponsors today, but drivers as well."
Following the news, GMS president Mike Beam released a statement. "We cannot thank Johnny enough for his contributions to the growth and success of GMS Racing. He won the first championship for us and added a lot of trophies to our shop. We wish him all the best for his future endeavors, both in and out of racing."
Sauter Still Can Win
During the interview, Johnny also made it clear he wouldn't drive just anything. He mentioned that he'd had a conversation with an unnamed owner. However, he didn't speak on if there could be a possibility with that team. While the season opener is coming fast, the stats prove he can still win.
In Sauter's 244 career Truck Series starts he's been able to claim 23 wins. In that time he also has 102 top 5s and 157 top 10s. Just last season Johnny claimed 6 of his series wins. The 6 wins Sauter scored in 2018 are his career-best. With Speedweeks right around the corner, time may be the only reason Sauter will be absent from Truck Series action in 2019. Stay tuned for any updates regarding Johnny Sauter in the 2019 season.
Follow the writer:  twitter.com/noah_lewis1