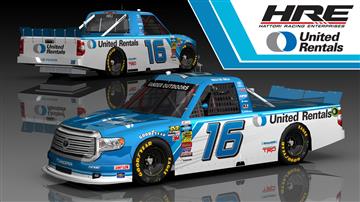 Austin Hill to Take Over Hattori Racing 16 Truck for 2019 Season
2018 Truck Series championship team Hattori Racing Enterprises will be home to a new driver for the 2019 season. Austin Hill will move to the 16 Toyota Tundra for the coming season, marking his second full-year in a truck. This announcement comes after rumors of HRE going after a sponsored-driver, rather than sticking with Brett Moffitt. Team owner Shige Hattori is happy to be racing for a second-straight championship with his 16 crew.
Career Stats for Austin Hill
At 24 years old, Winston, Georgia's Austin Hill has been a competitor in the K&N Pro Series as well as the Truck Series. He has 51 career starts in the Truck Series. 2018 was his first full-season in the Truck Series, with Young's Motorsports. Last season would see Hill finish 11th in points, with 1 top 5, 6 top 10s, and an average finish of 15.8. His best result came at Texas, where he finished 5th.
Prior to 2018, Austin Hill primarily raced in both divisions of the K&N Pro Series. In 39 K&N East starts, Hill has 5 wins, with a best points result of 3rd. Austin Hill was a member of NASCAR Next in both 2014 and 2015.
This opportunity with HRE is easily the biggest of Austin Hill's career. He is known as a journeyman driver in underfunded equipment, and he is excited for a big break.  "I'm thrilled to join HRE this season," Hill said. "Shige has built a great team and what they accomplished last season has me extremely optimistic heading to Daytona. I've had the pleasure to work with great teams in the past, including my family's team in the K&N Series, but this is an opportunity of a lifetime at HRE. Scott and the team proved what they're capable of last season, and I can't wait to get to work and see what we can accomplish this season."
New Season, New Look For Hattori
Team Owner Shige Hattori is glad to have a full-season sponsor with United Rentals. The Japanese owner is ready to get 2019 under way with Austin Hill. "We're proud of what all of our team members did last season, and I'm looking forward to having Austin drive our trucks and work with United Rentals and all of our partners," Hattori said. "Austin had a great career in the K&N Pro Series and did well in his first full-time truck series season last year. I'm looking forward to what we can do together this season."
Austin Hill will inherit the entirety of the 2018 Truck Series championship-winning team, which includes crew chief Scott Zipadelli. Zipadelli is also looking forward to 2019, and eager to work towards continued success with Hill. "I'm really looking forward to racing with Austin and continuing our team's success," Zipadelli said. "Austin is a great kid and has a lot of potential. He has a great track record in the K&N Series and put together a strong year last season with Young's Motorsports. I think he'll transition well into our program and fit right in with our group."
As stated above, this chance to race for Hattori is the biggest break of Austin Hill's career. Finishing 11th in the 2018 championship with an underfunded team was a very underrated accomplishment for Hill. Since his days in K&N, Hill has consistently over-performed with underdog teams, much like Matt Dibenedetto in the Cup Series. Expect Hill to have a much more consistent year, and contend for the Truck Series Playoffs.