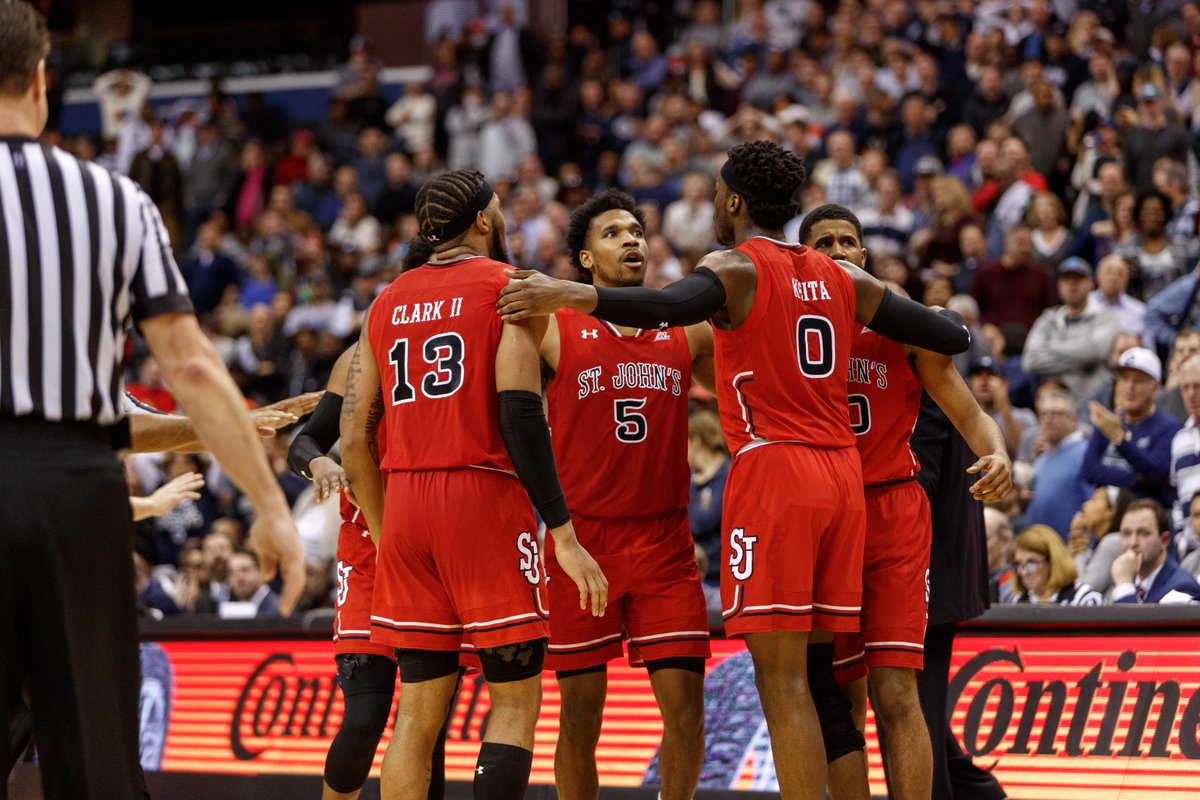 College Hoops Preview: #24 St. John's vs. Villanova
Matchup: #24 St. John's Red Storm (14-1, 2-1) @ Villanova Wildcats (11-4, 2-0)
Date: Jan. 8, 2019
Time: 7 p.m. (est)
Network: FS1
Location: Philadelphia, Pennsylvania, USA
Venue: Finneran Pavilion
Seating Capacity: 6.5K
The Villanova Wildcats look to continue their unbeaten conference record when they host the red hot Red Storm of St. John's. Chris Mullin's group is finally in the Associated Press (AP) Top 25, after two impressive wins over ranked Marquette and Georgetown. Villanova enters on a three-game winning streak, defeating Connecticut, DePaul, and Providence after falling to both Pennsylvania and Kansas. St. John's only loss was a two-point defeat in Seton Hall, as this game will be huge in determining the legitimacy of St. John's this year.
Already Proven?
Some would argue that St. John's has already proven their worth this season, which would be hard to argue against. St. John's lack of quality wins was quickly silenced by a 20-point beating against then-ranked Marquette. Following the impressive win saw St. John's victorious in an overtime road game against Georgetown. The biggest games of the year for St. John's were answered, specifically by one Shamorie Ponds. The Brooklyn native is the main catalyst for the Red Storm success recently but will need to produce a third straight time.
Ponds currently averages just over 20 points per game to go along with 4.7 rebounds and six assists. The overtime win against Georgetown saw Ponds score his second 37 point game of the season, and marked his fourth 30-plus point game this year. Ponds has an alarming 63 points in his last two games, which includes 22 free throw attempts and 10-for-17 beyond the arc.
Even without Ponds, one could argue St. John's deserves the recognition of a top team this season. The team averages roughly 85 points per game, which ranks 18th in the nation. A top 20 offense must have more options than just one player who averages 20 points and six assists. In fact, St. John's has five players who average double-digit point totals this season with only one of those players being an underclassman.
The Supporting Cast
The cast around Ponds can score at will, starting with Mustapha Heron, who averages 15.6 points to go along with 5 rebounds per game. Marvin Clark averages 13 points per game with 5 rebounds as well, but what makes Clark so dangerous are his free throws. Clark is an 81% free throw shooter this season, and is perfect from the charity stripe over his last five games. Clark also has eight straight games with a double-digit point total, including 20 or more points in two of his last four.
Perhaps the most impressive stat from Clark is from beyond the arc. Over his last four games, Clark has made 16 three-point shots. The underclassman mentioned before is L.J. Figueroa, who averages 14.3 points and seven rebounds per game. Despite the solid numbers, Figueroa has shot 0-for-7 from three-point territory over his last three games. St. John's is talented enough to make up points even if Figueroa can't find his deep shot.
Winning Wildcats
Despite four losses on their record, the Wildcats are winning again. They are 2-0 within the conference, rattling off three straight. Some of the losses Villanova has suffered this season are hard to ignore, such as Penn or Furman. However, Villanova presents a top 56 defense in the nation, allowing 65.7 points per game. This stat may not mean much against a high-powered offense like St. John's, but it gives them a chance to keep the game close and win at home.
Villanova can also take advantage of St. John's defense, who allows a ton of points per game. The two seniors who lead Villanova in scoring will have to produce in Phil Booth and Eric Paschall. Booth has seen six straight double-digit point totals, which includes four games of 18 points or more. Perhaps the most important aspect of Booth's game heading into this battle is his three-point shot.
In the two losses to Penn and Kansas, Booth only shot 4-for-11 from three-point land. In the three wins since Booth has shot a combined 47% from downtown. In a game where Villanova will more than likely need 80 points to win, Booth's three-point shot is impeccable. Paschall has seen 10 straight games with a double-digit point total, but his biggest role might be on the glass. Paschall has always been a solid competitor on the glass, but their last game against Providence was the first double-double for him with 14 rebounds.
Follow us on YouTube and Twitter
Photo Credit: St. John's Basketball via Twitter