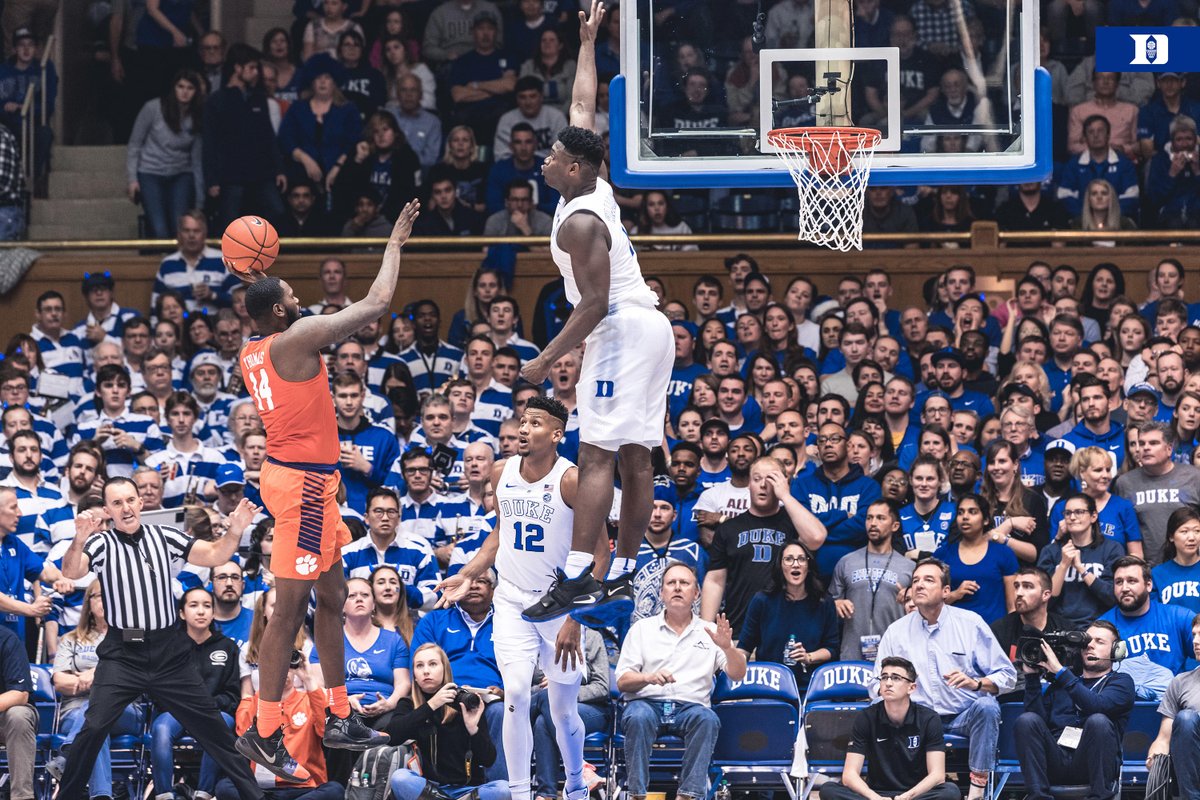 College Hoops Preview: #1 Duke vs Wake Forest
Matchup: Duke Blue Devils (12-1, 1-0) @ Wake Forest Demon Deacons (7-6, 0-1)
Date: Jan. 8, 2019
Time: 7 p.m. (est)
Network: ESPN
Location: Winston-Salem, North Carolina, USA
Venue: Lawrence Joel Coliseum
Seating Capacity: 14.6K
Duke's First Road Game
Duke finally plays their first true road game of the season against Wake Forest in Winston-Salem, North Carolina. No road game in the ACC is won easily, even if a teams opponent is far below average, as the Demon Deacons.
Look in the Present
Duke plays #13 Florida State on Saturday, so it wouldn't be a shock if a young team like Duke would look past an inferior Wake Forest team and look on to their big matchup with the Seminoles. It is crucial that Duke keeps Florida State out of their heads until later on in the week. It's the ACC and Wake Forest students will be getting loud and rowdy for their Deacons, despite their struggles this year. Duke could become rattled and they could let looking ahead get into their heads and give Wake Forest an advantage.
The Reality
The reality is, Duke is miles better than Wake Forest. I believe that this one will be a blowout from the beginning. Wake Forest has yet to win a quality game and their losses are disappointing. If Duke were to even let this become a close game, it would be extremely alarming on multiple levels.
Starters
Wake Forest
Center – #35 Ikenna Smart (6-10, 245, Sr.)
Forward – #10 Jaylen Hoard (6-8, 215, Fr.)
Small Forward – #23 Chaundee Brown (6-5, 215, So.)
Guard – #4 Torry Johnson (6-3, 170, Sr.)
Point Guard – #0 Brandon Childress (6-0, 190, Jr.)
The Demon Deacons are led by freshman Jaylen Hoard and junior Brandon Childress. Hoard, a five-star recruit, has averaged 15.5 points per game while shooting .493% from the field to go with 7.7 rebounds per game. Childress leads the Deacons in scoring at 17.3 points per game on .484% from the field. The point guard also leads his team in assists with 4.2 per game. As a team, Wake Forest is 163rd in the country in team scoring with 74.8 points per game. On the defensive side, they are 206th in the country, allowing opponents to score 72.2 points per game.
Duke
Center – #12 Javin DeLaurier
Power Forward – #1 Zion Williamson
Small Forward – #5 RJ Barrett
Shooting Guard – #2 Cam Reddish
Point Guard – #3 Tre Jones
Coach Mike Krzyzewski has rolled out the same lineup since their opening win against Kentucky, but it could have the potential to change in the next couple of weeks. Don't be shocked if Cam Reddish is moved to the bench in favor of Jack White, who has propelled Duke off of the bench all season. Reddish has been struggling as of late, but Coach K remains confident in him, "We have confidence in him." Coach K told the media after the win over Clemson.
Duke's Key
It would take a massacre for Duke to lose this game. The only key for them is to avoid looking past the Deacons. If the young Blue Devils can do that, they will win in a blowout.
Wake Forest's Key
Wake Forest needs a ton of luck to pull of the upset over Duke. The biggest key for the Demon Deacons is to slow down the game. Duke is arguably the best offensive transition team in the entire country, so to have any chance of beating them, Wake Forest can't let RJ Barrett and Zion Williamson get free buckets.
Prediction
Duke and their nation-leading steal percentage harass Wake Forest into poor turnovers and Duke runs freely in transition all night. Cam Reddish will break his slump and score 16+ points.
Duke: 95
Wake Forest: 68
Follow us on YouTube and Twitter
Photo Credit: Duke Basketball via Twitter