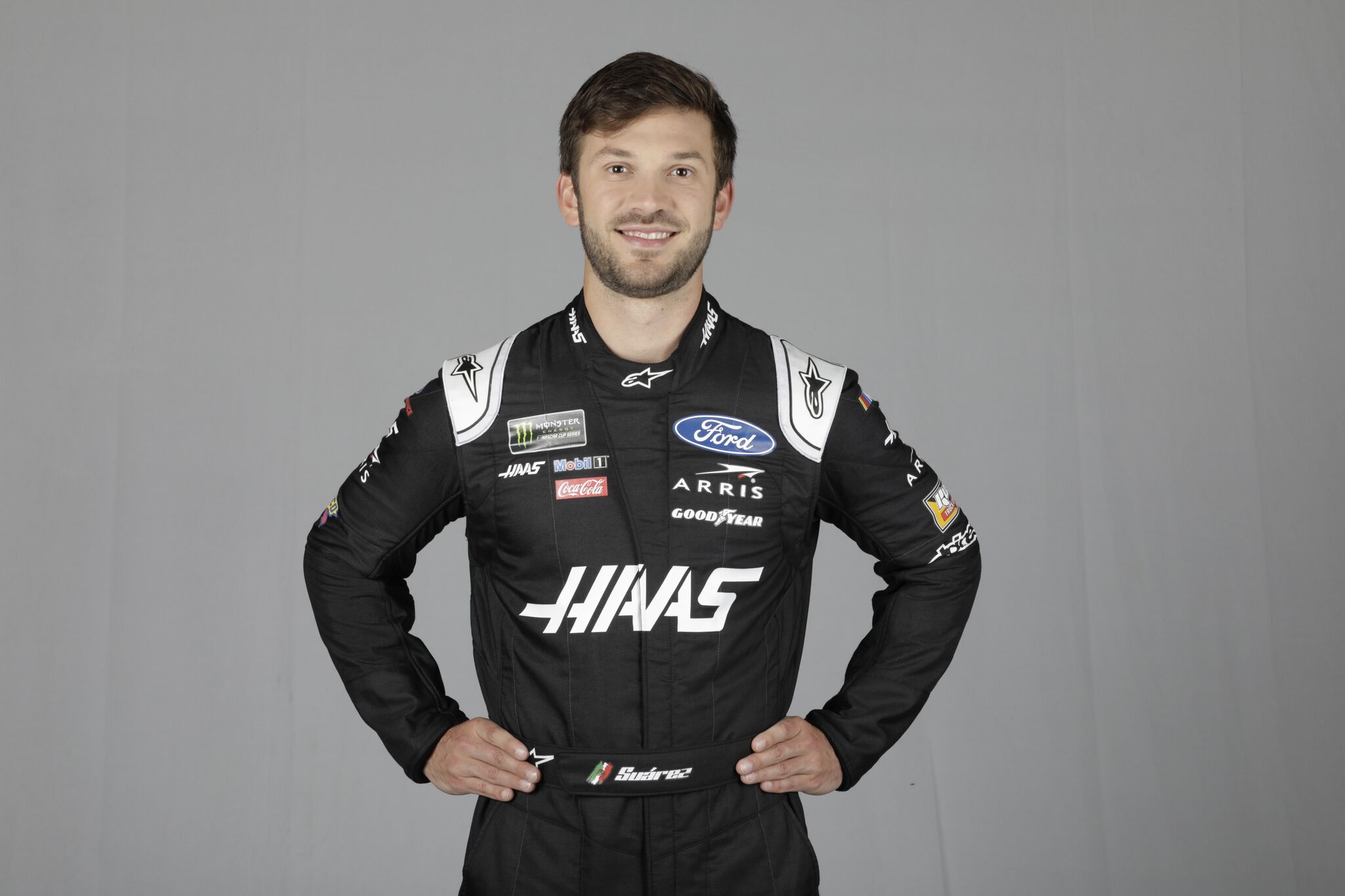 Daniel Suarez to Take Over Stewart-Haas Racing's 41 Ford for 2019 Cup Series Season
Perhaps the last high-profile open seat in NASCAR silly season is now home to a new driver. Stewart-Haas Racing's 41 Ford Mustang will be the new ride for Daniel Suarez in 2019. Oddly enough, this announcement comes not only 41 days before the Daytona 500, but also on Suarez's 27th birthday. Kurt Busch's exit from SHR left the 41 Ford open over the off season. The 2004 Cup champion previously moved onto Chip Ganassi Racing.
Career Highlights for Daniel Suarez
In just 2 seasons of racing in the Monster Energy NASCAR Cup Series, Daniel Suarez had mixed results. 4 top 5s, 21 top 10s, and 1 pole signify his first 2 Cup seasons. His best championship result has been 20th. These results came in the Joe Gibbs Racing 19 car left open by Carl Edwards. Suarez made the jump to the Cup Series in an unexpected transition, as fallout of Edwards' sudden retirement after 2016. Suarez's best career result came back in July, finishing runner-up to JGR teammate Kyle Busch at Pocono.
Due to a lack of strong results, Suarez was released by JGR. This freed up the 19 car for Martin Truex Jr. This series of events for Suarez is eerily similar to the beginning of Joey Logano's career. Also following Suarez from JGR to SHR will be his primary sponsor, Arris. With Arris, Suarez won the Xfinity Series championship in 2016. The telecommunications company has sponsored him since his NASCAR debut in 2014. Suarez will also have additional sponsorship from Haas Automation. Team Co-Owner Gene Haas' namesake company has adorned the 41 car for the past 5 years. The deal between Suarez and SHR is a multi-year agreement. However, the exact length of the contract is unknown.
Will SHR be a Solid Standing for Suarez?
Daniel Suarez is inheriting a car and team that made a deep run into the 2018 Playoffs. Until getting wrecked at Phoenix, Kurt Busch and the 41 were in a position to make Homestead. The 41 SHR team has also won at least 1 race in each of the last 5 years. Their best championship result has been 7th.
So will the move over to Stewart-Haas lead to greater success for Suarez? Just last season, Aric Almirola had a career year in his first season at SHR. Almirola saw career highs in laps led, top 5s, top 10s, and won his 2nd career race. Aric would cap off 2018 by finishing 5th in the championship. With the renaissance of Almirola's career as a baseline, expect Suarez to be a more consistent driver in 2019.
Reactions on Suarez Moving to SHR
Upon this news release, Daniel Suarez shared his thoughts with the media. "This is the best birthday present I could ask for," said Suarez. "We've all seen how competitive Stewart-Haas Racing is – all of their drivers won last year and all of them advanced deep into the playoffs. This is the opportunity every driver wants, and now I have it. I want to deliver for this team, our partners in Haas Automation, ARRIS and Ford and, ultimately, for me. We have everything we need to be successful."
SHR Co-Owner Tony Stewart also reacted to the news of Suarez joining the 4-car team. Stewart believes Suarez's quick ascension to the top of the sport shows his driving skill. "With each series Daniel has raced in, he's advanced quickly from rookie to race winner. In four years, he went from the K&N Series to the NASCAR Cup Series. In between, he won an Xfinity Series championship, and he did it all while learning a new language and a new culture. He's dedicated, he's talented and we're proud to have him as a key part of our race team." Daniel Suarez will be SHR's 3rd new driver in the past 3 seasons. His teammates will be Kevin Harvick, Clint Bowyer, and Aric Almirola.
A long and unpredictable silly season for the NASCAR Cup Series is now winding down. As poorly-kept of a secret as it was, Daniel Suarez joining Stewart-Haas Racing is a great move. The last high-profile free agent driver and team have been paired together. NASCAR's short off season is quickly nearing its conclusion. Daniel Suarez and the rest of the Cup Series will soon be on track in Daytona.