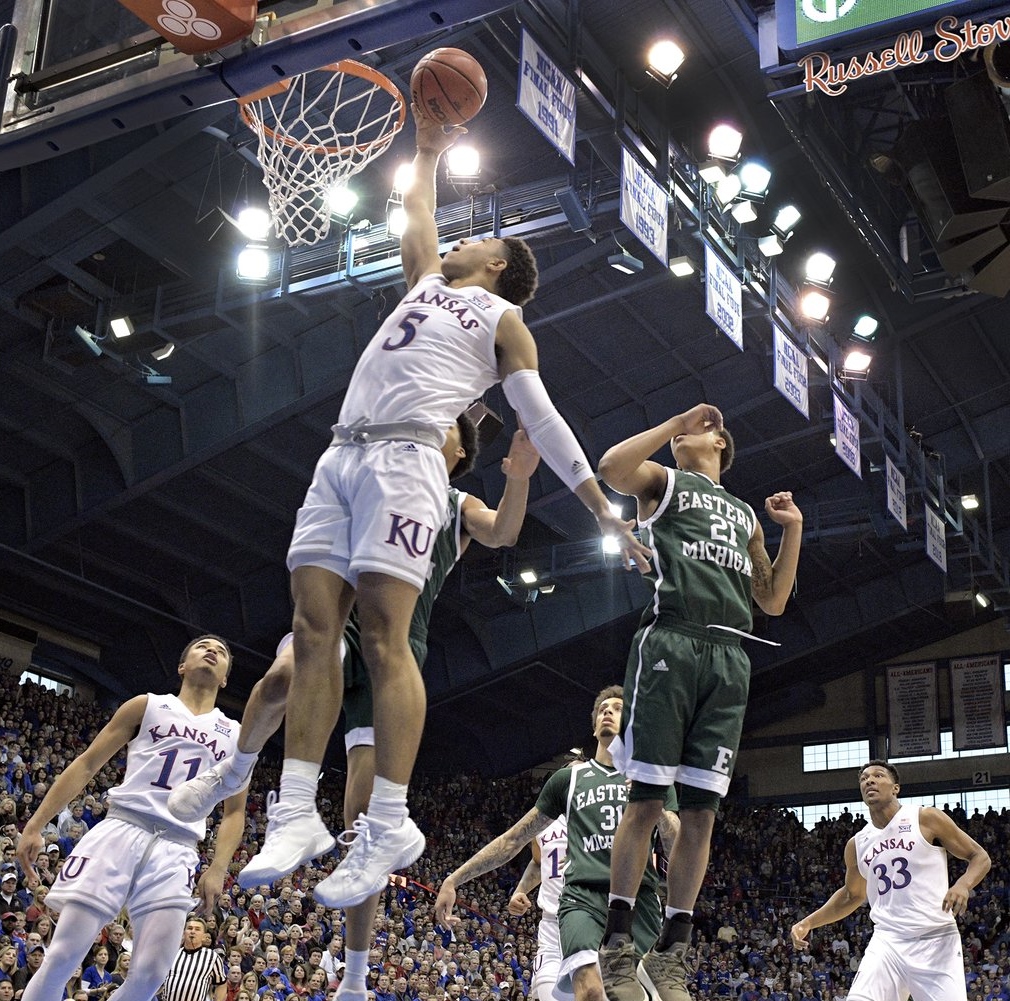 NCAA Hoops Preview: #23 Oklahoma vs. #5 Kansas
Matchup: Oklahoma Sooners (11-1, 0-0) vs. Kansas Jayhawks (11-1, 0-0)
Date: Jan. 2, 2019
Time: 9 p.m. (est)
Network: ESPN2
Location: Lawrence, Kansas, USA
Venue: Allen Fieldhouse
Seating Capacity: 16K
An Associated Press (AP) Top 25 matchup opens Big XII play for the Oklahoma Sooners and the Kansas Jayhawks. Oklahoma is on a current seven-game winning streak, after a close loss to Wisconsin. Kansas enters on a one-game winning streak, defeating Eastern Michigan after a loss to Arizona State. This is a true 'test game' for both teams, as each school views the other as potentially the best opponent they'll see this conference season.
A Loaded Arsenal
What makes the Jayhawks so dangerous is the fact that they can beat you in many different ways, but it all begins with leading scorer Dedric Lawson. The Memphis transfer can do it all, averaging close to 20 points a game with roughly 11 rebounds as well. Lawson's game against Eastern Michigan wasn't eye-popping by any means, and it actually snapped a nine-game streak in which Lawson saw double-digit points. However, Lawson has scored 20 or more points, along with a double-double, in seven of his last nine games. He has also shot 100% from the charity stripe in his last three games.
Oklahoma has more issues to deal with as Lagerald Vick is a three-point monster, looming the arc for big basket shots. Vick's three-point statistics this season are quite alarming, and the main reason he averages roughly 15 points per game. Vick has connected on 37 three-pointers already, with at least three shots made from beyond the arc in seven games this season. Three of those seven games has seen Vick connect on seven or more three-pointers, although he did go 0-for-5 in his last game against Eastern Michigan.
Yes, There's More
The Jayhawks can also beat you inside with returning Udoka Azubuike, who finished second on the all-time field goal percentage in a season list last year. Azubuike isn't near his historic numbers from a season ago, however, he returned in a big way against Eastern Michigan. He scored 23 points to go with nine rebounds and two blocks. Despite his field goal percentage down, he has still shot 60% or better in six of eight games this season. Four of those six games has seen the big man shoot 70% or better from the field.
With so much to worry about when defending Kansas, it's easy to forget about Devon Dotson who averages a team-high 3.1 assists per game. The true freshman has truly been the backbone of this team. Dotson has scored double-digit points in eight games already, as he also has 15 assists in his last three games. Dotson's defense has been impressive as well, recording three steals in four games already, including his last against Eastern Michigan.
Seniors Not Scared
If Oklahoma has anything to balance the abundance of danger Kansas brings, especially in Allen Fieldhouse, it's their experience. Three of Oklahoma top four scorers are all seniors, so the 'big-time' atmosphere this game will produce may not phase them. Assuming the Sooners are not nervous at all, they have a chance. It will all start with Christian James, who leads the Sooners in points per game with about 18. He, along with Brady Manek, also lead Oklahoma in rebounds per game with just over seven. Needless to say, James will have to play very well for the Sooners to stand a chance.
James is very capable of doing that, being one of the experienced seniors. In 11 of his last 12 games, James has seen a double-digit point total. He has not, however, scored 20 or more points in four straight games. James has made up for that stat in the rebounding department, recording a double-double in four of his last five games. The scoring woes for James are a bit concerning though, as he is only 3-for-19 from beyond the arc in his last three games. His last game was the first time this season he didn't shoot a free throw either.
Because of the workload that James will be called upon to deliver, it's imperative others contribute. This is where Manek and senior Miles Reynolds must step up. Manek averages around 10 points per game but has seen success from downtown lately. In his last three games, Manek has connected on 5 out of 11 three-pointers so his battle with Vick could be close. The one area Manek can't overlook, however, is on the glass. He hasn't seen a double-double after recording four straight to begin the season.
Reynolds may be the biggest difference for Oklahoma, as his ability to get to the charity stripe is quite impressive. Reynolds averages almost 11 points per game, many of which are generated from the free throw line. He has a ridiculous 72 attempted free throws already this season, including 32 attempts in just his last four games. In those four games, Reynolds hasn't shot below 50% from the field either, meaning he not only gets to the line but he actually makes his shots. Perhaps the biggest difference for Reynolds' game at the line is the fact it puts Kansas players in foul trouble.
Follow us on YouTube and Twitter
Photo Credit: Kansas Basketball via Twitter