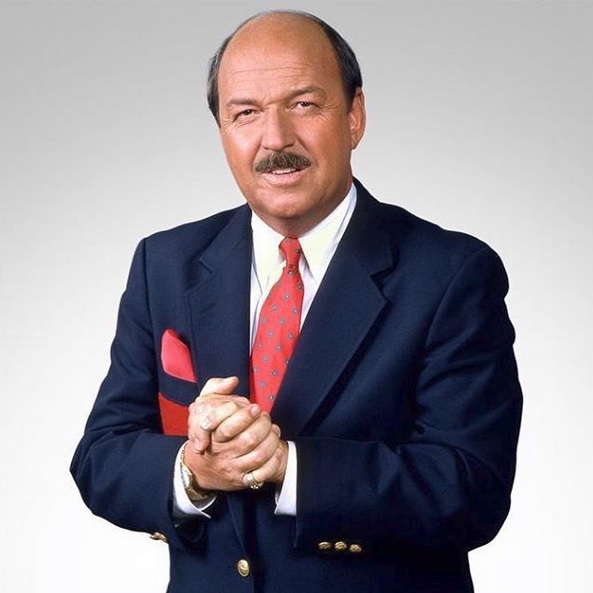 "Mean" Gene Okerlund, former WWF/E Announcer, Passes Away At Age 76
Tragic news in wrestling today only two days into the new year.  Former WCW and WWF/E ring announcer, "Mean" Gene Okerlund, has passed away this morning.
WWE is saddened to learn that WWE Hall of Famer Gene Okerlund, the most recognizable interviewer in sports-entertainment history, has passed away at age 76. https://t.co/DyPiEiVLoV

— WWE (@WWE) January 2, 2019
Pro Wrestling Career
AWA (1970-1984)
"Mean" Gene's career began with the American Wrestling Association in 1970. Okerlund would fill in for Marty O'Neil as ring announcer on some occasions. Eventually, Okerlund would replace O'Neil and become the full-time ring announcer towards the end of the 70's.
World Wrestling Federation (1984-1993)
"Mean" Gene Okerlund is one of the first AWA personnel to join the WWF during its rapid expansion. He would stay as the top interviewer for nine years and host shows such as Tuesday Night Titans and All-American Wrestling.
Of course, during the 1989 SummerSlam, "Mean" Gene's most infamous moment came during an interview with Rick Rude. The sign for the show fell, to which Okerlund replied:
"F*ck it! It's publicly stated… Dammit, who put that up? Is that two-hundred dollars an hour?"
Okerlund swore it was a blooper shot on purpose as a joke. But, during the show, the wrong interview was aired and everyone heard "Mean" Gene freak out over the sign.
During the inaugural WrestleMania, Okerlund was the first person to sing the national anthem during the event.
Return to WWE (2001-2019)
Once his contract with World Championship Wrestling expired, "Mean" Gene returned to the WWE. During the "Gimmick Battle Royal" at WrestleMania X-Seven to announce the match with Bobby "The Brain" Heenan.
Throughout the years, Okerlund would make special appearances for the WWE. On April 1st, 2006, he was inducted into the WWE Hall of Fame by Hulk Hogan. He would later induct fellow ring announcer Howard Finkel on April 4, 2009.
Up until his death, "Mean" Gene Okerlund made special appearances on Monday Night RAW for WWE. He appeared on RAW 1000, The 25th Anniversary of RAW, and several other occasions throughout the years.
"Mean" Gene Okerlund is a legend of the wrestling business. His name will go down as one of the best ring announcers of all time. We wish his family the best in this time, and hope he may rest in peace.
Social Media
Follow TSJ101Sports on Twitter: @T101Sports and @T101SportsWWE
Follow me, the writer, on Twitter: @JordanPiekarski
Photo credit to WWE via Instagram