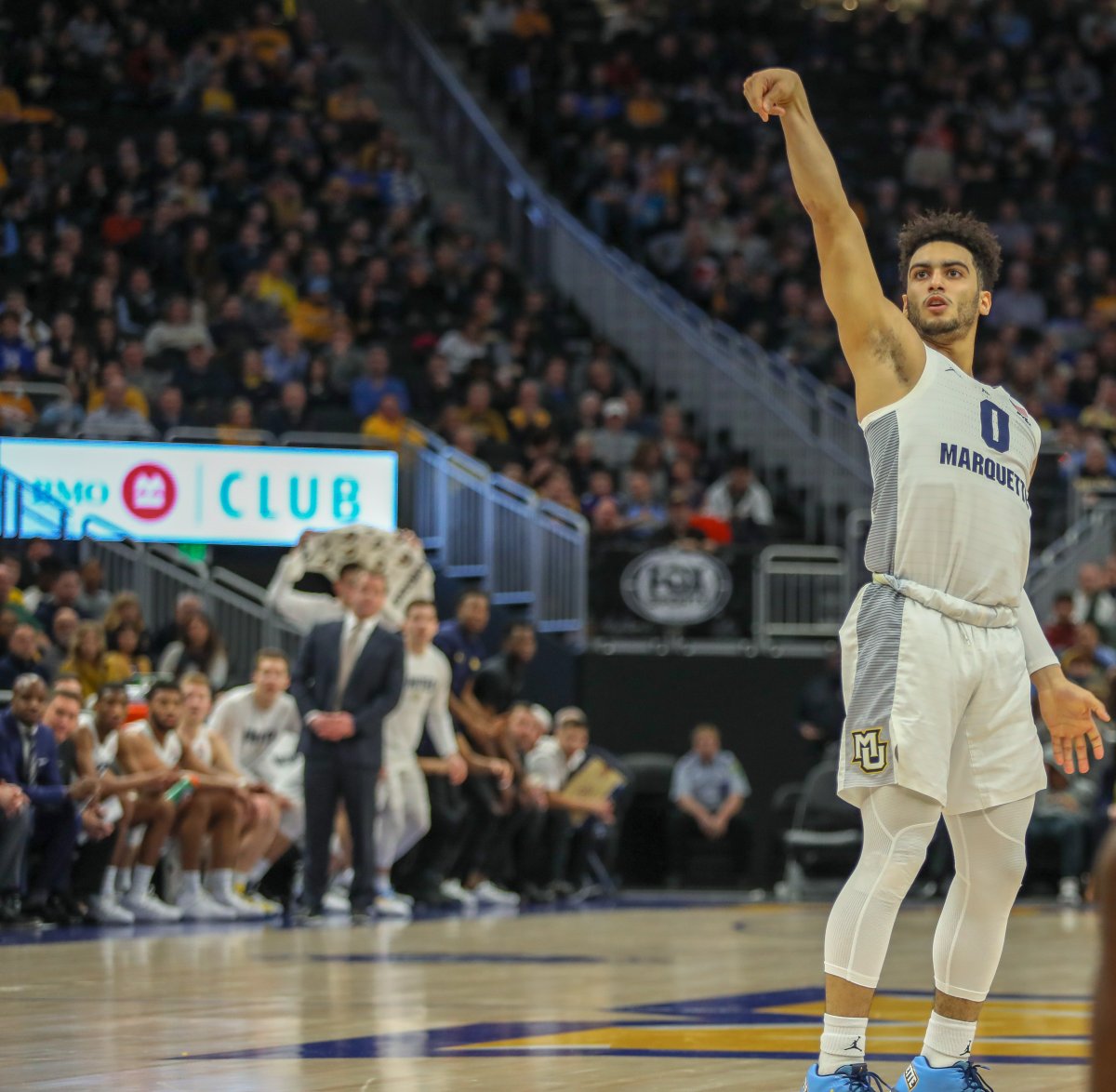 NCAA Hoops Preview: #16 Marquette vs. St. John's
Matchup: Marquette Golden Eagles (11-2, 0-0) vs. St. John's Red Storm (12-1, 0-1)
Date: Jan. 1, 2019
Time: 7 p.m. (est)
Network: FS1
Location: Queens, New York, USA
Venue: Carnesecca Arena
Seating Capacity: 5K
Conference play is finally here as we enter the new year, with a Big East battle featuring two teams with March Madness on their minds. The Marquette Golden Eagles open conference play on the road against St. John's, a team eager to prove they belong in the Associated Press (AP) Top 25. Between the two teams, Marquette has been more impressive, despite St. John's having a one-game lead in the overall record. Marquette has passed grueling tests against Buffalo and Wisconsin, while St. John's most impressive win came against Rutgers.
Athlete Advantage
Despite Marquette seemingly being the better team between the two schools, St. John's gets a huge nod in the athleticism department. Watching a Red Storm game this season has been much like watching the Harlem Globetrotters play. St. John's seems to toy with lesser competition, creating a ton of fastbreak points and highlight dunks. With Marquette being the best team they have faced so far this season, St. John's will need to ground their 'free-playing' demeanor and focus on executing on every possession.
St. John's almost beat a very good Seton Hall team in their last game, so St. John's is more than capable of not only hanging with Marquette but also beating them. The St. John's defense is also very underrated in terms of what they have done this season. In their game against Seton Hall, the Red Storm forced 12 turnovers. The incredibly fast St. John's defense has forced double-digit turnovers in five games this season, with a total of 122 while opponents have only managed 70 against them.
The Markus Howard Show
Marquette guard Markus Howard will need to show up if the Golden Eagles want to win this tough road game. The effort from a Gene Wojciechowski team should go unquestioned, which means it will come down to execution, particularly from Howard. He leads the Golden Eagles in multiple stats such as steals, minutes (only player over 400), assists, field goals made and three-pointers made. Howard has also been to the charity stripe 89 times, as the next closest Golden Eagle is Joey Hauser with 38.
The importance Markus Howard is to Marquette may be bigger than any team in the country, as he is truly the catalyst of this Golden Eagle team. He has scored at least 21 points in his last six games, two of which saw Howard score over 40 points. The bigger the game, the more likely Howard will show up as his 40-point efforts came against Buffalo and Kansas State. He also had 27 points against Wisconsin and 18 points against both Indiana and Kansas. Look for St. John's to limit Howard's shot taking, as the Red Storm have a decent chance of winning if they can limit Howard to under 20 points in the game.
Follow us on YouTube and Twitter
Photo Credit: Marquette Basketball via Twitter