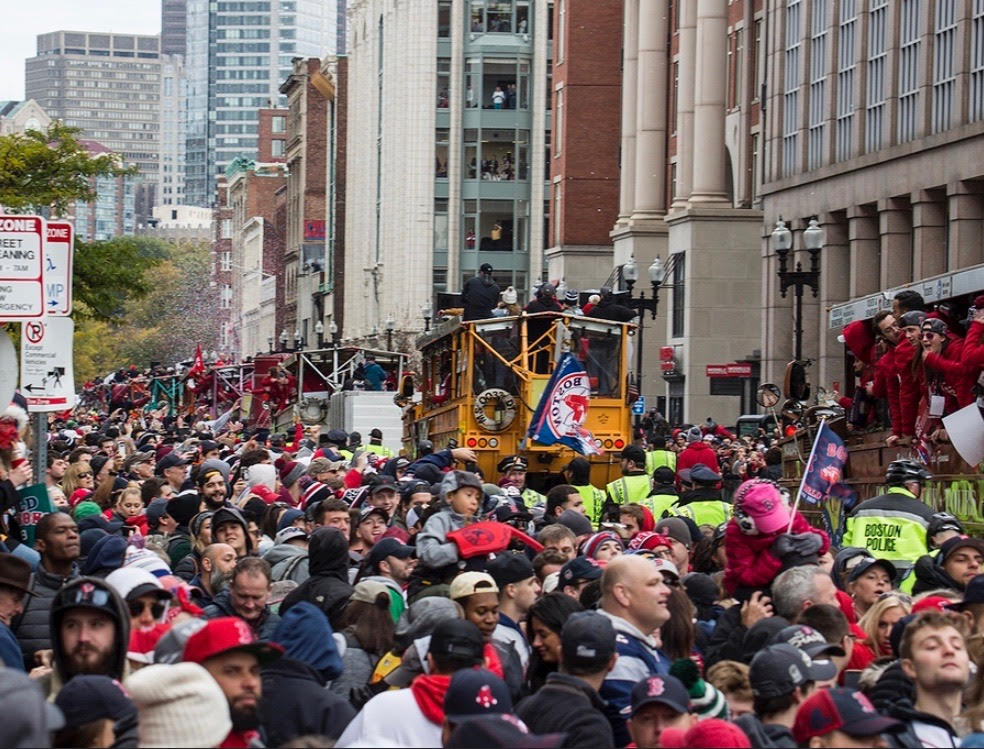 Another Year Over
Well, 2018 is coming to an end. What a year for baseball. Especially for the 2018 Boston Red Sox and Los Angeles Dodgers fans. For Red Sox fans, you won a World Series! For Dodgers fans, you lost again! However, despite losing for a second year in a row thanks to their ace (with an ERA well over 5.00 in those championships), their ace is coming back! Loyalty is a great virtue.
Let's not forget about those Yankees. Just recently, it is reported that they will sign the (other) gazillion dollar man: Manny Machado. Plus, they can still probably afford Bryce Harper. Must be nice. If your an Astros fan, you know your team is still great and will probably be back in contention. Again. Goes to show us after mocking them for all those years. If you are an Indians fan, well you got nothing to worry about. Your division is easier than the AFC East, so this should be a piece of cake.
In the NL, look at the news. The Brewers are getting brushed aside by the Cardinals, making big moves such as trading for Paul Goldschmidt. The Braves look like they might be in trouble with the Phillies and the Mets still on the rise, making big moves for Jean Segura and Robinson Cano, respectively, thanks to the Mariners. The last divisional playoff team to discuss is the Rockies. They should be ready to continue along to another strong year, especially with the loss of Goldy and the Giants not getting better.
Back to Business
This news is all great, but it is time to talk about the World Series champions: the 2018 Boston Red Sox. They have a rough year coming up. Can they repeat? Who knows. The Red Sox are in for a wild ride with many players on the out in 2020, and many moves needed to be made still, and questions needing to be answered.
Welcome Back
Luckily for the Red Sox, many of their big bats are returning for next year. In fact, they retained all their lineup bats for next year. This should be good, considering the 2018 Boston Red Sox finished with the best team batting average, the most runs per game, the most hits per game, the most doubles per game, and so on. Plus, they back the reigning AL MVP in Mookie Betts. Along with an AL MVP top-5 candidate who also became the first player to win the Silver Slugger for two positions in the same year in J.D. Martinez. Looks to be no worry here.
Signing back the World Series MVP Steve Pearce should be a good move, and hopefully not be a flash in the pan that we seem to see a lot of in baseball (cough, cough, Pablo Sandoval). Pearce batted over .280 with a .890 OPS, proving to be a good role player.
Also returning to the champs is another possible playoff MVP candidate: Nathan Eovaldi. Eovaldi lit it up this postseason. His 1.61 ERA and 0.806 WHIP this postseason was unmatched for a pitcher with over 15 innings in the postseason. As much as the Yanks wanted to screw over the Red Sox again and turn Eovaldi to the other Dark Side, the Red Sox luckily smartened up and kept a player the Yanks were after. Eovaldi should be flying high on his motivation after the postseason, and hopefully, he found his groove. His 3-3, 3.33 ERA half-season with the Red Sox should be improved next year, especially after this season. The Red Sox also returned reliever Heath Hembree. Hembree finished the year with four wins and a 4.20 ERA and 11.4 SO/9.
Goodbye Stranger
Unfortunately, some players left the 2018 Boston Red Sox team. These players include Joe Kelly Fight Club, good old Ian Kinsler, and Carson Smith. The big loss: unfortunately for the Red Sox and Brad Pitt, those Fight Club apparel sales are going to be going down. Kelly may not have been the best or even the acceptable relief pitcher for the Red Sox, but he was a strong part of the clubhouse. Kelly's uncontrollable 100+ MPH fastball was made up for with his clubhouse presence. He resembled that team in 2013 that Boston loves, the team that was more of a family than a ball club. Kelly had that Boston swagger with him that Boston fans loved. Now he gets to throw like a maniac with the Dodgers. They take anyone for money.
The losses of Kinsler and Smith aren't that tear-jerking. Kinsler had a good little stint. Even though he may have lost some games for the Red Sox down the line, he was still a good fill-in for Dustin Pedroia (more in a bit). His .182 and .100 average in the ALCS and World Series, respectively, with three hits total was subpar for $11 million. So, no major loss. Carson Smith,  funny guy. Three years with the Red Sox, a total of 29 games played. Beautiful. The guy got hurt more than piñata. No loss.
The Ace and The Laser Show Return … Hopefully
Chris Sale will be playing in 2019 for the Red Sox. Yay! We just don't know when. No one has commented on when the ace of the team will be returning. The GM Dave Dombrowski stated that Sale is healthy. However, he did finish the year with multiple stints on the Disabled List with shoulder inflammation. So, we do not know the truth. Wait until Spring Training then.
There is also the return of Dustin Pedroia. Pedey should be finally returning. After playing just three games last season with two major DL stints, Pedroia's future remains uncertain. He even made Carson Smith look good there. At 35 years old, the end is drawing near. Plus, with major knee problems, that end looks even closer. Pedroia does not look bad at the plate nor in the field. He is still a top infielder and he has batted over .290 with an OPS over .750 from 2015-2017. So, he can still be a contributor, as long as he stays healthy.
Any Additions?
The Red Sox should worry about making some moves. NOW. In 2020, there are a few contracts that will be up. These names include average Joe's like Chris Sale, Xander Bogaerts, and Rick Porcello, along with third-year arbitration players Jackie Bradley, Jr., Eduardo Rodriguez, and AL MVP Mookie Betts. I don't know if the free-spending Red Sox have enough money to sign all these men, but I would bet not. So, they should act quickly.
Who to re-sign may be a story for another day. However, it should be unanimous that out of these six players, you should try your darn hardest to keep Betts, Sale, and Bogey. That said, you need to act now to get your bang for your buck. The Red Sox need to bolster their bullpen. With Craig Kimbrel most likely gone (more soon), there needs to be some changes. That's where JBJ can come in handy. Coming off a hot postseason, JBJ is a great player to invest in, he is just not a player the Red Sox need right now. JBJ could make a great chip for relievers such as Raisel Iglesias, Brad Ziegler, John Axford, Zach Britton, Kyle Barraclough, and any Reds pitcher. Although, the Reds are in a win-now mode with the recent trade for Yasiel Puig, Matt Kemp, and Alex Wood. A JBJ piece may be a great piece to add.
We cannot forget about free agents, either. There are available names such as Greg Holland, Brad Brach, David Robertson, and others. There does not seem to be a need for any positional help. Maybe another infield addition could help, in case a trade is made during the season. A Josh Harrison or Adeiny Hechavarria add might not hurt to bring in utility help with Brock Holt. After winning the World Series and retaining your lineup, though, there is not much help needed.
In Closing
It seemed only fitting to "close" off with Craig Kimbrel. Yes, the bearded-one has spoken and will not accept the Red Sox offer. He rejected Dombrowski's one-year, $17.9 million qualifying offer. I am going to be a little bias here, I am not a major fan of Kimbrel. He seemed to always blow-up in clutch moments. One fond memory I have is when Kimbrel gave up a homer to Aaron Judge in the ALDS that made the game a one-run game. Kimbrel had five blown saves during the season, but a lot of close opportunities. Obviously, he is one of the best closers in baseball and it hurts to see him go, but with Kimbrel's leave, the Red Sox can explore more (cheaper) options like a free agent or a trade or within (i.e. Barnes, Brasier, etc.).
Conclusion
Overall, the year of 2018 was a great year for the Red Sox. 2019 looks to be another great year, but with the growing talent in the Yankees, the recent acquisitions of the Mariners, and the ever-present Astros, they will be tested. Look for another year of hot hitting and star pitching. Hopefully, the World Series trophy will be staying ashore in Boston next year and no need to ship it up.
Photo Credit to falconn67 via Flickr