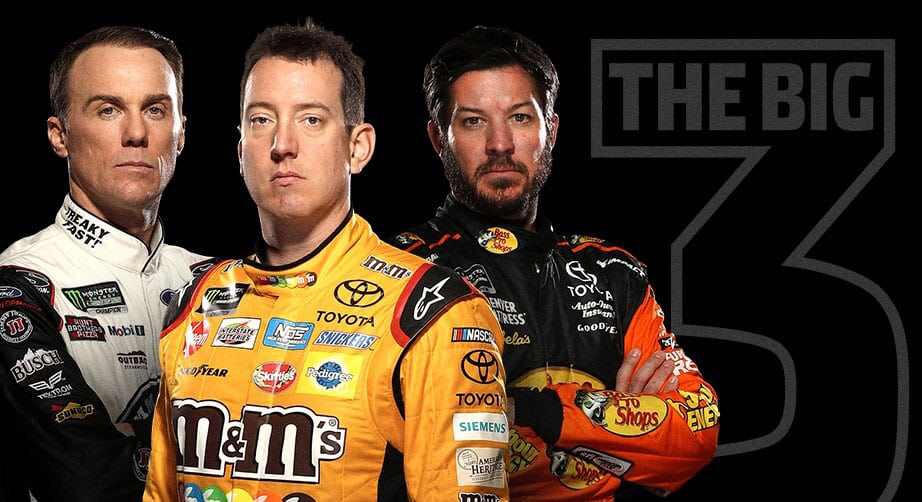 NASCAR's current championship format has been used since the 2014 season.  Of the 20 Championship 4 spots in this time frame, 11 spots have been occupied by three drivers.
The three drivers – Kevin Harvick (Stewart-Haas Racing) and Kyle Busch & Martin Truex Jr. (Joe Gibbs Racing) – have become known as NASCAR's "Big Three" due to both their success on the track and their popularity off of it.
The "Big Three" have all advanced to the Championship 4 in the 2015, 2017 and 2018 seasons.  Even though they were all beaten out by Joey Logano this year, the trio still combined for 20 wins.  This is five more than the 15 they recorded in 2017 and 11 more than the nine they recorded in 2015.
However, due to the nature of the playoff format, it is anything but a given that all three drivers will make it back in 2019.  We very nearly saw Truex Jr. eliminated in the round of 12 and Harvick in the round of 8 this year; Aric Almirola and Kurt Busch both had their opportunities to advance to the Championship 4 in their places.
Despite this difficulty, I predict that we will see two of these drivers (Truex & Busch) in the Championship 4 again in 2019.  Busch is still as dominant as anyone in the sport and I feel that Truex will make a seamless transition to Joe Gibbs Racing.
How many of the "Big Three" do you think will advance to the Championship 4 in 2019?  Comment below!
Ted Rydquist is on Twitter: @TeddyRydquist