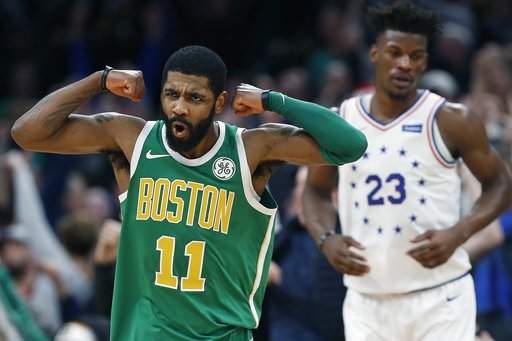 Kyrie Irving Drops 40 to Beat the 76ers on Christmas
The Boston Celtics and Philadelphia 76ers renewed their rivalry this Christmas in a late afternoon game. As soon as it started, it was apparent that the game would come down to the wire. It was a back and forth game, with 76ers big man Joel Embiid dominating down low. Despite the efforts of the 76ers, Kyrie Irving caught fire and led Boston to the victory in overtime.
Irving's 40-points is what most people would point to as the reason why the Celtics won. However, Boston's ability to take care of the basketball and put pressure on Philadelphia gave them the win. Boston only had nine turnovers throughout the entire game. In comparison, the 76ers had 19 turnovers. The defense was electric last night, and every player on the court was playing with energy on that side of the court.
Boston's stagnant and Uncreative Offense
As previously mentioned, the defense was great. As long as Boston plays good defense they will be in every game. However, the offense was just hard to watch. Head coach Brad Stevens had such a simple and easily defendable gameplan. Everytime Boston came up the floor, it seemed like they ran a high pick and roll with Irving or Rozier, which led to a runner or long 2-pointer. This was very disappointing for the team with many offensive options. This made me wonder if Stevens is responsible for the offense woes of all the wings on the roster.
Jayson Tatum had 23-points himself, but he should've scored so much more. Most of those points were coming off a fast break, and not in the half court. If Stevens just would have run a horns play or at least a floppy for him, then Tatum could've had 30. Every time they ran a play like that out of a timeout, good things happened. If Stevens doesn't make the adjustment to his offensive gamelan, then better teams will be Boston in the playoffs.
Player of the Game: Kyrie Irving
His performance was an all-time Christmas classic. 40-points with a couple of shots that got even the most tame fans on their feet. Every game Irving does one thing that makes you go "wow", but this game he did it 10 times. This performance will be remembered for years to come, and be a highlight of his career.
Honorable Mention: Marcus Morris
Looking Forward to the Next Game
The Celtics meet the Houston Rockets in Houston on Thursday. The Rockets are coming off a big win against the Oklahoma City Thunder, and have also been on a bit of a hot streak. The key will to be getting physical with James Harden, and take advantage of Houston's bad defenders in the lineup.
Photo Credit
Highlight Store via Flickr