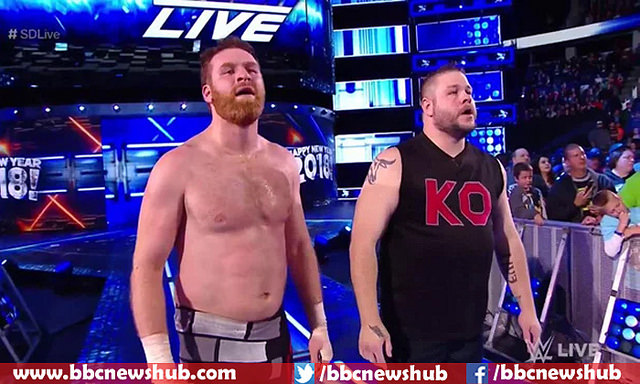 Kevin Owens
Kevin Owens and Sami Zayn, both have been out with injuries and were undergoing surgeries respectively. Both of them were written off from WWE Monday Night Raw television and we haven't heard anything from them since.
Ringside News reports that the duo is set to return to WWE television soon but separately, and is possibly returning as babyfaces; also going to get a huge push from the creative team. KO will return to action around January while Zayn is going to return around February. But who knows, they both might return together at the Royal Rumble to get revenge at Bobby Lashley; both are put to the hospital by the Almighty himself.
While KO is quiet about his in-ring return update, Zayn isn't. He was on the "Talk is Jericho" podcast a few days ago and this is what he said:
"I know wrestling fans, maybe don't want to hear this, but I've been loving being off".

"I think wrestling fans want to hear, 'I can't wait to be back and I miss everything.' I don't miss anything. I don't miss it yet. I'm surprised by how little I've missed it. Five months and I don't miss it. What's up with that?

"Maybe I'm overstating my lack of desire to return. I do miss performing. Like you said, I've been doing this a super long time. We're on the road a lot. You know how it is. I just know that when I'll be back, I'll really enjoy it. I'm not sitting there itching and clawing and I don't know if my employer will want to hear that."
Though WWE ran a video package of Zayn and KO returns, stating their return was coming "SOON", but Zayn said it differently:
 "I'm not even close [to being cleared]. I need a few more months".
Kevin Owens and Sami Zayn return: how I (TSJ writer) would use them?
If I were Vince, I would have given a green light on Bobby Lashley (Heel) vs Brock Lesnar at Royal Rumble. Lio Rush would try to distract The Beast in some way (possibly from the help of Drew McIntyre and Baron Corbin); just before Lashley could pin Lesnar for the 3-count, Zayn appears as El Generico, Helluva kicks Lashley into KO; already waiting from behind for the Pop-up powerbomb. That way, WWE will not hurt their highest paid Part Timer Brock Lesnar as their top Universal Champion; Lashley can still play his the Almighty heel persona, bragging about how he nearly beat The Beast while feuding with KO and Zayn.
In the meanwhile the "Monster among Men" Braun Strowman wins the 30-man Royal Rumble match; becoming the only Monster to ever win the 1st ever 50-man Royal Rumble and the 30-man Royal Rumble match, then goes on to face Brock Lesnar at Wrestlemania 35.
You can follow us on Twitter:
And follow the writer:
Photo Credits to BBC News Hub via Flickr.com
//embedr.flickr.com/assets/client-code.js