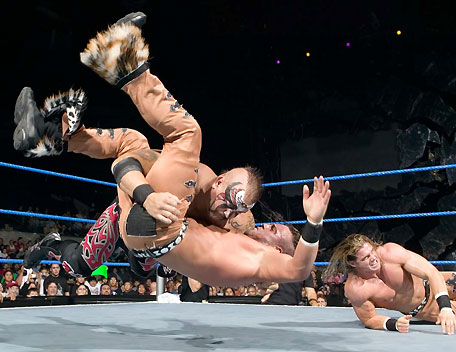 What is the Status of Joey Mercury?
Back during the ALL IN weekend, former MNM member, Joey Mercury, ran into some serious hot water. He was arrested in Schaumberg, Illinois with an outstanding warrant in Orange County. Mercury was charged with credit card theft and identity theft. However, Mercury never budged and maintained his innocence through the whole scandal. In fact, he claimed that he had not even been in the country during that time period.
Well, things seem to be looking up for Mercury. In a recent edition of the WINCLY podcast, Wrestling Inc.'s Editor Nick Hausman was joined by the Impact World Champion, Johnny Impact. Impact was happy to talk about his former teammate. He also broke the news that Joey Mercury had finally gotten through the legal trouble. In fact, he reported that the charges against him were now dismissed:
"He's doing extremely well right now. He was wrongly accused of some alleged crimes out in the parking lot of ALL IN…that whole ordeal that he went through was all proven wrong. False allegations. They were looking for somebody who wasn't Joey."
Johnny Impact also told Hausman that Joey had been reinstated as a trainer at the Ring of Honor Academy, though that has not yet been confirmed.
Although Johnny Impact says that Joey's doing well, Joey Mercury's lawyer had a lot to say. He wrote a statement on the matter, saying that what happened to Mercury "is an embarrassment to our criminal justice system." Additionally, Mercury's lawyer wrote that the arresting police department represents the sloppiest and most incompetent police work anywhere. He set the stage for possible legal actions due to treatment while he was incarcerated in Illinois.
Social Media
Don't forget to follow us on Twitter!
@T101Sports and @T101SportsWWE
Follow me, the writer!
Photo credit: Scott Parker, via Flickr