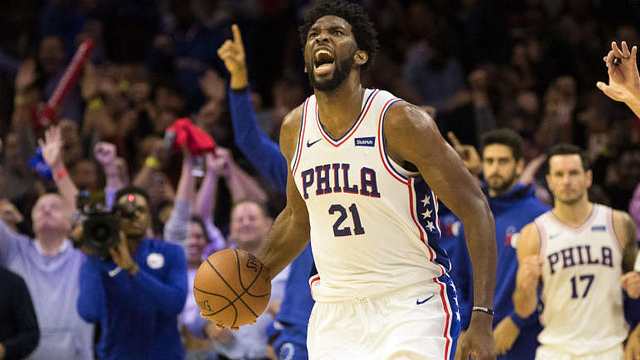 Sixers Make Short Work of The Raptors, Win 126-101
The Toronto Raptors looked as if they did not belong on the same court as the Philadelphia 76ers last night. Disclaimer… the Raptors faced off against the Sixers without three of their best players. Kawhi Leonard  (coaches decision), Serge Ibaka (swelling in his right knee), and Jonas Valaciunas (thumb injury).
It also didn't hurt that the Sixers had home court advantage either. Their previous two matches took place north of the border at Scotiabank Arena in Toronto. Both teams also got off to a cold start in the first quarter.
As a result, both teams combined to miss more than half of their shots (21 of 52). After taking the lead in the first quarter, the Sixers never looked back. They made short work of the Raptors by winning 126-101 at home.
Simmons and Embiid Led The Way For The Sixers To Rout The Raptors
Obviously, the Sixers clearly had the upper hand going into last night's match up. Let's not let that detract from a couple of strong performances by members of their starting lineup. Ben Simmons had a great game, finishing with 26 points, 12 rebounds, and 8 assists. Joel Embiid also got in on the fun. Embiid had 27 points and 11 rebounds.
JJ Redick was nearly perfect from three point land. Redick was 4-5 from three point range. As a result, his solid shooting also led to a tally of 22 points, 5 assists and 3 rebounds. Jimmy Butler was no slouch either by rounding out the lopsided victory with well rounded execution. Butler had 12 points, 7 rebounds, 7 assists and 3 steals.
Kyle Lowry had 20 points, 6 rebounds and 5 assists and Pascal Siakim finished with 26 points, 6 rebounds and 2 assists. They did their best to lead the first place Raptors. Their effort was also complimented by two role players from the bench in Fred VanVleet and Norman Powell, who scored 12 and 13 points respectively. However, the four of them just did not possess the firepower necessary to withstand the onslaught from the Sixers.
Naughty or Nice…
The Sixers will have today and Christmas eve off to enjoy this victory. They will head to Titletown to face off against the Boston Celtics, who have been on a recent three game losing streak. Will they receive a win for Christmas Day or will green clad Kyrie Irving play Grinch and leave a lump of coal in their stockings? One thing is for sure Santa is making a list, checking it twice, going to find out whose naughty or nice. 76ers are coming to town. Happy Holidays everyone!
Photo Credit
Highlight Store via Flickr