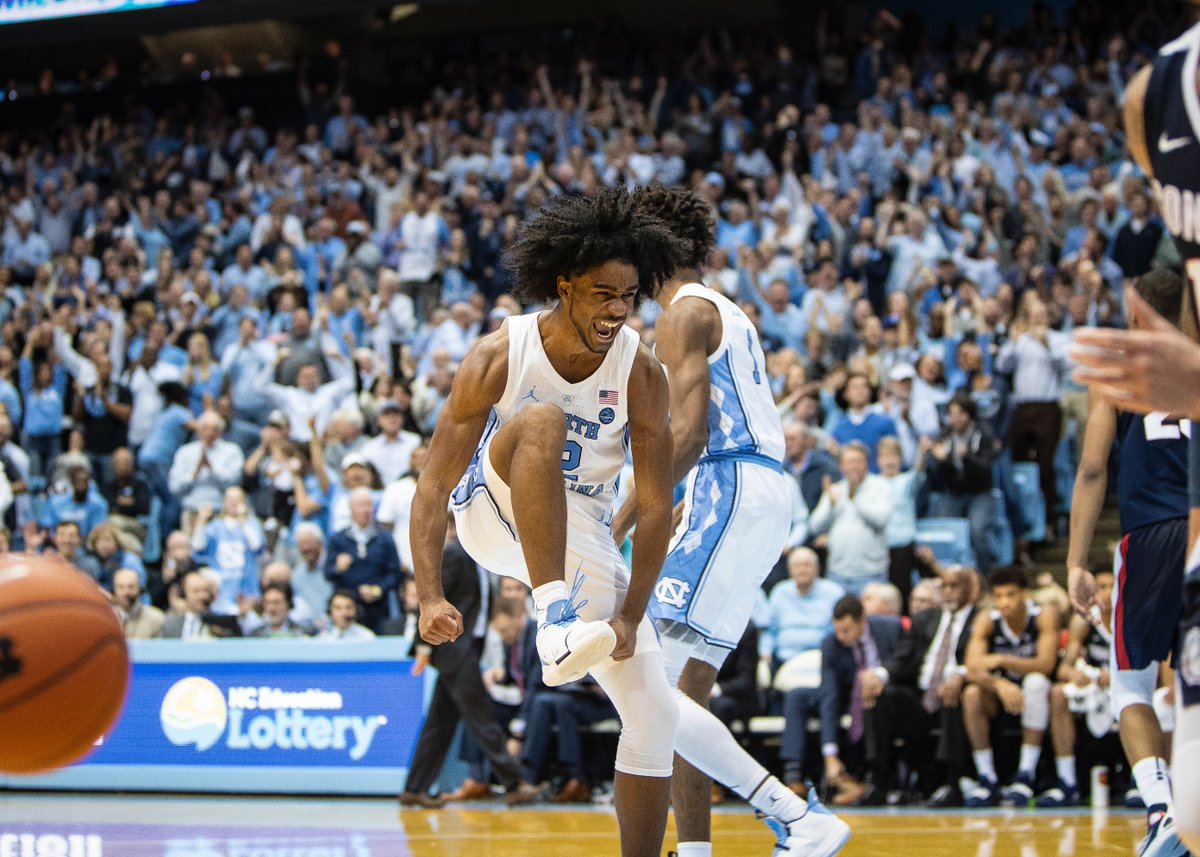 NCAA Hoops Preview: #19 Kentucky vs. #9 North Carolina
Matchup: #19 Kentucky Wildcats (8-2) vs. #9 North Carolina Tar Heels (8-2)
Date: Dec. 22, 2018
Time: 5:15 p.m. (est)
Network: CBS
Location: Chicago, Illinois, USA
Venue: United Center
Seating Capacity: 60K
Both schools enter this neutral site matchup on current winning streaks, after losing close games to good teams not long ago. Kentucky is coming off an impressive 20+ point victory over the Utah Utes, while UNC has won two in a row. Perhaps the most impressive win of the season for UNC came in their last game, defeating Gonzaga by 13 points at home. All four losses between the two schools have been away from home, either on a neutral court or in an opponents' venue.
The Board Battle
Keldon Johnson enters the game as Kentucky's top scorer, averaging roughly 16 per game. Johnson eclipsed 20 points in his last game against Utah, the first time he's done it since facing Tennessee State in November. Johnson also averages 5.6 rebounds per game, as he is a double-double threat on any given night. Reid Travis and P.J. Washington also offers rebounding threats for Kentucky, but UNC is no slouch on the glass themselves.
The Tar Heels enter this game currently averaging about 45 rebounds per game, ranked 77th nationally in total rebounds. The alarming stat here is actually on Kentucky's sheet, as they have allowed the second most total rebounds in the country. Add that with the fact the Wildcats rank 223rd in total rebounds themselves, UNC may see many second-chance points.
Maye I Offer a Hand?
Tar Heel senior Luke Maye will have to be the difference in this game, as he is the only person on either team that averages a double-double. Currently, Maye averages about 12 points and 10 rebounds per game. He also averages more minutes per game than any other player on UNC's roster, with just under 30. His value on the court, but specifically on the glass, will more than likely determine if UNC can dictate the game.
Garrison Brooks is another difference maker for UNC, averaging about six rebounds per game. Brooks' most notable stat is that he leads the Tar Heels in offensive rebounds per game, which may become a factor against Kentucky's alarming rate for opponent rebounds. Despite the difference both Maye and Brooks can make, Cam Johnson will ultimately be called upon to play a big role. He leads the team in points per game and steals, along with leading the conference in three-point percentage with close to 50!
Cali's Cubs
Kentucky is young still, as three of their top four scorers are all underclassman. Two of those underclassmen are freshmen, so many of the top Wildcat players are still learning. Johnson, mentioned earlier, is a freshman along with Tyler Herro. Herro averages just around 12 points per game. Despite his lack of game on the glass, Herro ranks within the SEC's top-10 in steals per game.
Herro has scored double-digit points in four straight games while limiting his turnovers to just four in that span. As mentioned earlier, P.J. Washington's presence will have to come on the glass. The sophomore has been quiet as of late but does have three double-doubles already this year. He also had 29 points and 13 rebounds in a tough overtime loss to Seton Hall.
Follow us on YouTube and Twitter
Photo Credit: UNC Basketball via Twitter